You are here
Jerash festival organisers baffled by recent withdrawals
By Maram Kayed - Jun 12,2019 - Last updated at Jun 12,2019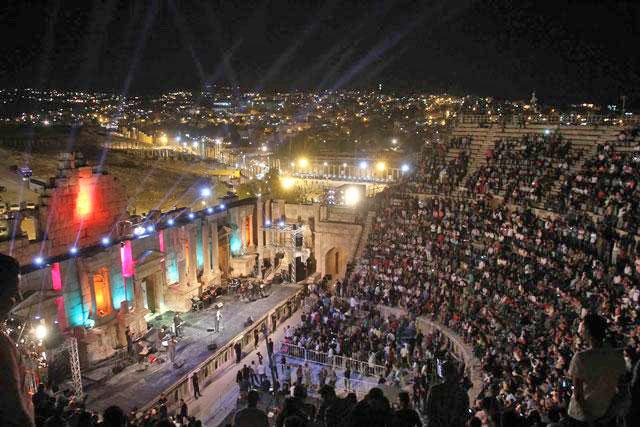 Audiences attend a concert at the ancient Greco-Roman city of Jerash as part of the 31st Jerash Festival for Culture and Arts in 2016 (Photo by Hassan Tamimi)
AMMAN — The Jordanian Artist Association on Tuesday said it was surprised by a recent withdrawal of artists supposedly involved in the 2019 Jerash Festival, claiming that the festival had "not signed the artists in the first place".
The four artists, Rami Shafeek, Ghada Abbasi, Haitham Amer and Tawfeek Dalo, said in a joint statement that they chose "to withdraw their performances from the festival due to managerial concerns".
The brief statement did not mention the concerns, but many on social media took that as an allusion to "bad management".
"The festival has become very disorganised and sometimes even dangerous. It used to be an extraordinary event but now it is purely commercial and no fun at all," Hamadi Abed Raboh said in a Facebook comment.
Sally Masharbeh, a guitarist, said in a Tweet that she considered the festival a "fraud", alleging "that many of the Jordanian artists playing there got the gig by pure nepotism".
However, the festival's executive director, Ayman Samawi, said the planning committee would "not accept unjust criticism", adding that this year the festival would be "stronger than ever".
"In the last few years, most concerts and performances took place at the Southern Theatre, which did cause a bit of crowding, but this year there will be performances in all seven theatres," the executive director said.
The festival's motto this year is "We Have Missed You", which Samawi said in a previous statement was meant to "restore the local community and visitors' confidence in the festival and boost its artistic and cultural appeal".
He added that the festival would host Jordanian and regional singers, actors, poets and cinematographers.
Some of the festival's headliners include Wael Kfoury, Marcel Khalifa, Mohamed Mounir, Abeer Nema, Ober Alexandria and Autostrad.
A total of 25 international bands are also scheduled to perform at the festival's newest addition, Jerash Nights.
President of the Jordanian Artist Association Hussein Khateeb said that claims of local artists "not being paid enough" were unfounded, and that the Ministry of Tourism granted the association around JD120,000 specifically for Jordanian artists.
"We were surprised to hear that some Jordanian artists, particularly the four who have announced their withdrawal, are unsatisfied," the association's president said. "It was especially surprising to hear because the association has not given them contracts."
He stressed that among the 56 Jordanian singers, 70-80 musicians, 30 poets and all of the actors taking part in the festival, none had "complained about bad management".
Samawi also said that the festival had already paid around JD260,000 to Jordanian artists, and JD265,000 to Arab artists scheduled to appear.
The festival's 34th itineration will take place from July 18 to 24, with celebrations also planned for different areas, such as Busseira, Kufranja and Theeban.
Newsletter
Get top stories and blog posts emailed to you each day.