You are here
'It takes less red tape, more funds to encourage homeowners to go solar'
By Mohammad Ghazal - Sep 27,2014 - Last updated at Sep 27,2014
AMMAN — Living in a house full of air conditioners, electric water heaters and kitchen gadgets, Mohammad Shuqeir pays only JD2 for his monthly electricity bill, and sometimes even makes money by selling the surplus electricity he produces at home.
Shuqeir was one of the first Jordanians who rushed to install solar systems to generate electricity at home after the endorsement of the Renewable Energy and Energy Efficiency Law in late 2012, allowing households to do so.
By installing a photovoltaic system in his own flat and six others for apartments he owns in a building in Tlaa Al Ali, Mazen Al Hares has slashed his electricity bills from JD50 to JD5 a month (Photo by Hassam Tamimi)
Prior to installing the system, his monthly electricity bill ranged from JD22 to JD25.
He was careful not to use air conditioners or heaters except when it was "unbearably hot or cold" and relied on gas cylinders for heating purposes.
But all this changed after he installed a JD5,000 photovoltaic system at home that generates some 500 kilowatt hours (kw/h) per month.
"I have air conditioners in most of the rooms now and stopped using gas. I turned everything at home into electrically run devices. I am no longer worried about the bill, and I use all the devices as much as I need," the Amman resident said.
"Since I installed it in early 2013, my bill has never exceeded JD3, and in some cases I sold electricity to the grid as production exceeded my needs," Shuqeir told The Jordan Times in a recent interview.
The owner of a car oil change facility is one of some 500 Jordanians who have switched to solar energy, according to the Energy and Minerals Regulatory Commission (EMRC).
'Systems benefit gov't, citizens'
Since the endorsement of the law, households, mosques and public entities that consume from one kilowatt to five megawatts a month have installed the systems and connected to the grid.
Currently, 255 applications are under study and will be connected to the grid by the end of 2014, said Nader Otoum, head of the renewable energy department at EMRC.
By year end, there will be 765 users who are generating their own electricity through photovoltaic systems with a total capacity of about 30 megawatts, he told The Jordan Times.
According to experts in the field, about 60-70 per cent of the applications are for households, but when measured by capacity, households represent some 20-30 per cent.
Homeowners install smart meters that monitor their power generation, amount consumed from the local grid, and the surplus kilowatts that they can sell back.
Generating 30 megawatts via solar power will save around JD9 million annually that used to be spent on fuel to produce the same amount, especially after the cut in natural gas supplies from Egypt, Otoum noted.
For energy-poor Jordan, which imports about 96 per cent of its energy needs at about 20 per cent of the gross domestic product, the benefit of solar systems is huge for both the government and citizens, he added.
'Affordable financing fundamental'
Noting that going solar slashes home electricity bills by 80-90 per cent on average, stakeholders and experts warned that if no "affordable" financing solutions are provided for low- and limited-income segments to install photovoltaic systems, Jordan may be forced to either restrict their installation or increase tariffs.
About 70 per cent of households in Jordan consume 600kw/h per month or less, and the government subsidises them at a total cost of JD500 million per year.
They pay much less than the actual cost of each kw/h generated via diesel or heavy fuel at present, which stands at 150 fils.
Those who consume
600kw/h and more monthly, pay more than the actual cost and in some cases as much as 260 fils per kw/h.
"We notice that the majority of those who install solar systems are those that pay more than the actual cost per kw/h," said Hassan Abdullah, strategic asset manager at the Jordanian Electric Power Co. Ltd. (JEPCO).
"If only this segment installs the systems and does not pay the amounts they used to, this will cause an imbalance," he told The Jordan Times.
"If the situation continues as it currently is, either the government will endure more losses or officials will have to consider amending the tariff for those who pay less than the cost of each kilowatt," Abdullah added.
"Those who consume
600kw/h and less per month already benefit from subsidies, so they do not have incentives to switch to solar systems and many are not financially able to buy them," he said.
The government said it was aware of the financing obstacles and is looking into solutions, especially since its electricity subsidy will not continue after 2017 and will only be restricted to a very small segment of users.
"We know that the success of our plans relies on more installation of [photovoltaic] systems… There is a problem when it comes to financing and we are working with several international aid agencies on this," Energy Minister Mohammad Hamed said in a phone interview.
"People need to consider installing such systems and we need to do our part of the job to make easy financing available for them," he added.
'Bureaucracy hindering adoption'
But some citizens complained of bureaucratic impediments.
Mazen Al Hares, who installed a system in his own flat and six others for apartments he owns in a building in Tlaa Al Ali, thus slashing electricity bills from JD50 to JD5 a month, advised the government to facilitate procedures for applicants.
"The authorities should speed up the process of connecting the installed photovoltaic systems to the national grid... If they want more adoption, they need to cut the red tape," the owner of Al Hares Distributing and Publishing argued.
Several companies providing such systems that were interviewed by The Jordan Times complained of slow official procedures.
"Allowing households to install these systems is great, but more cooperation is needed on the part of electricity companies when they connect the system to the grid and issue approvals," noted Mansour Murad, head of Consolidated Energy and Economic Engineering (C3E).
It sometimes takes two to three months to connect a system to the grid, Murad said.
Omar Samman, another citizen who already installed a home photovoltaic system, noted that electricity generating companies might not be happy with the idea of having the public generate their own electricity.
"I think electricity companies are unhappy with the popularity of solar systems, because I used to pay 26 piasters per kw/h, and now I generate electricity for free," said Samman, deputy director general at National Press, who installed a JD12,000 solar system at his villa in Mahes and reduced his electricity bill from JD450 to around JD100.
But JEPCO's Abdullah, whose company receives the majority of the applications for connecting photovoltaic systems, dismissed claims of delays.
"There are no delays at all. Some people got approvals and were connected to the grid in two weeks. The problem is that some of the users deal with companies that do not have experience in installing such systems, which delays their connection to the grid," he added.
"What matters the most to us is the safety of the location where the systems will be installed and that the equipment meets the set standards. If all is well, approvals and connection to the grid is easy," Abdullah noted.
There are more than 400 firms selling and installing solar systems, he said, calling for regulating them.
"One of the companies working in the field was licensed as a suspension and steering company for automotives, and it changed its licence to include renewable energy solutions."
'Awareness crucial, loans difficult'
Mohammad Atiyeh, chairman of Abu Mahjoob Creative Productions, which launched a variety of activities and campaigns to raise awareness on the benefits of installing photovoltaic systems, said encouraging the switch to solar energy needs awareness and simpler financing procedures.
"The government should be directly involved in making the proper funds available," he told The Jordan Times.
"The majority of the public is still unaware of the benefits of the systems," Atiyeh added, noting that his foundation will launch a nationwide campaign soon to raise awareness and explore financing solutions.
Several banks contacted by The Jordan Times said they do not provide loans with low interest rates to install such systems in households.
Even the very limited number of banks that provide loans said they "consider it too risky".
Banks and financing companies that offer loans for installing photovoltaic systems charge interest rates ranging from 8 to 11.5 per cent.
Atiyeh said these rates drive away homeowners.
"It will be hard for those who do not have a bank account and a proven steady income to get loans. The feasibility of these systems is still questionable," said an employee at an Islamic financing firm.
To help provide financing, the French Development Agency (AFD) this year launched SUNREF Initiative, a JD38.5 million credit line extended at attractive terms to Cairo Amman Bank and Capital Bank of Jordan, for onward lending to businesses and households to install solar systems.
But employees at the Capital Bank of Jordan said they provide this type of financing only for businesses that generate electricity to sell to the government.
"We can provide personal loans and people are free to buy whatever they want with them," one of the employees said.
An employee at Cairo Amman Bank, who preferred anonymity, said the bank provides loans for families to install photovoltaic systems, but said it "remains too risky as they cost a lot and are not feasible for households".
Those who obtain loans from the bank need to buy the systems from a list of accredited companies, he said, adding that the interest rate can go down to 3 to 4 per cent, as it is supported by the AFD.
USAID said it will work on a project to raise awareness among banks and to provide easy financing.
"At present, we do not have a programme to make it easier for individuals to acquire financing to install such systems at home," said Mary Worzala, chief of party for the USAID Energy Sector Capacity Building Programme.
"In the next few months, we will cooperate with some banks and private sector entities to provide easy financing to individuals in this regard."
'Renewable energy enough to cover country's needs'
Environmentalists said facilitating more adoption of solar energy will save billions of dinars.
"When people install these systems, they rid the government of the burden of having to invest billions of dinars to build new power plants or expand infrastructure," said Ayoub Abu-Dayyeh, president of the Energy Conservation and Sustainable Environment Society.
"If adoption increases significantly, we do not need the gas from Israel and we do not need the nuclear reactors," Abu-Dayyeh added.
"On October 3, 2013, Germany produced 59.1 per cent of its energy needs through solar and wind energy. We in Jordan have more sunny days," he told The Jordan Times.
According to experts, the Kingdom has one of the highest annual daily averages of solar irradiance in the world with an estimated 330 days of sunshine per year.
Abu-Dayyeh called for supporting projects where local communities establish a fund to collect money and install solar systems to meet the needs of their area.
The government should use the money it spends on subsidising electricity to install solar panels for heating water in households, which will save about 25 per cent of their bills, he argued.
Citizens like Shuqeir should be given medals for their contribution to using clean energy, Abu-Dayyeh said.
"Receiving the electricity bill was always a source of annoyance, stress and financial burden. Now I impatiently wait for the bill every month. The best things in life are free and I hardly pay for electricity," Shuqeir said.
Related Articles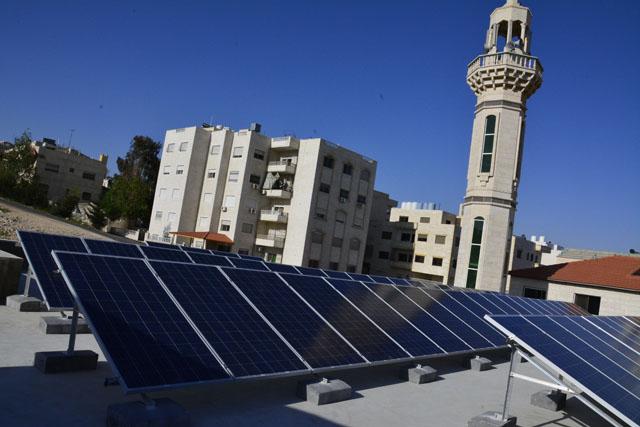 Jul 15,2014
A three-month campaign began this week to encourage households to install solar photovoltaic systems to generate electricity at home, which will significantly reduce the country's energy bill.
Aug 25,2014
Two seminars slated for Tuesday and Wednesday will promote household use of photovoltaic systems to produce electricity from solar power.
Aug 27,2014
Households in Jordan can save up to 90 per cent of their monthly electricity bill by installing photovoltaic systems to produce energy from solar power, according to organisers of a campaign to encourage the usage of such systems at homes.
Newsletter
Get top stories and blog posts emailed to you each day.