You are here
'Iraq violence costing Jordan JD1 million per day'
By Taylor Luck - Nov 13,2014 - Last updated at Nov 13,2014
AMMAN — Ongoing violence in western Iraq is costing Jordan over JD1 million per day as cargo flow between the two countries slows to a trickle, trucking companies say.
Mohammad Kheir Dawood, head of the Jordan Truck Owners Association, said on Thursday that growing instability and reduced cargo traffic has cost local trucking companies over JD200 million since the Islamic State's (IS) seizure of large swathes of land in the west and north of Iraq.
Ongoing instability and the threat of roaming militias has reduced daily traffic flow between Jordan and Iraq from 400 trucks to between 30 and 50, trucking companies say.
Iraqi government forces briefly withdrew from the Iraqi-Jordanian border in June, a period during which tribal militias manned the Karama border crossing.
Although Iraqi government forces have returned to the border, large portions of Anbar province remain in the hands of militias, causing many trucking companies to suspend their Amman-Baghdad routes, Dawood said.
According to Anbar tribes, tribal militias have been working to guarantee the safety of Jordanian trucks heading to the province, the main source of basic food supplies to under-siege regions in west Iraq.
Despite their efforts, sources within Anbar claim IS militias continue to man several checkpoints leading into Fallujah and Ramadi.
Related Articles
Mar 04,2015
Jordanian trucks will not be allowed to head to Libya due to security reasons, Jordan Truck Owners Association President Mohammad Dawood said Wednesday.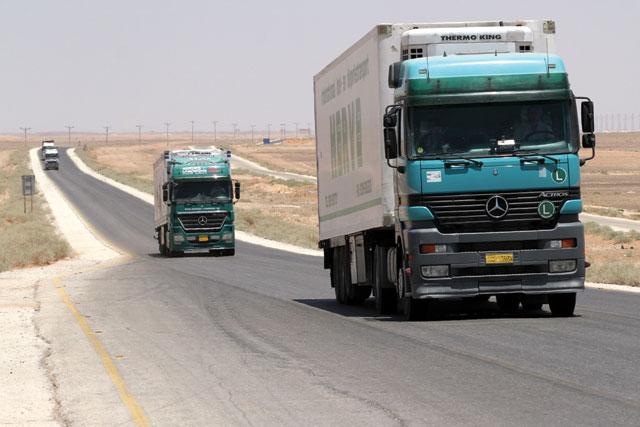 Feb 12,2015
Jordanian truck drivers have quit the "lawless" route inside Iraq as it is controlled not only by the so-called Islamic State (IS) militants but also by other sectarian militias, president of the Jordan Truck Owners Association, Mohammad Dawood, said Thursday.
Jul 22,2015
AMMAN — Authorities are studying the option of a direct maritime route to transport goods to Iraq as an alternative to land freight, in ligh
Newsletter
Get top stories and blog posts emailed to you each day.