You are here
International day draws Kingdom's attention to basic rights of children
By Maram Kayed - Nov 20,2019 - Last updated at Nov 20,2019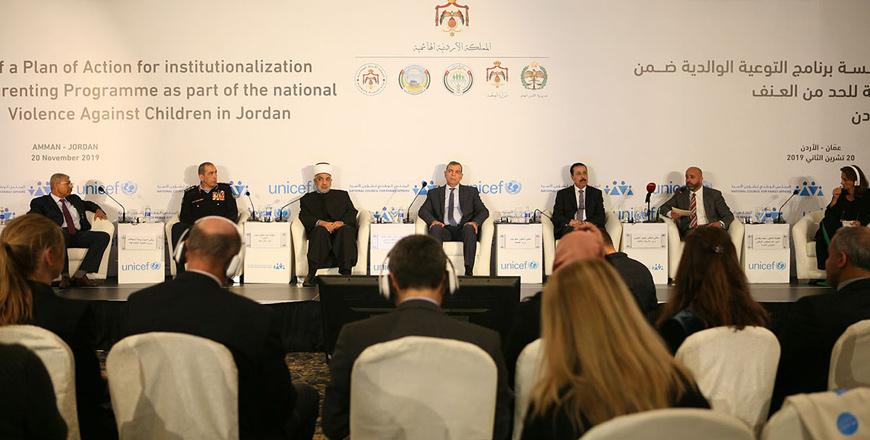 A number of Jordan's government institutions and NGO offices participate in International Children's Day on Wednesday (Petra photo)
AMMAN — Marking International Children's Day, which falls on November 20 each year, a number of Jordan's government institutions and NGO offices on Wednesday drew attention to the two "most-violated" rights of children; the rights to education and a violence-free home.
Children under eight years of age make up around 40 per cent of Jordan's population, according to the Department of Statistics (DoS). During the 2018-2019 school year, statistics showed that more than 93 per cent of those children were enrolled in primary school, in contrast to 84.5 per cent in the 1999-2000 school year.
However, as children progress on to secondary school, the percentage drops to 68 per cent.
"One of the most important agendas of the Ministry of Social Development (MoSD) and the Ministry of Labour is to help rescue the children whose families throw them into the unjust world of child labour, and bring them back to schools," said MoSD Spokesperson Ashraf Khreis.
The DoS praised the nearly 10 per cent increase in school attendance, attributing this to the government's "earnestness in applying the compulsory learning strategy", but said that "more has to be done" to guarantee the child's right of choosing to continue their education.
Another fundamental right, which UNICEF Jordan focused on, was the right to a violence-free household. Violent discipline at home is the most common form of violence experienced by children, according to the organisation.
In a poll on its social media platforms, UNICEF asked citizens if they agreed that children have the right to live a violence-free life, which involves the elimination of "disciplinary" violence.
The polls stood at 71 per cent in support of the statement and 29 per cent in opposition to it.
Most citizens who disagreed with the statement said they believed that "violent discipline is essential to a good upbringing", as put by a citizen on Facebook.
In the comments, many citizens went on to share their own stories of violence in the home, attributing it to "culture" and claiming that they "turned out as fine adults".
Mohammad Naser, a medical fellow at the Cleveland Clinic, stressed on social media that "disciplinary violence is just violence. There is nothing disciplinary about it. Its effects on children, which remain with them throughout their lives, has been documented and proven in numerous pieces of research. The Middle East needs to let go of this non-scientific cultural myth."
Newsletter
Get top stories and blog posts emailed to you each day.