You are here
'Huge consumption, poor use are reasons behind water crisis'
By Renad Aljadid - Feb 27,2018 - Last updated at Feb 27,2018
Former water minister Munther Haddadin gives a seminar on the regional and local water challenges facing Jordan on Tuesday in Amman (Photo courtesy of Abdul Hameed Shoman Foundation)
AMMAN — With a population of nearly 10 million, Jordan's 2.1 billion cubic metre water resources only cover 12.7 per cent of each individual's need, hydrologist and former water minister Munther Haddadin said.
His remarks came during a seminar on the regional and local water challenges facing Jordan held on Tuesday by the Abdul Hameed Shoman Foundation in partnership with the Arab Forum for Environment and Development under the title "The Future of Water in Jordan".
"The huge consumption of water and the means of utilising water resources in Jordan are the main reasons behind the water crisis, not the availability of water resources," Haddadin explained.
According to the former minister, the water levels in Jordan have been stable for years, but with the population increasingly growing, especially in light of the Syrian refugee crisis, the Kingdom started witnessing a deficit in the ratio between the available water levels and the population's needs.
"Each individual in a lower-middle-income economy country like Jordan needs 1,700 cubic metres of water annually," Haddadin said, explaining that "if we divide the available 2.1 billion cubic metres of water among the population, each individual will receive 216 cubic metres only, which is 12.7 per cent of their actual need".
He explained that the calculated water resources include surface water, groundwater, surface transboundary water, green water and treated water, stressing on the importance of including green water — which is the soil moisture from precipitation ­— in the calculations.
In spite of the variety of resources, large amounts of water are lost as a result of the "low-efficient water transferring systems", Haddadin said, adding that "Jordan receives eight to 12 million cubic metres of rainwater annually, but loses 80 per cent of it due to evaporation, while other countries only lose 35 per cent, and the average global loss rate stands at 56 per cent."
Locally, the hydrologist stressed on the need to take "hard" actions including constructing more dams to preserve rainwater, enhancing current water systems, desalinating sea water, protecting agricultural lands from pollution and "urban sprawl", and recycling used water.
At the regional level, he recommended negotiating water treaties with neighbouring countries, and increasing regional cooperation in agriculture to utilise the rain-fed croplands, which hold two to 2.5 million cubic meters of water annually.
Haddadin added that energy and water should always go hand in hand as the water cycle is never complete without solar energy, while steep water drop can generate electricity.
He called on working towards finding alternative, affordable, and environment-friendly energy resources other than fossil fuels, which are potentially fleeting, so as to enhance the possibility of establishing desalination plant.
He finally voiced his hopes to see nuclear energy generated by nuclear fusion, not fission being used in the future.
Related Articles
Dec 14,2021
AMMAN — Locations for desalination and solar power stations, part of the declaration of intent between Jordan, UAE and Israel for a project
May 31,2019
AMMAN — Climate change, the Syrian refugee influx and the massive growth in various sectors have all contributed to increasing demand on wat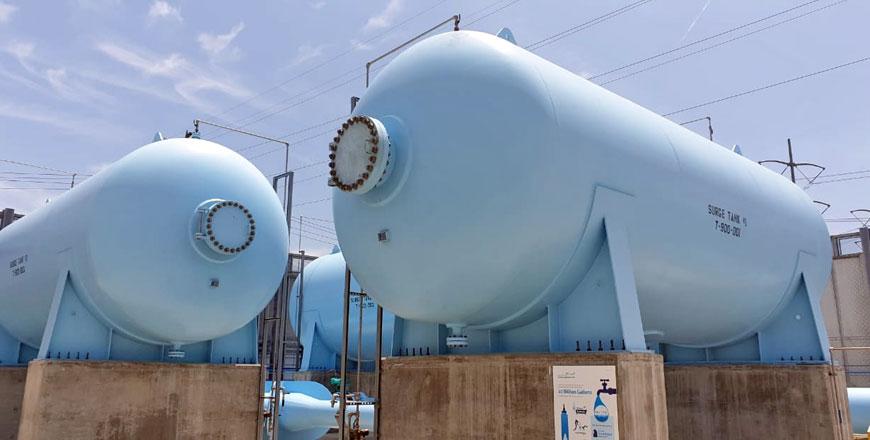 Sep 10,2019
SAN DIEGO, California — Seawater desalination is the "only option" for countries seeking to become more resilient and have reliable water su