You are here
House committee to revisit peace pact with Israel
By Raed Omari - Dec 10,2017 - Last updated at Dec 10,2017
AMMAN — The Lower House on Sunday tasked its Legal Committee with poring over Jordan's peace treaty with Israel and its pursuant agreements, and come up with proposals to address the Israeli violations to the provisions of the 1994 pact.
The panel will examine all Israeli violations against its commitments under the deal, and compile a detailed report to be forwarded to relevant Arab and international organisations.
The committee's mission was decided by the House during its Sunday's oversight session, which, upon MPs' request, was dedicated to discuss President Donald Trump's recognition of occupied Jerusalem as Israel's capital rather than the legislative matters on the meeting's agenda.
Citing the "non-stop" Israeli violations to the Wadi Araba Peace Treaty, a group of 14 deputies signed a memorandum requesting that deal to be annulled.
The said article stipulates that a minimum of 10 senators or deputies can propose any law, to be referred to the committee concerned at the House for its views.
If the House has the opinion that the proposal should be accepted, it will refer it to the government for drafting it in the form of a bill, and to submit it to the House either during the same session or in the following session.
The 14 signatories listed the US-Israeli "plotting" to move Washington embassy from Tel Aviv to occupied Jerusalem under Trump's declaration as the major violation of the Wadi Araba Peace Treaty.
In another memorandum, initiated by Palestine Committee President MP Yahya Saud, more than 40 lawmakers requested changing the names of streets near the US and Israeli embassies in Amman to Jerusalem and Palestine, respectively.
Sunday's session saw a heated discussion of Trump's declaration on Jerusalem with some MPs calling for closing Tel Aviv's embassy in Amman while others went further as calling on Palestinian factions to give up the "peace illusions" and adopt the "armed resistance" to end the Israeli occupation.
Other MPs described Trump's decision as a breach to the international law and UN resolutions, while others described it as a serious challenge to the Arab and Muslim worlds.
Related Articles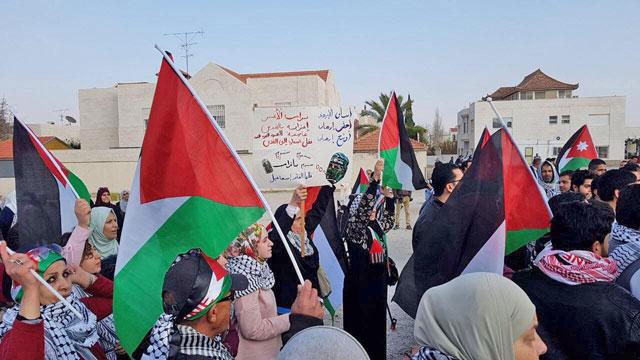 Dec 13,2017
AMMAN — Tens of people on Wednesday held a protest next to the American embassy in Amman to denounce US President Donald Trump's decisions t
Feb 26,2014
The majority of the 150-member Lower House on Wednesday voted in favour of a motion to expel Israel's ambassador to Jordan and recall the Kingdom's ambassador to Israel.
Feb 25,2014
The Lower House urged the government on Tuesday to take a firmer stand as the Israeli Knesset has scheduled a renewed debate over a proposal to strip Jordan from its status as the custodian of the holy shrines in Jerusalem.
Newsletter
Get top stories and blog posts emailed to you each day.