You are here
Hot weather drives demand for sweet juices to break Ramadan fast
By Bahaa Al Deen Al Nawas - Jun 18,2016 - Last updated at Jun 18,2016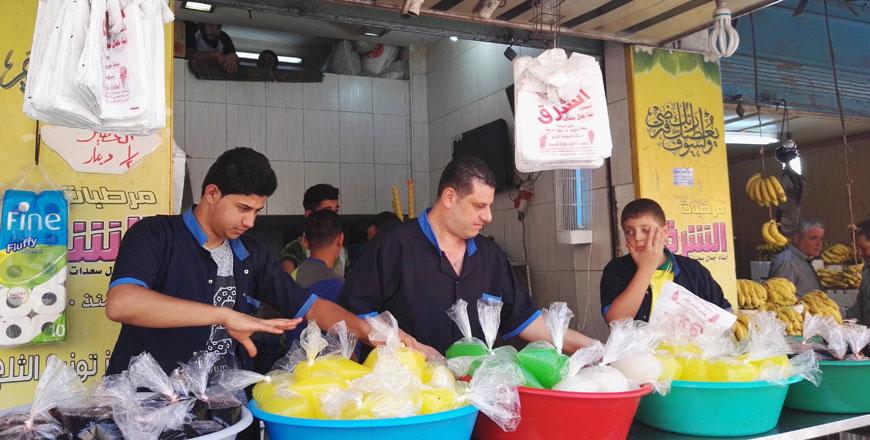 Vendors prepare juice at a shop in downtown Zarqa on Saturday (Photo by Bahaa Al Deen Al Nawas)
ZARQA — In the past few years, the fasting month of Ramadan has fallen during the summer, and the hotter the weather, the thirstier people become during the daily fast.
In Ramadan, Muslims abstain from eating or drinking from dawn until the fast-breaking iftar meal at dusk.
When sunset arrives, people like to quench their thirst with the two most popular Ramadan drinks: tamarind and lemon juice.
Juice and ice cream shops stock up on these two drinks in Ramadan, knowing that they will be in demand.
Samer Saadat, the owner of Al Sharq Refreshments shop in downtown Zarqa, told The Jordan Times on Saturday that his shop is one of the oldest in the governorate, selling juice and ice cream since 1953.
He said that refreshment shops in general focus on juice during Ramadan because it is most in demand, noting that he sells tamarind, lemon, orange, carob and liquorice juices for JD0.5 a bag.
To make the juice, Saadat blends water, sugar and essences of the flavour, before pouring the mix into another blender with ice. The juice is then poured into bags to be sold.
Saadat said he gets new customers every year, noting that many Syrians visit his shop to buy tamarind and liquorice juice.
The question of when did tamarind and lemon juice became so popular remains a mystery, as Saadat and several buyers say it has been enjoyed in Ramadan for as long as they can remember.
Hussein Abu Al Rob, who came with his children to buy tamarind and lemon juice, said he buys the juice every day in Ramadan.
He suggested that the drinks are popular with the public because they are "so delicious".
Ahmad Al Zyoud, another customer, said he is choosy about which shop he buys his juice from, noting that the most important factor in a good juice is the water, which must be clean.
Customers Maha and Razan said their families started buying the juice shortly before Ramadan, and continue to drink it for a while after the month is over.
As long as the weather is hot, they like to drink lemon and tamarind juice, they said.
All the customers agreed that the hot weather is the main reason for buying the juice in Ramadan, as people get so thirsty they look forward to a refreshing drink when sunset arrives.
Related Articles
Jul 09,2015
AMMAN — Three years ago, Um Mohammad decided to spend her Ramadan days differently from other housewives in her family and neighbourhood.The
Jun 28,2014
Dates, ingredients for homemade sweets, vegetables and juice are usually the most popular items among consumers ahead of Ramadan, according to homeowners and breadwinners. 
Jun 07,2015
AMMAN — The Greater Amman Municipality (GAM) is gearing up for the approach of the fasting month of Ramadan, with a plan to further monitor
Newsletter
Get top stories and blog posts emailed to you each day.