You are here
His Majesty exchanges view with Bolton, meets think tank team
By JT - Apr 22,2018 - Last updated at Apr 22,2018
His Majesty King Abdullah meets with delegates from a US-based think tank in Amman on Sunday (Photo courtesy of Royal Court)
AMMAN — His Majesty King Abdullah on Saturday received a phone call from US National Security Adviser John Bolton during which they discussed the strategic partnership between the two countries, as well as a number of regional issues.
The two sides affirmed the importance of maintaining Jordanian-US coordination on various matters of mutual concern, a Royal Court statement said.
The conversation also covered efforts to reach a political solution to the Syrian crisis through the Geneva process, one that guarantees the territorial integrity of Syria and the unity of its people.
Moreover, the two sides stressed the importance of maintaining the de-escalation zone in southwestern Syria, established last year under a trilateral agreement reached by Jordan, the United States and Russia.
Discussions during the phone call also addressed efforts to fight terrorism within a holistic approach, and Jordanian-US cooperation in this regard.
Also on Sunday, King Abdullah received a delegation from a United States-based policy institute specialising in the Middle East peace process.
King Abdullah called for stepping up international efforts to jumpstart the Palestinian-Israeli peace process to reach a just and lasting peace based on the two-state solution that leads to the establishment of an independent Palestinian state with East Jerusalem as its capital.
His Majesty reaffirmed that Jerusalem is a final status issue that must be resolved within the framework of a comprehensive solution to the Palestinian-Israeli conflict.
The King stressed that Jordan will persist in undertaking its historical role in safeguarding Islamic and Christian holy sites in Jerusalem, in line with the Hashemite custodianship.
The meeting covered the vital role of UNRWA and the importance of supporting the UN agency to enable it to maintain its educational, healthcare, and relief services for refugees.
Discussing the Syrian crisis, His Majesty asserted Jordan's support for efforts and initiatives to reach a political solution within the Geneva process, which ensures security and stability for the Syrian people and guarantees the territorial integrity of their country.
In addition, discussions addressed crises in the region and efforts to resolve them politically.
Adviser to His Majesty and Director of the King's Office Manar Dabbas attended the meeting.
Related Articles
Apr 05,2017
AMMAN — His Majesty King Abdullah on Tuesday met with US Secretary of Defence James Mattis and US National Security Adviser Herbert McMaster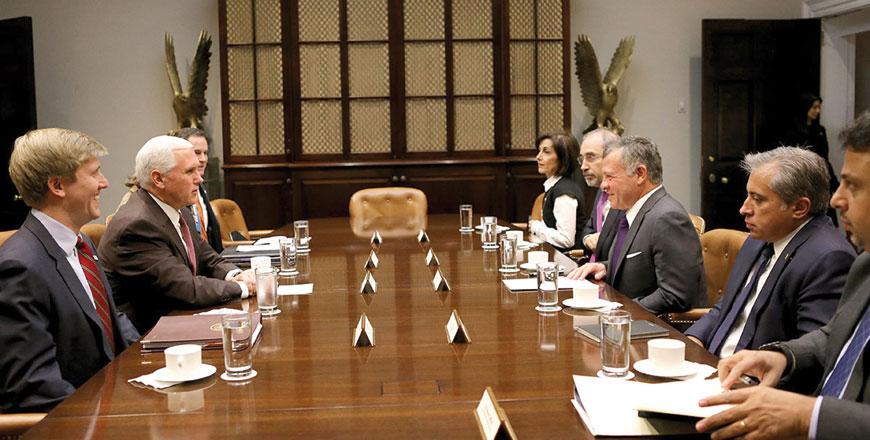 Nov 28,2017
AMMAN — His Majesty King Abdullah met on Monday with senior US administration officials, with discussions covering means to bolster Jordan's
Dec 08,2014
Foreign Minister Nasser Judeh on Monday discussed Jordanian-US ties and the latest regional developments with a delegation from Georgetown University.
Newsletter
Get top stories and blog posts emailed to you each day.