You are here
Health expenditure in Kingdom reaches JD2.2b — Sheyyab
Spending on sector accounts to 8.4% of GDP, 'equivalent to that of high-income countries'
By JT - May 15,2018 - Last updated at May 15,2018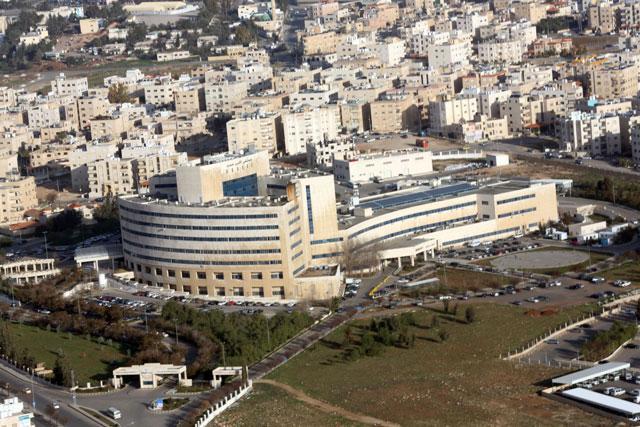 An aerial view of Prince Hamzah Hospital in Amman (Photo by Osama Aqarbeh)
AMMAN — Health Minister Mahmoud Sheyyab on Tuesday said that the value of spending on Jordan's health sector has reached JD2.2 billion, JD1.25 billion of which is spent on public institutions.
Sheyyab said that the expenditure accounts to 8.4 per cent of the gross domestic product (GDP), which is equivalent to the health expenditure of high-income countries.
He noted that, according to international health reports and indicators, Jordan's health sector is advanced despite the limited available resources, especially indicators such as the vaccination coverage which reached 97 per cent, and the drop in the rate of women dying in childbirth, down to 19 women in every 100,000 births.
For medicines expenditure, the minister said that the value reached JD581 million, JD80 million of which is the ministry's portion, with JD61 per person.
He explained that medicine is made available through the Joint Procurement Department with competitive tenders to ensure quality.
Sheyyab said that the Health Ministry's budget has reached JD600 million, and the rate of people covered by insurance has reached 69 per cent, in addition to new segments being added to the coverage, including those above the age of 60 and children younger than six years old.
The ministry seeks to employ specialty doctors such as internists, paediatricians and gynaecologists in its health centres across the Kingdom, to improve the quality of the services provided to the public.
Also on Tuesday, Sheyyab visited a number of health centres to check on the quality of services and the needs of the facilities.
During the tour, the minister said that the ministry is currently implementing several projects to improve the sector as part of a five-year holistic strategy
The strategy includes building 40 healthcare centres and improving 100 others.
The ministry is currently building five hospitals at a cost of JD400 million in Irbid, Ajloun, Madaba, Salt and Tafileh.
Related Articles
Dec 18,2017
AMMAN — Jordan health expenditure exceeded JD2.2 billion in 2015, the Jordan News Agency, Petra, reported.Jordan Higher Health Council on Mo
Nov 21,2017
AMMAN — Health Minister Mahmoud Sheyyab on Monday said that Jordan spends around 8 per cent of its GDP on health, the Jordan News Agency, Pe
May 03,2018
AMMAN — Campaigns on national goals for the quality and safety of healthcare, which were launched by the Health Care Accreditation Council (
Newsletter
Get top stories and blog posts emailed to you each day.