You are here
Gov't launches 68 investment opportunities worth $4.5b
By JT - Feb 12,2020 - Last updated at Feb 12,2020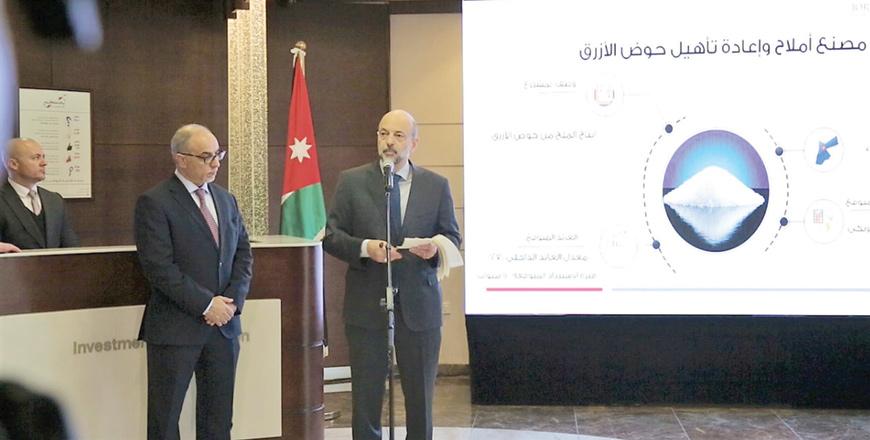 Prime Minister Omar Razzaz speaks during the launch of 68 investment opportunities worth $4.5 billion across the Kingdom covering various sectors including tourism, industry, health, agriculture and services on Wednesday (Petra photo)
AMMAN — The government on Wednesday launched 68 investment opportunities worth $4.5 billion across the Kingdom covering various sectors including tourism, industry, health, agriculture and services.
Prime Minister Omar Razzaz, during a ceremony held at the Jordan Investment Commission (JIC), said that the tourism sector has the lion share of the opportunities, with investment volume reaching some $2 billion, including 27 ventures focused on hospitality and entertainment, among others.
He also highlighted the need for investing in three-and four-star hotels, stressing that the tourism sector in 2019 grew by 9.9 per cent, while the number of arrivals to the Kingdom increased by 38 per cent in 2019 and hotel bookings climbed by 37 per cent, pointing out that these figures positively affected the economy and employment opportunities.
The industry sector also garnered a major share of 12 business opportunities, with an investment volume of $368 million in the fields of silica, silicon wafers and fertilisers, the premier said, adding that ventures in the fields of minerals and natural resources are being considered.
The premier said that the industry sector directly contributes 25 per cent of the GDP, in addition to 40 per cent contributed indirectly through other sectors.
About 250,000 Jordanians work in the industry sector within some 18,000 institutions, he said, adding that the sector has attracted 65 per cent of foreign investments in the Kingdom, the Jordan News Agency, Petra, reported.
Commenting on the opportunities available in the health sector, Razzaz said that the proposed investment projects focus on linking medical and convalescence services and establishing health resorts and healthcare centres in Amman, Ajloun, Balqa and Irbid, among others.
Regarding the 23 opportunities in agriculture sector, with an investment volume of $1.5 billion, the premier said that the proposed business activities focus on agricultural manufacturing, which the Kingdom is currently lacking.
Razzaz instructed the commission to cooperate with the related bodies and provide a periodical report on the progress of the investment opportunities.
Newsletter
Get top stories and blog posts emailed to you each day.