You are here
Government condemns 'barbaric' killing of Jordanian by Israeli forces
Amman to take legal action against occupation authorities
By Mohammad Ghazal - Sep 17,2016 - Last updated at Sep 17,2016
An undated photo of Saeed Amro, a Jordanian killed by Israeli forces in Jerusalem on Friday, shared on social media
AMMAN — The government on Saturday condemned the "barbaric" and "deliberate" killing of a Jordanian man by Israeli forces in Jerusalem a day earlier, the Jordan News Agency, Petra, reported.
Israeli occupation forces shot Saeed Amro, 28, outside Al Aqsa Mosque, killing him instantly, his relatives told The Jordan Times.
Ministry of Foreign Affairs Spokesperson Sabah Rafi disputed the Israeli forces statement claiming that Amro had tried to attack Israeli soldiers.
Rafi noted that the same statement also said that no Israeli officer or soldier sustained any injuries in the incident.
"The Jordanian government is following up on the case to look into all the details and to hand over the body of the martyr to his family in preparation to take internationally followed legal and diplomatic procedures in such cases," Rafi added.
Amro's relatives on Friday urged the swift return of his body.
The young man had travelled to Jerusalem on Thursday to meet with relatives and visit Al Aqsa Mosque, according to his brother Abdullah.
"He wanted to enter Al Aqsa Mosque for Friday prayers. He was asked to open his bag to be searched and then he was shot in the head. This is what eyewitnesses informed us," he told The Jordan Times.
"We want him back as soon as possible to bury him and we want an investigation into this killing," said Abdullah, who added that Amro had nine other siblings.
Ramzi Amro, the victim's cousin, said Amro informed his family about the planned trip to Jerusalem during Eid Al Adha and that he was eager to visit Al Aqsa.
"Saeed was a very kind, respectful person. He was not radical at all and he did not even have any political orientations," said Ramzi.
Saeed worked for the water department in Al Qaser in Karak Governorate.
Related Articles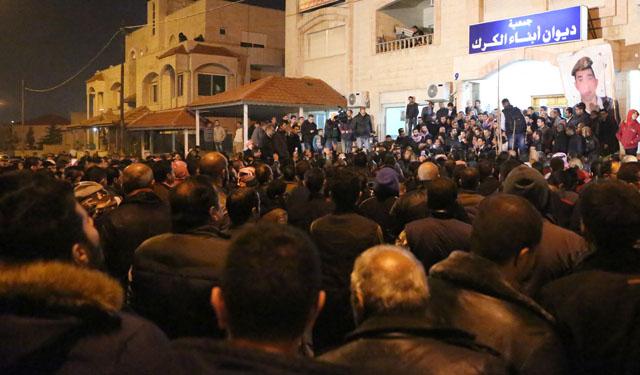 Feb 04,2015
Readers of The Jordan Times from across the world on Tuesday expressed their shock and horror over the killing of Jordanian pilot Muath Kasasbeh by the so-called Islamic State group. 
Sep 18,2016
AMMAN — Ministry of Foreign Affairs Spokesperson Sabah Rafi on Sunday said that the body of the Jordanian victim, who was killed by Israeli
Sep 19,2016
AMMAN – The government on Monday said it was closely following up on the killing on Friday of Jordanian national Saeed Amro in occupied Jeru
Newsletter
Get top stories and blog posts emailed to you each day.