You are here
Girls set up own meteorology station at their school in Maan
By Muath Freij - Jan 16,2018 - Last updated at Jan 16,2018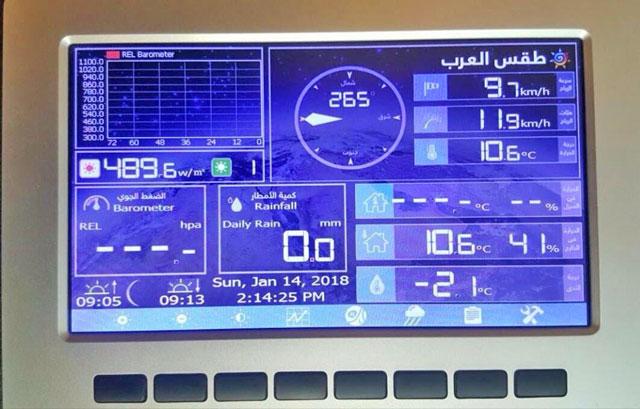 The meteorology station set up at Maan Higher School for Girls will help students conduct hands on experiments (Photo courtesy of Maan Higher School for Girls)
AMMAN — As all Jordanians are gearing up for the snowy weather expected for this weekend by turning to meteorology websites, a public girls school in the southern city of Maan decided to take it upon themselves to forecast weather conditions.
A tour to a meteorology station in Maan organised by the Maan High School for Girls to learn more about weather related topics to help students in their classes was a turning point.
According to one of the trip participants, Halimah Abu Tawilah, the trip did not go as expected. "The infrastructure and equipment were in poor conditions and we were very depressed realising that we did not take any advantage of that trip," she told The Jordan Times in a phone interview.
The school's principal Suheer Salah said that the school struggles every year to arrange a field trip to one meteorology stations so that students can get hands on experience about the topics they study in class.
"Such trips affect the students' time spent at school and they require a lot of efforts on our part because they often take the whole day. Also, a limited number of students can be enrolled in these trips so not many of them can benefit from these field experiences," she said.
After the trip, Abu Tawilah and her fellow students met with the principal and suggested constructing a meteorology site inside the school, with the aim of having a positive impact on students.
"We liked the idea as we thought that such a step will save time and effort for students and school staff. So, we contacted ArabiaWeather which sells small meteorology equipment. When the people from the website learned about our idea, they decided to donate the material instead of selling it," she recalled.
Another student, Ban Al Khattab said that school children will definitely benefit from the equipment. "This will help us do practical experiments at the school instead of just reading about it," she said.
Suheer noted that this is the "first ever" meteorology site set up at a public school in the southern part of the Kingdom.
"This will not only have a positive impact on the school, but also on the entire city as other students are welcome to join and learn from our station," she added.
The dedication of the students in establishing this station has become a source of pride for the school's principal. "Now we can depend on ourselves in forecasting weather conditions," she concluded.
Related Articles
Oct 26,2015
AMMAN – When 14-year-old Ghada Hammad used to hear the weather forecast every morning before class at her school, she became curious about h
Oct 24,2017
AMMAN — Her Majesty Queen Rania on Tuesday made a surprise visit to the northern Rabahiya coeducational secondary school in Amman, where she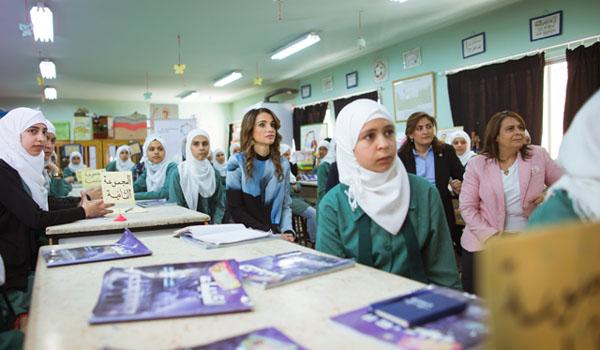 May 13,2015
Her Majesty Queen Rania on Wednesday visited the Shifa Bint Awf School for Girls and checked on the progress of several educational projects carried out by the Jordan Education Initiative (JEI), as well as the Watan Music Chamber. 
Newsletter
Get top stories and blog posts emailed to you each day.