You are here
Generations should not pay price for education system failures — Queen
Her Majesty participates in workshop on Jordan's performance in TIMSS assessment
By JT - Dec 06,2016 - Last updated at Dec 06,2016
Her Majesty Queen Rania visits the Mahes Secondary School for Girls in Balqa, 35km northwest of Amman, on Tuesday (Photo courtesy of Royal Court)
AMMAN — Her Majesty Queen Rania on Tuesday joined a group of education professionals at a workshop on the deteriorating performance of Jordanian students in the Trends in International Mathematics and Science Study (TIMSS).
The event took place at Mahes Secondary School for Girls in Balqa Governorate.
She also dropped by mathematics and science lessons taught by student-teachers enrolled in the Pre-service Professional Diploma Programme implemented by the Queen Rania Teacher Academy (QRTA), who are currently fulfilling their practicum module at the same school.
During the workshop, attended by 50 educators and moderated by QRTA's Ahmad Qublan, Queen Rania said that the latest TIMSS assessment results are an indication that school curricula and teaching techniques are lacking, and warned that generations should not have to pay the price until a satisfying development of Jordan's education system is achieved.
Her Majesty said that change does not happen overnight and urged teachers to propose ways to develop the education process in order to help students apply what they learn to real life situations.
The Queen said that the TIMSS results were shocking because they revealed that most students are neither fully grasping what they are taught nor are they capable of employing their knowledge, especially in mathematics, which should rely on understanding and reasoning, rather than memorisation.
She also explained that there are inexpensive and innovative ways to improve students' performance through technology software that helps teachers better communicate information to students, according to a statement from Her Majesty's office.
The Queen also noted that efforts are under way to establish a teaching college in cooperation with Jordan University that would be able to train a larger number of teachers before they start their teaching careers.
In response to comments by teachers who said that students do not take international exams seriously because they do not factor into their school grades, Her Majesty said that "teachers and schools have to build the right environment that creates incentive in students to excel in any exam".
"Students should have the personal motivation to prove to themselves that they can do well in any exam, even if there is no direct return," Her Majesty added.
The performance of Jordanian students in last year's TIMSS assessment dropped drastically, placing Jordan 23 points below its rank in eighth grade science. This constituted the largest drop by any of the 39 participating countries. Jordan's score in eighth grade mathematics was also low, ranking 8th among nine participating Arab countries.
Teachers participating in the workshop expressed their frustration with the current science and mathematics curricula, on grounds that they do not focus on the students' understanding of the subjects and instead reinforce memorisation rather than analysis. They also said they feel they lack effective teaching techniques that enrich students' understanding based on reasoning, interpretation, and a logical thought process.
Some attributed the low TIMSS scores to lack of knowledge on the part of both teachers and students about the importance of this international assessment.
Several teachers told Her Majesty that they would like to see schools institute more extra-curricular activities that help students with problem-solving. Many, who have received training from QRTA, also called for establishing more education networks that can enhance their teaching techniques.
School Principal Razan Zu'bi and Director of the QRTA Pre-service Professional Diploma Programme Suhair Al Khatib accompanied Her Majesty while she attended part of the classes taught by student-teachers enrolled in the diploma programme.
QRTA's diploma, a first in the Kingdom, was launched in October 2016 under Queen Rania's patronage, with the aim of preparing future educators to transform their classrooms into environments that encourage innovation, leadership and intellectual curiosity.
The programme's first cohort of educators includes 185 teachers, who went through a highly competitive selection process.
The practicum segment, or "School Experience" module, aims to improve the teachers' professional standards and facilitate their entry into the profession.
QRTA aims to graduate between 5,000 and 7,000 students in the upcoming five years. Upon completion of the nine-month, 24-credit-hour diploma, student, teachers will commit to a teaching job with the Ministry of Education for four years, and receive a monthly salary during the training period in accordance to its regulations.
The Mahes Secondary School for Girls, which was established in 1951, currently enrols 783 students. The school welcomes the local community to use its facilities and services by providing a venue for workshops, holiday celebrations, religious activities, and the Mahes Annual Festival.
Related Articles
Jan 16,2017
AMMAN — Her Majesty Queen Rania met with the Lower House Education Committee on Monday to discuss critical issues related to educational ref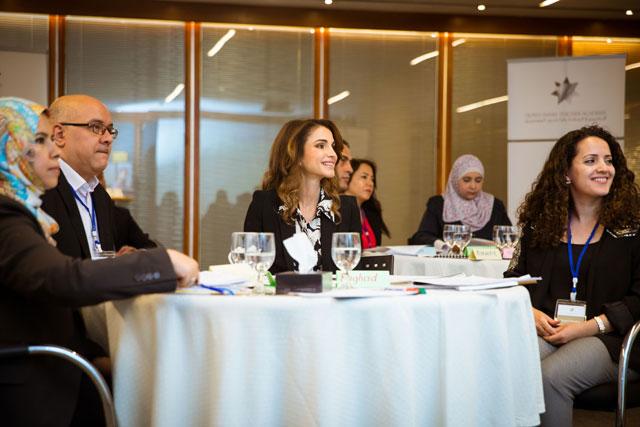 May 30,2016
AMMAN — Her Majesty Queen Rania on Sunday was briefed on preparations currently under way to launch the Queen Rania Teachers Academy's (QRTA
Apr 19,2016
AMMAN — Her Majesty Queen Rania on Tuesday visited Al Khansaa Secondary School for Girls in Amman and attended part of Queen Rania Teacher A
Newsletter
Get top stories and blog posts emailed to you each day.