You are here
Future mission is to prevent Daesh reemergence — NATO chief
By Rana Husseini - Mar 07,2018 - Last updated at Mar 07,2018
AMMAN — NATO Secretary General Jens Stoltenberg on Tuesday praised Jordan's "brave role" in fighting Daesh and contributing in its defeat.
"I salute Jordan for the bravery and for its key role in the fight against Daesh. This is a common enemy and Jordan has made extremely important contributions to our joint efforts to defeat Daesh," Stoltenberg said.
The NATO official's remarks were made during a press conference that was held at Marka Airport at the end of his two-day visit to Iraq and Jordan.
Stoltenberg said focus should be now on how to "ensure that Deash will not come back and reemerge as a military threat and we have to understand the need to continue the political and ideological fight against this kind of extremist violent ideology".
"NATO appreciates very much the contributions of Jordan to NATO's missions and operations in the fight against extremism and terrorism, and in supporting our efforts in Afghanistan … in Bosnia, and Herzegovina, the Balkans and many other places," Stoltenberg said.
Jordan is also contributing to the NATO response force and "we exercise together and are working on many different areas including fighting terrorism, protecting the borders, cyber defence...".
"We will continue to work together with Jordan to fight terrorism, building defence capacity and reform and modernising the armed forces of Jordan," the NATO official said.
Stoltenberg described his visit to the Kingdom following meetings with His Majesty King Abdullah and other officials as "constructive and good".
"My message in Jordan has been that NATO values the close partnership with Jordan, including the political dialogue and practical cooperation between the two of us," Stoltenberg added.
He noted increased focus on gender training in Jordan and elsewhere in the world to empower female soldiers and ensure that "they can speak up against any kind of sexual abuse or harassment".
"We are focusing on increasing the number of women serving in the army and our focus is to train them on how to stand up for their rights and report any form of harassment or abuse and Jordan is contributing to our efforts," Stoltenberg stressed.
Turning to Iraq, Stoltenberg said NATO is now moving from the "combating role by the global coalition to fight Daesh in Iraq, towards more and more training".
"I commend the Iraqi government for the courage and salute them for their professionalism in the fight against Daesh as well as the victory and progress they have achieved," he added.
Stoltenberg said there is strong cooperation with the Iraqi government, adding, "I discussed with high-level Iraqi officials means of cooperation and training by establishing military schools and academies to strengthen the Iraqi military."
Related Articles
Jul 10,2016
AMMAN/WARSAW — NATO allies agreed on Saturday to increase cooperation with Jordan as part of a plan to boost the alliance's support fo
Dec 05,2017
BRUSSELS — As NATO foreign ministers convene on Tuesday to discuss the fight against terrorism, among other challenges, the alliance said it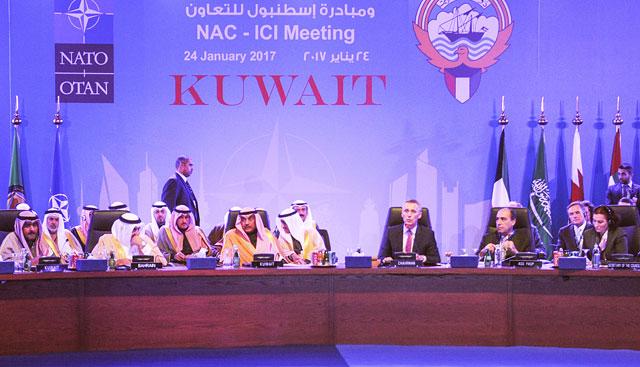 Jan 24,2017
KUWAIT CITY — NATO Chief Jens Stoltenberg on Tuesday called for boosting security cooperation with the Gulf states as the Western military a
Newsletter
Get top stories and blog posts emailed to you each day.