You are here
Fuheis centre for abused women spreads 'new hopes for life'
By Rula Samain - Oct 20,2018 - Last updated at Oct 20,2018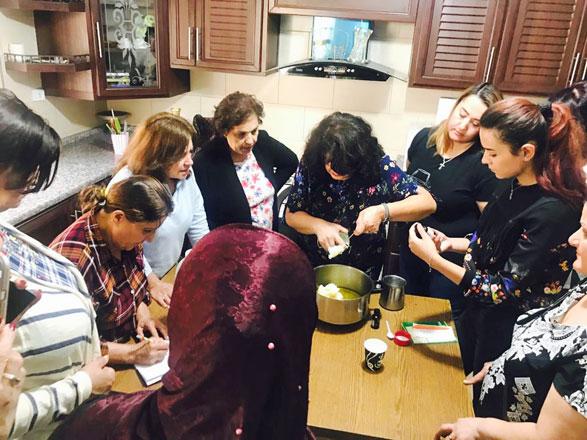 Women are gathered around Amar Hamati who is teaching them how to make homemade shampoo  (Photo by Rula Samain)
FUHEIS — "He convinced me that women are a danger to themselves and others around them, that the right place for women is inside their homes; he literary meant 'inside'," recalled a domestic abuse survivor who was kept inside her house for 24 years.
"When damage is done, one can only try to move on, and try to prevent such miserable life from repeating itself with other female family members," she continued with her eyes wide open, referring to her two daughters.
Fatima (names were changed for anonymity) is a 44-year-old Syrian woman married to a Jordanian, who used to live in dire poverty with her five children. Food was rare in the house, mostly donated by neighbours or relatives, she said, noting that her husband was jobless most of the year.
"Whenever money was available, he made sure to feed his greedy stomach first and maybe feed the children with the leftovers," Fatima remembered, saying that, before their marriage, her husband had promised her almost everything she was deprived from in Syria.
"He promised freedom only to find out that not only every word he said was a lie, but freedom was far-fetched, living with an abusive and monster-like husband," she told The Jordan Times in an interview.
Even when her children went to school and later work at an early age, the outside world was off limits for her.
But while Fatima thought she could never emerge from her own pit of darkness, beams of light came shining as she was introduced to a support group at Grace of Love Centre (GOLC).
"A relative of my husband saw hopelessness in my eyes during one of her rare visits. She begged me to 'just visit the centre once', not comprehending that I had grown to fear the outside world," she remembered.
Her three sons, now adults, stood against their father's will and supported their mother, which helped her take on the path towards change.
David Rihani, director of GOLC, told The Jordan Times that establishing the centre a year ago came as a response to the need amongst marginalised and abused women, especially Iraqis and Syrians.
Also president of Assemblies of God Church of Jordan, Rihani said that the centre's various programmes have served more than 80 women, giving them confidence, a sense of belonging and helping them overcome the negative circumstances they have faced.
Conducted by women specialists, the programmes include trauma treatment courses, self-reliance, house management, sewing, cooking and hand crafting, among others.
"We receive many women like Fatima; women who survived abuse or violence might be victims in some ways but they are definitely more than that. They are human beings worth of dignity and respect," Rihani stated.
Fatima said that only recently did she regain her will and "semi-independence", learning that life is "not worth living without hope".
"Life free of fear is worth living," she said with a faint smile, explaining how she has learned to make shampoos, cook new dishes, make new clothes out of the old and ragged ones, which she has been to sell through the centre's regular bazaar, therefore gaining a "modest but decent income no less".
"Because I bring money, my husband allows me now to leave for two hours once a week," she explained, noting that she is in peace now with the fact that her husband has "stolen a good part of her life".
"He stole the past, but never my will to keep going," she asserted.
Project Manager Amar Hamati said that, as she used to help vulnerable individuals along with her friends, "the centre was the best idea to bring them all together".
Hamati teaches art and handicraft, which she said helps overcome violence and traumatic memories, and illuminate the road ahead.
Meanwhile, Executive Manager Hala Naffa said she believes that in the heart of every woman, no matter how abused and used she is, there is "a creative, strong, hidden woman".
Both Hamati and Naffa agreed that the centre provides a "warm homey atmosphere" where every woman is important.
"We teach them that they are not victims but survivors, and encourage them to tell their stories to inspire other women to cope better with their challenges," they agreed.
Newsletter
Get top stories and blog posts emailed to you each day.