You are here
French painter brings colours to Marka's water infrastructure
By Camille Dupire - Jun 03,2018 - Last updated at Jun 03,2018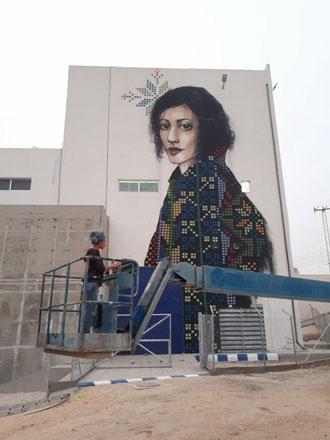 French artist Lucie Legrand's mural is covering the wall of an AFD funded water reservoir in Marka (Photo courtesy of Baladk Festival)
AMMAN — Using art to beautify the city's infrastructure and bring colours to citizens' daily lives is one of the purposes behind Baladak Street Art festival, which recently concluded its sixth edition in Amman, leaving 15 freshly painted murals on the walls of the capital.
French artist Lucie Legrand was among the 15 artists participating in the 2018 edition, where she sprayed the wall of Marka's water reservoir, a site funded by the French Agency of Development (AFD) to provide water to the Kingdom's northern governorates.
"I have always been impressed by street art, due to its format, tools and methods, but also due to the interaction it creates with the public, which is completely different from going to exhibitions or looking at art pieces in a museum," Legrand recounted, stressing "to paint in the street means reaching out to a much wider audience, and to change people's relation to their environment".
The French artist said she started her journey into the world of street art after meeting a graffiti artist in Palestine in 2013, when she sprayed her first creation on the separation wall between Israel and Palestine.
"This was truly a turning point for me, both technically and humanly. I realised the possibilities street art gives in terms of human interaction. It is very different from working inside a studio, as you get to be in direct contact with the public, listening to their stories, hearing their opinions and realising the impact such work has on their daily lives," Legrand told The Jordan Times on Saturday.
For the French painter, working in the street "triggers emotions, initiates surprises". "Stumbling on an artwork while walking in a neighbourhood really breaks the routine of our daily lives. It gives us an opportunity to stop and get a breath of fresh air in the middle of an otherwise usual day," she stated, voicing her happiness to see her large-scale painting irradiate in the marginalised area.
"Our surrounding environment has a very strong impact on how we feel and it was important for me to bring something more human and intimate to this blank wall," Legrand remembered, noting that she used typical Palestinian embroidery patterns to decorate her piece, as a reference to her travels to the neighbouring country a few years ago.
"Travelling and exchanging cultures is a great source of inspiration for me, and I try to convey the essence of travel through the artistic medium. I believe artists can work in bringing an image of their personal culture to other places, using their travel to open minds and broaden the exchange between countries and cultures," the painter commented, citing her exchange with young Jordanian artist Nina Mufleh, who accompanied her on the crane during her work.
French Ambassador to Jordan David Bertolotti, who visited the site during Legrand's painting process, said: "A water tank is not very pretty to look at. So we had the idea to associate art with a development project by inviting Lucie to paint the wall of the reservoir."
"In a way, we killed two birds with one stone: we brought water thanks to an important installation while at the same time offering people of the neighbourhood a piece of art that will remain," he told The Jordan Times.
Located in Marka neighbourhood, the water is part of the extension of the Disi project, which provides 100-110 million cubic metres of drinking water to Jordan per year, according to AFD Water and Energy Project Manager Atika Ben Maid, who noted that the Marka reservoir is used to transfer part of this water to the northern governorates.
"This reservoir also includes a hydroelectric turbine which seeks to optimise the project by taking advantage of the transfer of water by gravity. It means that it is a transfer of water that also produces energy," the AFD official told The Jordan Times, stressing "due to the size and importance of this building, it seemed obvious to us to value such a surface, both to offer residents something more than a white wall and also to use a new perspective to talk about the important topic of water in Jordan".
For Legrand, having this big mural right across housing buildings is "extremely important". "It really brings colours and joy to a neighbourhood that seems a bit left out in terms of infrastructure and outdoor decoration and I think it will startle and rejoice more than one passerby," she concluded.
Related Articles
Feb 02,2014
A group of volunteers have began beautifying the capital's neighbourhoods by drawing graffiti on the walls and painting some of downtown Amman's old stairs.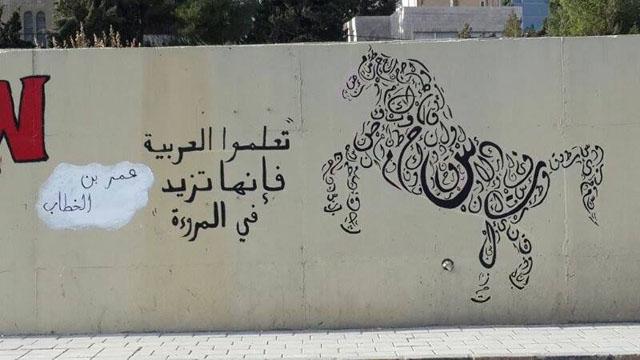 Feb 02,2014
A group of volunteers has began beautifying the capital's neighbourhoods by drawing graffiti on the walls and painting some of downtown Amman's old stairs.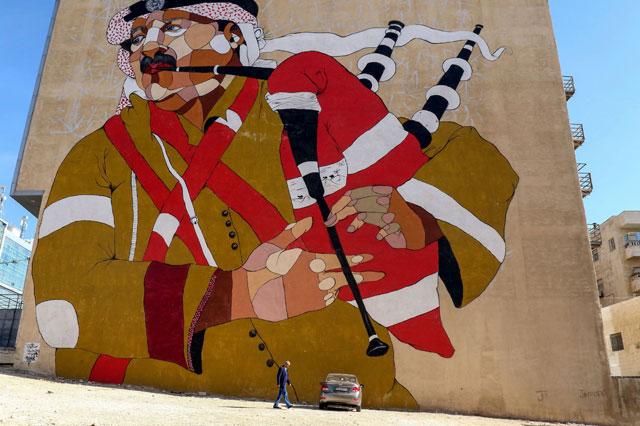 Dec 28,2017
By Kamal TahaAgence France-PresseAMMAN — Dreadlocked university student Suhaib Attar clutches a can of spray paint as he sets to work on the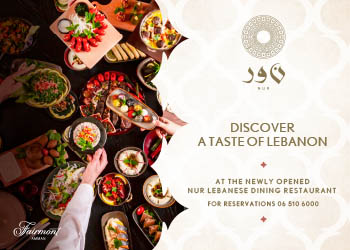 Newsletter
Get top stories and blog posts emailed to you each day.