You are here
Four killed, 11 injured in floods in Jordan, search for missing ongoing
By Mohammad Ghazal - Nov 09,2018 - Last updated at Nov 09,2018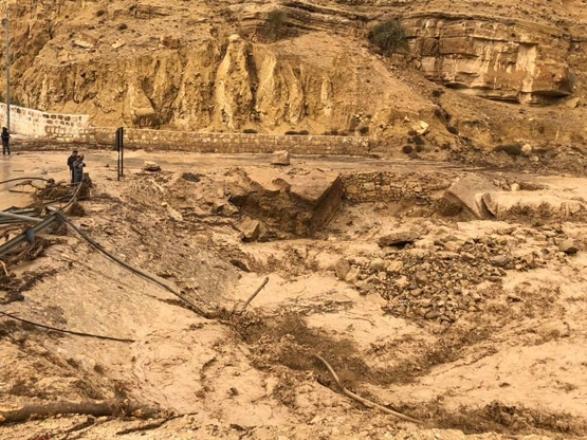 AMMAN— At least four people were killed and dozens were injured on Friday after floods ripped several areas of the Kingdom, the government said Friday.
Two women and a girl died in severe floods in Dabaa area in Al Jiza district, Minister of State for Media Affairs Jumana Ghunaimat said in a statement obtained by The Jordan Times Friday.
A 7-year old died also in Madaba on Friday as a result of the floods.
More than 60 persons were rescued from the Dabaa area and nine were taken to hospital of whom some are in critical conditions, she said. The flash floods in the area resulted in the closure of the Desert Highway near the area.
Authorities said Friday search was ongoing for several missing persons in Madaba governorate.
The Greater Amman Municipality announced the state of emergency to deal with weather-related emergencies.
The Ministry of Water and Irrigation warned residents of areas adjacent to the Waleh Dam in area to take necessary precautions and keep away from the valleys in the area.
The ministry said the dam was expected to reach its full storage capacity of 9.3 million cubic metres in a few hours.
Severe floods on Friday hit Maan governorate, Wadi Mousa area, Petra, Madaba and other areas in Jordan following heavy rainfall across the Kingdom.
Newsletter
Get top stories and blog posts emailed to you each day.