You are here
FAO reaffirms efforts to protect Jordan's dwindling forests
By JT - Jan 14,2020 - Last updated at Jan 14,2020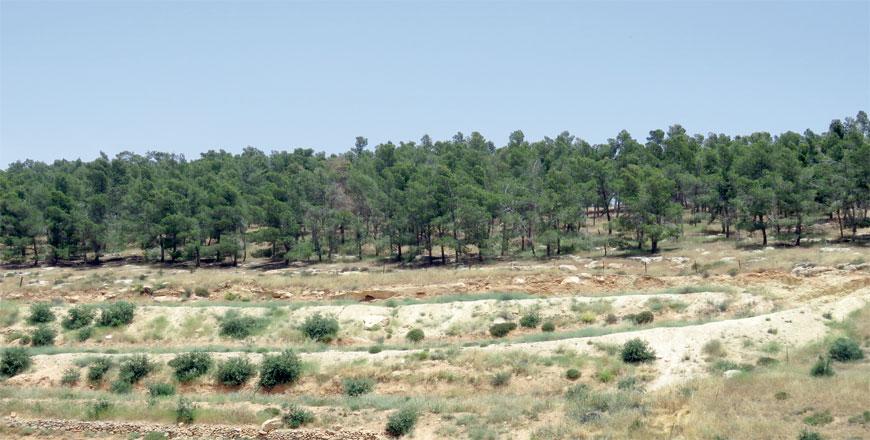 On the occasion of Arbor Day, the Amman office of the UN Food and Agriculture Organisation inspected a forest in Jerash and reviewed plans to protect the Kingdom's 'scarce' forests (Photo courtesy of the UN Food and Agriculture Organisation)
AMMAN — On the occasion of Arbor Day, which annually falls on January 15 in Jordan, the office of the UN Food and Agriculture Organisation (FAO) inspected a forest named after the FAO in Jerash and reviewed plans to protect the Kingdom's "scarce" forests.
According to an FAO statement made available to The Jordan Times on Tuesday, FAO staff toured the forest and took note of its condition, reviewing plans to stop urban and agricultural encroachment on the site, planted with conifers, wild almonds, eucalyptus and acorns.
The forest was allocated to the FAO in 2014 when Jordan hosted the 21st session of the Near East Forestry and Range Commission, according to the statement.
In coordination with the Ministry of Agriculture, the FAO Amman office has developed plans to increase the number of trees in the forest and protect it against illegal logging, fires and overgrazing, the statement said.
The protection and expansion of forests fall within FAO's second strategic goal to "make agriculture, forestry and fisheries more productive and sustainable". To meet this goal in Jordan, a country suffering from dwindling forestation, estimated at 88,000 hectares, less than 1 per cent of its overall area, the FAO supports the Jordanian government in shifting towards a "green national economy", the statement noted.
In 2015, the organisation provided technical support to the Ministry of Agriculture under its Technical Cooperation Project, with the aim of "supporting and developing Jordanian national forest policies". The support provided for developing a solid forestry policy comes through the inclusion of local committees as part of the cooperation between the public and private sectors, added the statement.
In 2018, the FAO sponsored the creation of a policy paper on national forestry. The statement added that the paper, prepared by the Ministry of Agriculture, was designed to achieve sustainable integrated development through updating pertinent legal, administrative and financial frameworks.
Newsletter
Get top stories and blog posts emailed to you each day.