You are here
Experts discuss theatre role in treating trauma victims
By Muath Freij - Oct 05,2015 - Last updated at Oct 05,2015
Syrian actor and director Nawwar Bulbul shares his experience in dealing with Syrian refugees in Jordan through drama during the second day of the Forum on Culture and Humanitarian Relief in Amman on Monday (Photo by Muath Freij)
AMMAN — Theatre is one of the most important aspects of "cultural relief" for refugees and victims of trauma, providing them with hope for the future and helping to improve their psychological state, theatre experts said on Monday.
During the second day of the Forum on Culture and Humanitarian Relief, held by the Goethe Institute in Amman, experts on trauma and psychological relief for victims of violence, staff and volunteers of humanitarian relief organisations, as well as cultural practitioners from both Jordan and the region discussed the roles of drama therapy and, potentially, films in trauma relief.
Syrian actor and director Nawar Bulbul described theatre as "medicine" for both refugees and directors and "an important part of cultural therapy".
Bulbul trained 60 children from the Zaatari Refugee Camp, Jordan's largest camp located in the northeast of the Kingdom, to act in an interpretation of Shakespeare's "Hamlet" and "King Lear" in June 2014.
The 45-minute performance was held in both the camp and in downtown Amman in June 2014 under the name "Shakespeare in Zaatari".
Bulbul, who presented a short video of his work with the refugees, recalled that when he first began training the young actors in preparation for the play, he asked them to paint works inspired by their own imaginations.
"At first, the participants painted scenes of suffering they witnessed, such as violence and houses being demolished. Yet after 20 days of theatre sessions that did not focus on political issues, their paintings changed to reflect hope and ambitions for the future," the Syrian artist recounted in remarks to The Jordan Times.
Bulbul noted that theatre helped participants to see themselves as "people who are in control and feel important to the community" instead of simply victims of violence.
"The traumatised person gets to be involved in practical rehearsals, plan out how he is going to perform and later present his performance on the stage," he added.
Bulbul noted that some Syrian families he dealt with came from conservative backgrounds and doubted that theatre could be meaningful in comparison to water or food.
"However, parents later on became happy to see their children getting excited about the performance and showing improvements in their psychological state. The parents were transformed from people striving to handle the burden of displacement into directors watching the development of their children's performances. Theatre benefits not only participants but also their families," he suggested.
Lamia Abi Azar, a forum participant from Beirut who is the founding member of the Zoukak Theatre, said theatre is also a space for performers to engage in dialogue with the surrounding community, highlight the important issues of the day and help people to understand what is happening around them.
Abi Azar presented the work of the Zoukak Theatre, which was founded in 2006 in Beirut to ensure continuous analysis of the social and political issues in Lebanon as well as the development of the theatre scene.
"Theatre is a political podium which does not emphasise issues of religion or political parties; instead, it presents issues affecting cities and citizens and discusses their rights and duties," she told The Jordan Times on the sidelines of the forum.
She added that theatre "helps us and other people to conquer our fears and encourages us to dream for the future".
Related Articles
Oct 05,2015
AMMAN – HRH Princess Rym Ali said on Sunday that while students are often told in school that culture is what remains when one has forgotten
May 31,2014
Rawan Hatem has always dreamt of becoming a famous artist and has been longing to appear on TV.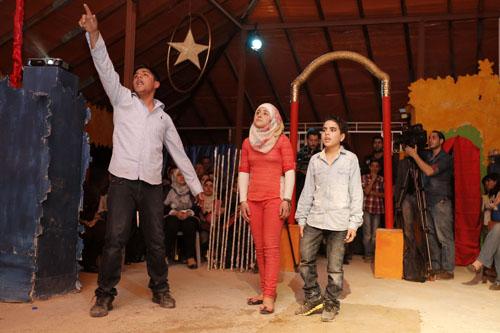 Apr 09,2015
Mixing traditional theatre with modern technology, a new Syrian version of Shakespeare's "Romeo and Juliet" is offering a unique twist on the classic love story.
Newsletter
Get top stories and blog posts emailed to you each day.