You are here
Expanding land for under-construction Coptic church at Baptism Site expected to encourage more Copt visitors
Minister hopeful for arranging annual Coptic pilgrimage
By Dana Al Emam - Dec 01,2016 - Last updated at Dec 01,2016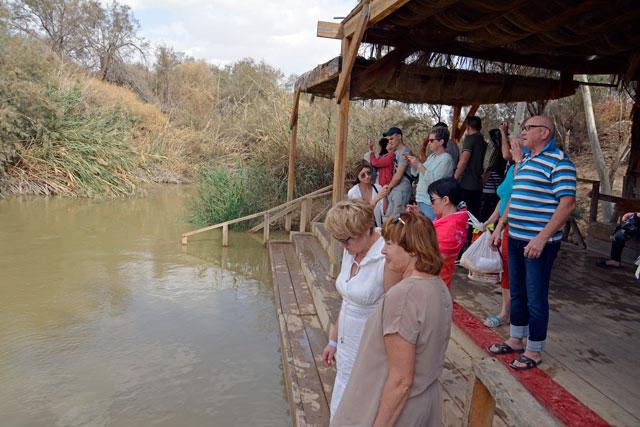 Tourists visit the Baptism Site, where Jesus Christ was baptised by John the Baptist according to Christian beliefs, on Thursday (Photo by Amjad Ghsoun)
AMMAN — Expanding the land allocated for the Coptic Church in Jordan's Baptism Site to 10 dunums will encourage Coptic visitors and pilgrims to visit the site and other religious sites in the country, an official said Thursday.
Baptism Site Commission Director Suleiman Farajat highlighted the site as one of Jordan's most important religious places for Copts, adding that the Kingdom's decision to double the land allotted for the church, based on a request by the Coptic Church, is among efforts to encourage religious tourism.
The expansion of the land of the church, which is currently under construction, will allow for building more facilities and more parking areas that will help accommodate more visitors, the official noted.
Earlier this year, under a Royal initiative, five dunums of land in the Baptism Site, where Jesus Christ was baptised by John the Baptist according to Christian beliefs, were donated to the Copts to expand their church.
In September, Coptic Pope Tawadros II visited the Kingdom to attend the 11th session of the Middle East Council of Churches general assembly meetings, and met with His Majesty King Abdullah and HRH Prince Ghazi, the King's personal envoy and religious affairs adviser.
There are no recorded figures of the number of Egyptian visitors to the site, said Farajat, adding that the administration has recently started calculating numbers of visitors based on their nationalities.
Copts are more likely to visit other sites with religious significance across the Kingdom, he noted.
The number of Coptic Christians in the world is estimated to be around 16 million, according to web sources. Copts make up around 5 to 10 per cent of Egypt's population.
Tourism Minister Lina Annab has recently concluded a visit to Egypt, where she met with a number of Coptic leaders, including Pope Tawadros II, who encouraged his compatriots to visit religious sites in Jordan.
During her visit, Annab presented the Baptism Site Commission's official approval to expand the land allocated for the church, expressing hopes to arrange an annual weeklong Coptic pilgrimage season.
The Baptism Site was added to UNESCO's World Heritage List in 2015, to become the fifth site in the Kingdom included in the list after Petra, Quseir Amra, Um Al Rassas and Wadi Rum.
The site, 40km west of Amman, is classified among mixed natural and cultural sites.
Related Articles
Sep 06,2016
AMMAN — Coptic Pope Tawadros II said Monday that he was impressed with Jordan's Muslim-Christian coexistence and the country's inter-faith d
Sep 05,2016
AMMAN — His Majesty King Abdullah on Sunday said that Jordan has always been and still is a model of harmonious Muslim-Christian coexistence
Jun 10,2021
AMMAN — Jordan's Ambassador to Egypt Amjad Adaileh on Wednesday met with Pope Tawadros II at the papal headquarters in the Abassiya district