You are here
Exhibition reveals melody of Jordanian landscape
Khammash explores 'musical notes in desert'
By Suzanna Goussous - May 25,2017 - Last updated at May 25,2017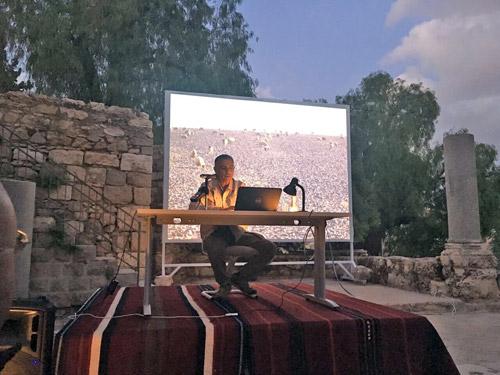 Artist Ammar Khammash speaks at a lecture held about his exhibition 'Desert Soundscapes' at Darat Al Funun on Tuesday (Photo by Suzanna Goussous)
AMMAN — "Is there a message that nature wants to deliver to us? Is there some kind of a link between all these natural rhythms? Is there a certain order that would lead to more musical patterns?" architect and artist Ammar Khammash asked himself on his discovery mission.
Khammash has been on a discovery journey for the past 20 years to study Jordan's landscape and the badia focusing on the flint layer present in these areas.
In his "Desert Soundscapes" exhibition, he unleashes the sound patterns that originate from the Jordanian landscape.
"There are millions of musical notes in the Jordanian desert, still left to be analysed and discovered," he said at a lecture held at Darat Al Funun on Tuesday.
While driving for long distances, Khammash "heard overlapping natural sounds of stones from underground layers clicking", which triggered his interest to discover more about the country's natural rhythms and patterns.
He started discovering flint stones in the Um Al Rajam formation, the landscape from Amman to Maan, the natural rhythms of stones in Wadi Sarhan near Saudi Arabia, Qaa' Al Jafer, Maan and Al Azraq.
"My main interest for the past 20 years has been geology. [During] the past four or five years, I started to just listen. These stones make sounds, beside their geological importance, I wanted to listen to them and see how they sound," he said.
Curious to discover how the sounds are produced and whether or not they follow certain patterns, Khammash started using applications and softwares to understand the origins of music and sounds.
"I didn't want moulds. I didn't want to put the much wider range of sounds that are in the desert into moulds and then put other sounds aside… I wanted to make sure that I don't break their statement," he told The Jordan Times.
To remain fair to the Jordanian landscape, he said, he was interested in "letting the stones express themselves" instead of putting them in known musical patterns and limiting the countless rhythms than can be produced.
The architect combined geography and music in a bid to produce a new science: Geoacoustics or lithoacoustics.
"This is also to be sure that we are not missing a hint or something new that can push the music theory somewhere else," Khammash added.
"Within the same layer, do we have different concentrations and notes? It will be very exciting if we discover that valleys have different songs, orders, sequences, but it will take time."
Humans have discovered five main notes on the pentatonic scale: CDEGA, he explained, adding that, from these notes, "we have the chromatic scale of the 12 piano notes."
"We should be careful not to waste this message sent to us from nature, not all musical rhythms should be restricted to a limited number of notes," he stressed.
The desert nowadays is subject to any form of destruction, he said, noting "we are losing a library of sources without reading its books, without knowing about it [the Jordanian desert]."
The Desert Soundscapes exhibition in Darat Al Funun's main building runs until the first week of September.
Related Articles
Mar 29,2018
AMMAN — Three generations of Jordanian artists are currently on display at the Zara Gallery, as part of the group exhibition "From a Differe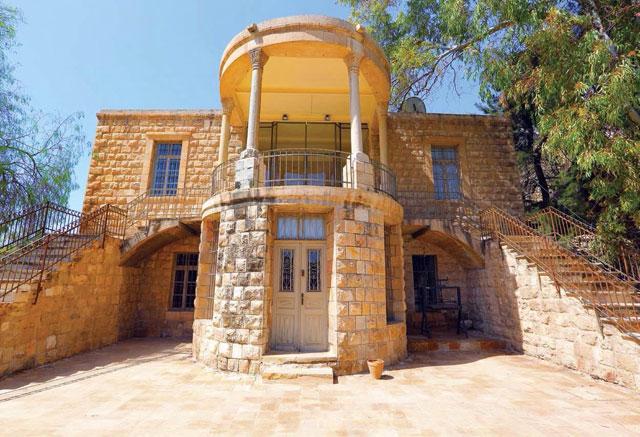 Feb 14,2018
AMMAN — As soon as Jehad Ameri graduated from school 22 years ago, he began looking for a centre to further enhance his artistic skills.&nbs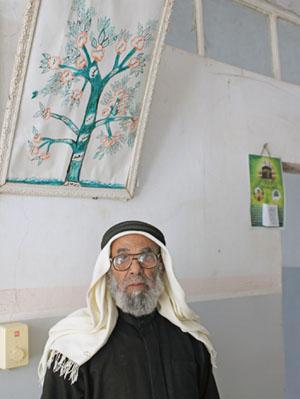 Oct 25,2014
For Jordanian photographer Alaaeddin Jaber, the opportunity to have his photos displayed at a regional exhibition is a promising start in the world of professional photography.
Newsletter
Get top stories and blog posts emailed to you each day.