You are here
Europe's refugee challenge incomparable with Jordan's — German president
By JT - Dec 07,2015 - Last updated at Dec 07,2015
Their Majesties King Abdullah and Queen Rania receive Germany's President Joachim Gauck and the First Lady in Amman on Monday (Photo courtesy of Royal Court)
AMMAN — Their Majesties King Abdullah and Queen Rania on Monday received German President Joachim Gauck and the First Lady, according to a Royal Court statement.
His Majesty addressed Gauck in a welcome speech, saying: "Your Excellency, we are delighted to have you and the First Lady as our guests here in Jordan. We are very proud of the strategic, historic and warm relations between our two countries."
"I remember with great fondness how well received I was in Germany by you, and I am just very delighted to have you and your delegation here," the King said, adding that this is an opportunity to discuss issues between the two countries, mainly education, culture, politics and security.
In regard to Europe and terrorism, the Monarch said: "The regional challenges that Europe is facing — from terrorism on one side, and refugees on the other — are the same things that we are all facing. Here is an opportunity for our two nations to again increase the level of cooperation, which has always been very strong."
"Germany has always shown leadership in Europe, and so we in Jordan are very grateful for that," the King said, concluding, "So on that note, on behalf of myself and the Government of Jordan, I welcome you, Sir, and your delegation here in Jordan. I look forward to a fruitful discussion as the day goes on."
For his part, the German president thanked King Abdullah and said: "Indeed, our countries and our peoples are linked by wonderful and friendly ties and relations. And I still have, Your Majesty, very fond memories of your last visit and that I felt grateful to have met a man who is characterised by responsibility and analytical strength. That was a very good feeling I had, I must say."
He added, "And it is, Your Majesty, a fact that your country, the Hashemite Kingdom of Jordan, plays a very important part in this region that is torn by war and distrust."
On the purpose of the visit, the German president said, "I have come here, Your Majesty, first and foremost to pay my respects. I have come here to express my gratitude and my acknowledgement for what your country has done in many areas, but above all with regard to taking in so many refugees and looking after them."
On the refugee issue, the president said Europe would understand the burden Jordan and Jordanians are shouldering if it could imagine taking in a similar number of refugees like Jordan.
He added: "In Germany, the general population, the people are ready to take in the refugees, to welcome them in, and there are other countries in Europe like Sweden and Austria who are doing the same, but then again there are others who are not."
Gauck said that during his stay in the Kingdom, he would visit a refugee camp, adding: "In so doing, I want to signal and illustrate the appreciation that we show and the acknowledgement that we show for the effort being undertaken, not only by international aid organisations, but very much by the people of your country and its government."
He concluded: "As members of my delegation, I have with me the State Minister from the Federal Foreign Office Professor Boehmer; she and the other members of my delegation, amongst them also members of the German parliament, two representatives of church aid organisations and the president of a very renowned university in Germany, are also with me."
During the talks between the two leaders, attended by Prime Minister Abdullah Ensour, they discussed ways to strengthen bilateral relations and exchange expertise.
His Majesty reviewed the Kingdom's progress made in comprehensive reform and legislation governing political life. He cited the five Royal discussion papers that he authored with the aim of triggering a national debate over the way ahead.
In regard to terrorism, the two leaders stressed the importance of intensifying regional and international cooperation to combat it within a comprehensive strategy. King Abdullah noted the importance of Germany's role in supporting international efforts to combat extremist ideologies.
Discussions also covered the development of the Syrian crisis and efforts to reach a political solution to it.
The King reviewed the burdens shouldered by the Kingdom in hosting Syrian refugees, which place pressure on infrastructure, services and the general budget, calling for the international community to further support Jordan.
For his part, Gauck commended Jordan's approach in dealing with the Syrian refugee crisis despite the lack of resources, stressing that Germany is looking forward to benefiting from the Kingdom's experience in the field.
The German president highlighted the Kingdom's huge role in combating terrorism, describing it as a leading role on the regional and international levels.
The meeting was attended by Royal Court Chief Fayez Tarawneh, Deputy Prime Minister and Foreign Minister Nasser Judeh, King's Office Director Jafar Hassan, Planning and International Cooperation Minister Imad Fakhoury, Higher Education Minister Labib Khadra and other senior officials and diplomats from both sides.
Their Majesties King Abdullah and Queen Rania held a dinner banquet in honour of the German president and first lady, and their accompanying delegation during their state visit to the Kingdom.
Related Articles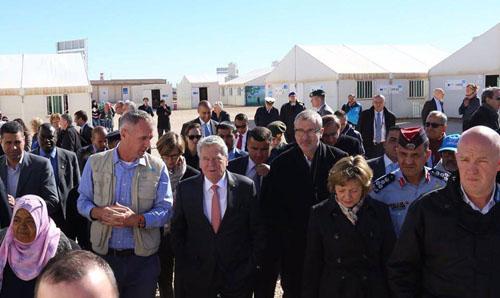 Dec 08,2015
AMMAN — German President Joachim Gauck and Germany's first lady, Daniela Schadt, on Tuesday visited the Azraq Refugee Camp, the Jordan News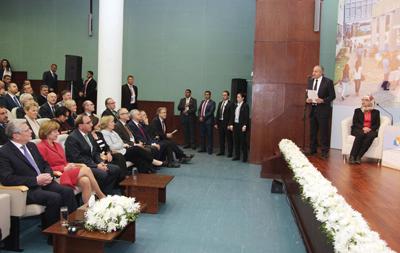 Dec 07,2015
AMMAN — President of the Federal Republic of Germany Joachim Gauck on Monday paid a visit to the German-Jordanian University (GJU) and met w
Dec 06,2015
AMMAN — German President Joachim Gauck and his wife arrived in Amman on Sunday on an official visit to the Kingdom.Gauck is scheduled to hol
Newsletter
Get top stories and blog posts emailed to you each day.