You are here
Crown Prince joins youth campaigning against tobacco, drugs
By JT - Jun 29,2016 - Last updated at Jun 29,2016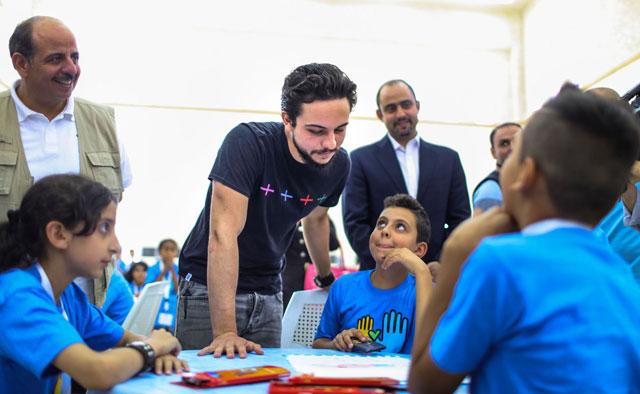 HRH Crown Prince Hussein interacts with children taking part in a campaign against drugs and tobacco in Naour on Tuesday (Photo courtesy of Royal Court)
AMMAN — HRH Crown Prince Hussein on Tuesday, spent part of his 22nd birthday with a group of young people participating in two interactive workshops organised as part of "Tahseen" (immunisation) initiative at Naour Youth Centre.
Tahseen, an initiative launched by the Crown Prince Foundation, aims at protecting the youth and children from the dangers of drug and tobacco addiction, according to a Royal Court statement.
During the first workshop held on the occasion of the International Day Against Drug Abuse and Illicit Trafficking, the Crown Prince took part in an activity that included a Q&A session on the dangers of drugs and smoking through electronic devices.
The initiative is a "translation of the Prince's vision to support the youth and an indicator of his strong faith in their role in building the Kingdom", the statement said, adding that it focuses on implementing awareness programmes based on curricula that proved most effective worldwide.
The workshop is aimed at identifying misconceptions among the age group of 14 to 16 years and providing trainees with some life and social skills that would help them resist the temptation of drugs and smoking.
In the second interactive workshop, the Crown Prince looked at paintings by children aged 9 to 10 years, through which they demonstrated the dangers of smoking and their right to breathe clean air, the statement added.
The Crown Prince, along with students of both workshops, printed their hands on a large wall as a sign of commitment to the goals of the initiative.
In remarks towards the end of the visit, Prince Hussein stressed the importance of the initiative, which seeks to raise awareness among Jordanian youth of the hazards of addiction and encourage them to practice healthy activities.
The Crown Prince Foundation and the Royal Health Awareness Society will implement several awareness programmes under the initiative. This entails reaching out to some 100 public schools across the Kingdom in the 2016/2017 academic year and expand in the following five years to cover most of the country's schools.
In an interview with the Jordan News Agency, Petra, Omar Masarweh, CEO of the foundation, said that Tahseen Initiative aims at building a healthy, tobacco- and drug-free generation that is capable of serving the country and its people.
Related Articles
Dec 07,2017
AMMAN — Social Development Minister Hala Lattouf and Saudi Prince Turki Bin Talal Bin Abdulaziz, chairman of the Mentor Foundation, on Thurs
Mar 05,2017
AMMAN — The We Are All Jordan Youth Commission's Irbid branch has organised a training course titled "Protecting youth from dangerous behavi
Dec 22,2015
AMMAN — HRH Crown Prince Hussein on Tuesday asserted that the Crown Prince Foundation was established to offer a platform that will support
Newsletter
Get top stories and blog posts emailed to you each day.