You are here
Clothing prices expected to be 15% less during Eid Al Fitr than last year — stakeholder
By JT - Apr 17,2019 - Last updated at Apr 17,2019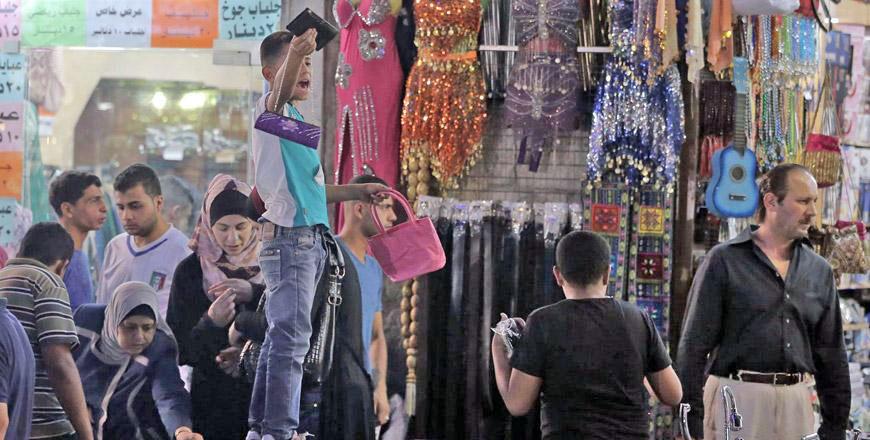 A vendor shouts to sell products in downtown Amman during 2017's Eid Al Fitr. A representative from the Jordan Chamber of Commerce's clothing sector said he expected prices to be 15 per cent cheaper this holiday season (JT file photo)
AMMAN — For Eid Al Fitr, the prices for clothes and shoes are expected to be 15 per cent less than last year's prices, Asaad Qawasmi, a representative of the clothes, garment and jewellery sector at the Jordan Chamber of Commerce, said on Wednesday.
During a press conference, Qawasmi attributed the price decline to competiveness between importers and merchants, referring to a surplus of goods and the low purchasing power of citizens, the Jordan News Agency, Petra, reported.
Merchants heavily rely on the Eid season to increase their sales, and have prepared for the season, he said, adding that the sector supports the national economy.
The sector representative pointed out that the Kingdom's imports of clothes and shoes have declined by 20 per cent so far this year when compared with same period of 2018.
Qawasmi said that the value of clothing imports amounted to JD70 million during this year's period, compared with JD85 million last year, while shoe imports fell by JD5 million.
He added that the sector faces several challenges, including online sales, smuggling and unjustified expansions in malls, as well as high operating costs and low purchasing power.
In this regard, he called for a focus on tourists by mainly targeting Arabs and encouraging medical tourism, as well as by allowing Hajj and umra pilgrims from the West Bank to pass through the Kingdom.
The representative called for considering the interests of the commercial and industrial sectors when signing or cancelling trade agreements in a way that can meet the needs of consumers.
Qawasmi also urged stakeholders to exempt children's clothes and shoes from customs fees and taxes which sometimes reach 20 per cent.
Newsletter
Get top stories and blog posts emailed to you each day.