You are here
Catholics mark Epiphany at Baptism Site
By JT - Jan 10,2021 - Last updated at Jan 10,2021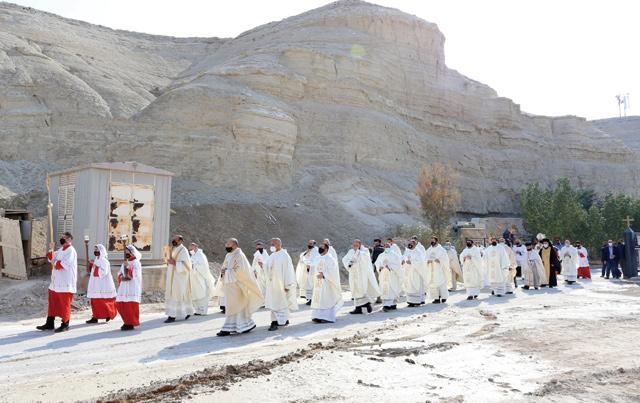 Catholics in the Kingdom on Saturday marked Epiphany at the Baptism Site, 40km west of Amman. (Petra photo)
AMMAN — Catholics in the Kingdom on Saturday marked Epiphany at the Baptism Site.
Epiphany (known to Greek Orthodox Christians as Theophany) marks the revelation of Jesus Christ as the son of God through his baptism and the beginning of his public ministry, according to Christian beliefs.
Tourism Minister Nayef Fayez said that "the Hashemites have always been delivering the messages of love and peace among Jordanians", noting that "celebrating this occasion amid these circumstances highlights the importance of this holy land, which witnessed the baptism of Jesus Christ", the Jordan News Agency, Petra, reported.
Fayez also extended greetings to Christians on the occasion.
Latin Patriarch of Jordan and Jerusalem Archbishop Pierbattista Pizzaballa said that this year's pilgrimage is marked without worshippers due to the COVID-19 pandemic, noting that the number of religious tourists has reached low levels in Jordan, Bethlehem and Jerusalem.
Father Rifat Bader, director of the Catholic Centre for Studies and Media, noted that the annual pilgrimage in the modern age started in 2000 after agreeing that Catholic churches celebrate the occasion on the second Friday of January and Orthodox churches on the third Friday of each year.
The priest also said that this year's celebrations are held under exceptional circumstances, where organisers opted for limiting the number of attendees.
Director General of the Baptism Site Commission Rustom Mkhijan said that the commission adopted the COVID protocol during this year's pilgrimage at the Baptism Site, 40km west of Amman.
Newsletter
Get top stories and blog posts emailed to you each day.