You are here
Cancer centre expansion to meet local, regional needs — director
By Dana Al Emam - Oct 09,2014 - Last updated at Oct 09,2014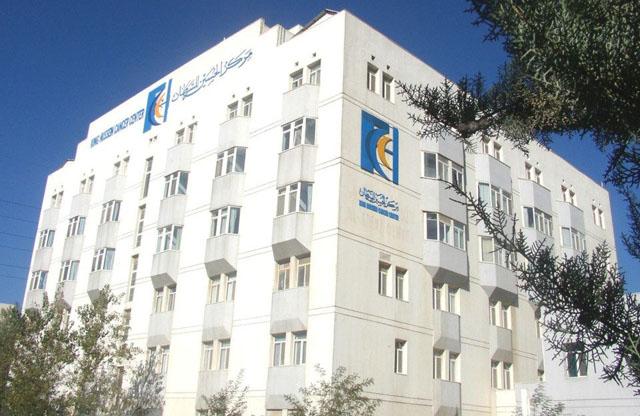 AMMAN — The King Hussein Cancer Centre's (KHCC) new expansion will feature new technologies and more facilities in cancer treatment to meet the rising demands on treatment centres in Jordan and the region, according to the centre's director general, Asem Mansour.
In a recent interview with The Jordan Times, Mansour said the number of cancer patients is increasing locally and internationally due to several factors that include "changes in people's lifestyle, their food and physical activities".
Describing cancer as "a disease of ageing", Mansour said one in every three individuals above 70 years old is diagnosed with cancer, while one in every 30 to 60 people is diagnosed with cancer among younger generations around the world.
"The number of cancer patients in Jordan is not alarming… according to the latest records of the National Cancer Registry, around 4,900 new cancer cases were registered among Jordanians in 2010," he said, adding that the centre treats around 3,600 new cases annually, with 70 per cent of these cases involving Jordanian patients.
Patients from approximately 20 countries also receive treatment at the KHCC, mainly from Libya, Iraq, Yemen, Palestine and Arab Gulf countries, Mansour said, noting that the centre rejects at least 50 per cent of treatment applications from non-Jordanians due to its current "limited capacity".
The centre's new expansion, which consists of an outpatient building and an inpatient tower, is to provide "quantitative and qualitative" services to cancer patients, the centre's director said, noting that the KHCC's capacity is expected to double once the expansion project is complete.
"We want the centre to be equipped to treat all Jordanian cancer patients and to double the number of Arab patients," he said.
"The expansion will include a department dedicated to cell therapy and genomics, since all the new trends in cancer treatment are heading towards genetic engineering."
The new buildings are expected to be ready in 2016 and will include six operating rooms, increasing the total number at the KHCC to 12.
"The old and the new buildings will operate in parallel," Mansour said, adding that the current 30-year-old building will undergo partial renovation to upgrade its services.
Computer-assisted surgery
The JD130 million expansion will also house the first public umbilical cord blood bank in Jordan, according to the KHCC.
The cord blood bank, operating at a capacity of 10,000 units, will preserve umbilical cords after delivery in certain conditions in order to use them later for those in need of bone marrow transplants, Mansour explained.
Moreover, the new expansion will introduce robotic surgery technology in cases of prostate and rectal cancers for ultra accurate results.
"The surgeon's hands will not touch the patient but will remotely control the performance of a robot, which creates a very small surgical cut," Mansour said.
He added that the "expensive" new technology will reduce surgery complications and minimise the patients' hospital stay, which will greatly reduce their medical costs. Magnetic resonance imaging devices will also be available in operating rooms to provide clearer guidance on tumour extraction.
Training programmes
With the aim of turning the KHCC into a regional training hub on oncology, the expansion will include the Khalid Shoman Educational Centre, in addition to an auditorium, a skills lab, seminar rooms and a library.
"The centre will launch a marketing strategy to attract trainees from across the world," Mansour said.
The KHCC has already held training programmes for nurses, pharmacists and physicians from Libya and Iraq's semi-autonomous Kurdistan region but it aims to provide training on a broader level and to start a degree-giving school of oncology, he added.
Seeking to upgrade the centre's current bone marrow transplant programme, the expansion will accommodate one of the region's major programmes to double the number of transplants.
"This year the centre is expected to handle up to 150 cases of bone marrow transplants," Mansour said, adding that it has recently signed an agreement to carry out bone marrow transplant surgeries for 200 children with thalassemia from Kurdistan over the coming two years.
He noted that the centre has already operated on 11 children.
The KHCC is a regional "pioneer" of retinoblastoma treatment (eye cancer of children), according to Mansour, who described the disease as a very rare type of cancer that requires a comprehensive and highly qualified team to save children from losing their sight.
"Due to the centre's great results, our Algerian counterparts have shown interest in utilising the retinoblastoma treatment here and so far we have treated around 25 Algerian children," he noted.
Regarding the challenges facing the KHCC, Mansour said staff retention is a major issue as the centre loses some of its highly qualified personnel to private health centres and those in Arab Gulf countries.
"The centre tries to compensate its staff financially but we cannot match the salaries that Gulf countries offer," he said.
Some 200 internationally qualified oncologists and consultants and over 600 oncology-trained nurses currently work at the KHCC.
He highlighted the fact that the centre's decision 10 years ago to send some of its medical staff members on residency and fellowship programmes in much needed fields has prevented potential shortages in trained staff, thereby serving KHCC and the country.
Mansour stressed the role of the cancer control office at KHCC in studying and analysing the situation of cancer in the country, which is then used as part of the cancer control strategy in the Kingdom.
He noted that the office's work helps cancer prevention through awareness campaigns and early detection to achieve better outcomes and reduce treatment costs. "Without the work of the cancer control office, the cost of cancer treatment will keep skyrocketing."
Current centre

Expansion

Total

Number of beds

170

182

352

Inpatient admissions

7,000

6,000

13,000

Outpatient visits

110,000

40,000

150,000

Bone marrow transplants

100

200

300

Specialised ICUs

18

24

42

Total area

24,000 square metres

84,700 square metres

108,700 square metres

Source: KHCC
Related Articles
Dec 24,2014
Individuals and establishments who contribute to the King Hussein Cancer Centre (KHCC) expansion project can name a space or unit at the new buildings, HH Princess Dina Mired, director general of the King Hussein Cancer Foundation, has said.
Sep 13,2017
AMMAN — His Majesty King Abdullah, accompanied by Her Majesty Queen Rania, inaugurated the new buildings of the King Hussein Cancer Centre (
Jun 19,2017
AMMAN — With the recent opening of some departments of the King Hussein Cancer Centre's (KHCC) new expansion, the centre aims to address the