You are here
Beauty startup takes 'brave bet' on its employees, urges others to follow suit
By Maram Kayed - Mar 26,2020 - Last updated at Mar 26,2020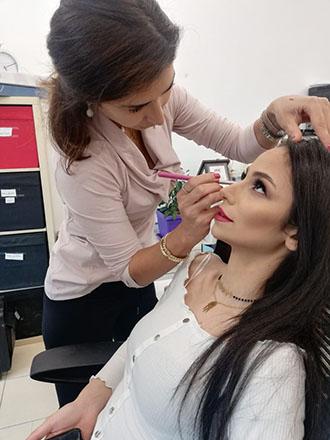 AMMAN — With the coronavirus spread depriving day-to-day workers in the Kingdom from earning their wages, Mrayti, a gig economy startup in the beauty industry, has decided to take a "brave bet" on their beauticians.
Mrayti is a startup that delivers beauty inside the comfort of a woman's own home, which, according to previous remarks made by its employees, has allowed them "flexibility that is key to women's employment in Jordan."
Now, with a nation-wide imposed curfew, employees of the startup that was founded by a woman, employs women and solely serves women, find themselves deprived of their "most important, if not only, source of income," according to the startup's CEO and Founder, Romouz Sadeq.
"Workers under our umbrella earn their income on a daily basis by offering their services on the platform and then delivering them in women's homes. Now with coronavirus, their services, and thus their income, have been frozen," she told The Jordan Times in a phone interview.
After a week of seeing that business has initially slowed down and then came to a complete halt, Sadeq said she decided to "take a brave bet on all our beauticians and offer them financial aid in return for their services when the situation is over."
With the decision taken as of Sunday, more than 35 of Sadeq's 100 beauticians have asked for financial aid in return for their work once the curfew has been lifted and business returns to normal.
"We expect that number to increase, with more than 70 per cent of our employees potentially needing help," added Sadeq.
The financial aid is being given to Mrayti's workers based on their needs and on a daily basis, as well as how much work they can put in after the coronavirus spread is over.
Sadeq said she initially tested out several options for payback, such as her employees working in telesales or offering vouchers that can be cashed in later, but she ultimately decided that the fittest solution would be payback by her worker's services.
"Given that people currently view the future as too vague, they are scared to spend on services that will be offered in indefinite time. Ultimately, we decided to have our employees' backs anyways through this pandemic…," said Sadeq.
"We hope other gig-economy startups would consider such a solution as an opportunity to create a lasting bond with their workers amid these harsh conditions," she said.
Newsletter
Get top stories and blog posts emailed to you each day.