You are here
BDS activists call for one-hour blackout to protest gas deal with Israel
Call for action coincides with anniversary of battle of Karamah
By JT - Mar 21,2017 - Last updated at Mar 21,2017
The BDS urges Jordanians to turn lights off for one hour on Tuesday evening starting from 9pm as a means to mark Karamah Battle anniversary and Mother's Day. The BDS poster reads: 'Present your mother with one hour [also means watch in Arabic] of dignity and boycott'
AMMAN — Jordan's Boycott, Divestment and Sanctions Movement (BDS Jordan) has called on Jordanians to turn off all electricity for one hour from 9-10pm on Tuesday to protest against the Kingdom's gas deal with Israel, according to a statement received by The Jordan Times on Sunday.
The call for action coincides with the anniversary of the battle of Karamah in 1968, in which Jordanian troops defeated Israeli forces in the Jordan Valley, stopping their advance into Jordan and "preventing them from occupying more land", the statement said.
According to BDS Jordan, 10,000 households across Jordan have committed to joining the action and will switch off their main circuit breakers in protest.
The campaign has been mobilising "to gather support from their communities to actively engage in boycotting Israel in all shapes and forms, especially through rejecting the gas deal", the statement noted.
Jordan, through the National Electric Power Company (NEPCO) has signed a $10 billion agreement with Israel to purchase natural gas for the next 15 years, provoking outrage among many and prompting protests.
Prime Minister Hani Mulki has previously said the deal is a matter of national interest and that it would pave the way for the Kingdom to find new energy sources, while also providing Jordan with the cheapest source.
Government Spokesperson Mohammad Momani has said that the public needs to "put matters into perspective" regarding the gas deal, since the Wadi Araba peace treaty with Israel was signed in 1994.
NEPCO officials have said that the gas deal with Noble Energy, a Houston-based company that holds the largest share in the Israeli Leviathan gas field, would "save Jordan up to $600 million each year", with around 300 million cubic feet imported by the Kingdom daily.
Related Articles
Jan 31,2018
AMMAN — Jordan's Boycott, Divestment, and Sanctions (BDS Jordan) movement urged Jordanians not to sell their lands to the government as part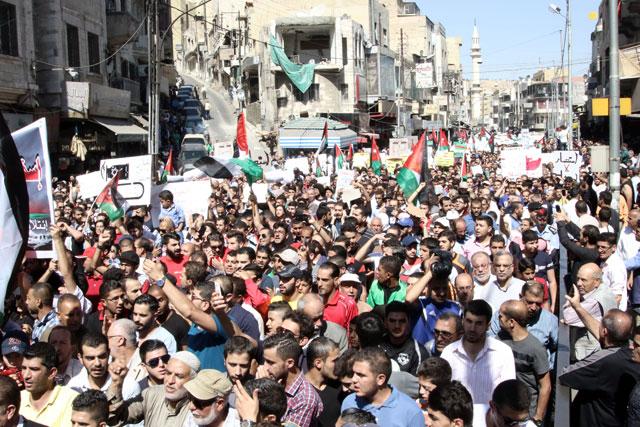 Oct 01,2016
AMMAN — Activists across the Kingdom have organised protests and marches to demand the cancellation of the recent gas deal between Jordan's
Aug 29,2017
AMMAN — Celebrating three years of resistance and awareness raising on Israel's "apartheid projects" in Palestine earlier this week, Jordan'
Newsletter
Get top stories and blog posts emailed to you each day.