You are here
Badia youth offered life-changing training
Crown Prince tours youth centre, urges more programmes to engage young people in development
By Mohammad Ghazal - May 21,2018 - Last updated at May 21,2018
HRH Crown Prince Hussein chats with a young football team at a Northern Badia youth centre on Sunday (Photo courtesy of Royal Court)
NORTHERN BADIA — Lina Masaeed, a resident of Northern Badia, would like to see more girls joining training courses on variety of topics at the local youth centre in her desert town as she believes this would help her peers make an income and contribute to the development of their community.
Masaeed, who graduated a few years ago from the Hashemite University with a bachelor's degree in arts was unable to find a job with her degree and decided to join some free-of-charge courses on making handicrafts and painting offered at the Northern Badia Youth Centre. But that was not an easy task.
"My family objected at the beginning and told me it was useless and that if with a degree I was not able to find a job, so how would some courses help. But I insisted and finally convinced them," she told The Jordan Times on Sunday.
Masaeed makes a "good" income currently from selling handicrafts and painttings. She also took training-of-trainers courses at the centre and is currently teaching at several youth centres in various areas in the Northern Badia, around 100km northeast of Amman.
"I believe I succeeded and I benefitted from the courses I took. I want families to stop being reluctant to send their daughters to such youth centres," she said.
"I benefitted from the courses more than the university degree," she insisted.
Masaeed was one of several young Jordanians who met with HRH Crown Prince Hussein on Sunday during a tour he took of the centre, where he was briefed on training workshops and programmes offered to the youth in Mafraq Governorate.
His visit to the Northern Badia is part of a follow-up plan on programmes targeting Jordanian youth to address their needs across the country.
HRH checked on an exhibition of handicrafts made by young Jordanians trained at the facility.
He also attended a gathering where young Jordanians were discussing His Majesty King Abdullah's Discussion Papers and how they help enhance the youth participation of the development of local communities.
HRH also met with a group of young people who were attending an English training course and toured an exhibition where several pictures of the Northern Badia that were taken by residents of the area were on display.
The Crown Prince voiced his pride in the achievements by the centre and its support for the youth, stressing the need for developing youth-oriented programmes and addressing the local communities' needs to enable effective participation by young people in local development.
At a meeting following the tour, the Crown Prince urged the Youth Ministry to follow up on the progress made by the young Jordanians who receive such training.
Youth Minister Bashir Rawashdeh highlighted the ministry's programmes and activities to enhance the participation of the youth, and improve their skills in the badia and across the Kingdom.
Rawashdeh said the ministry is keen on following up on the young Jordanians who benefit from its activities and programmes, adding that the ministry works in cooperation with international institutions and the Jordanian private sector to establish pioneering youth centres.
At the meeting, Thabet Nabelsi, the ministry's secretary general, outlined the 2018-2020 national youth strategy that entails projects in areas of entrepreneurship, education and technology, economic empowerment, health and sports, participation and citizenship, rule of law and governance, among others.
He said the activities that will be conducted as part of the strategy during the next three years will address the needs of the young Jordanians and benefit the society at large.
Aref Qataan, director of the centre, said some 200 young Jordanians have taken courses there.
"We provide training on communication skills, English speaking and writing courses, youth empowerment and leadership, handicrafts, combating societal violence and entrepreneurship," he said on the sidelines of the Crown Prince's visit.
Training is also provided on some vocational skills to help the youth find jobs, he said.
"The youth centre in the badia area provides a platform for the youth to make a good use of their time by learning something new and something informative and good for them," Qataan added.
Related Articles
Oct 04,2017
AMMAN — HRH Crown Prince Hussein on Tuesday stressed the importance of developing a holistic strategy for youth to be implemented within a f
Jun 01,2016
AMMAN — Nofah Masaeed has been literally and metaphorically carving into stone to prove to herself and to her community what she is capable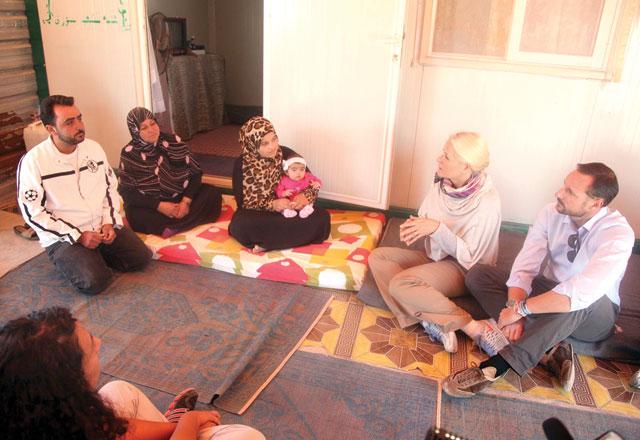 Oct 21,2014
Crown Prince of Norway Haakon Magnus and his spouse Princess Mette-Marit on Tuesday visited the Zaatari Refugee Camp for Syrian refugees in Mafraq. 
Newsletter
Get top stories and blog posts emailed to you each day.