You are here
Award-winning composer Yanni hopes to 'open hearts' in Amman
Greek pianist to perform at Citadel today
By Muath Freij - Sep 24,2016 - Last updated at Sep 24,2016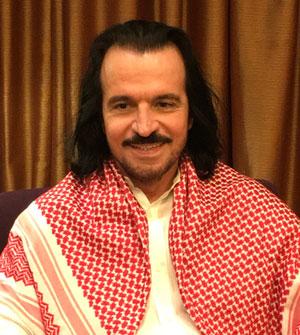 AMMAN — Renowned Greek composer and pianist Yanni hopes his music will open people's hearts in his first ever concert in Amman on Sunday.
"There is an expression in English, cooler heads will prevail. It is very important to me to come to a country and have a positive effect," he told The Jordan Times in an interview on Saturday.
Yanni said he was excited to play for a Jordanian audience for the first time.
"I feel I know [the] Jordanian people. There is a connection. They understand my music; I understand their spirits, and this has been so for 20 years," the award-winning musician said.
"I used to meet people all over the world and they told me I have to come to Jordan, [that] your culture is so sweet and people are very special and different; Jordan is very special place," he added.
Yanni will play at Amman's Citadel, and said it was important for the music to fit the prestige of the site.
"I appreciate that Jordan gave me the chance to perform at the Citadel. It is a jewel," he said.
"The Citadel is a very important symbol in Jordan… for the culture of the country and I have to present music that is appropriate for the monument, for the culture and for the country. It is a very difficult thing to do, but if you do it correctly it is [more] powerful than playing in a theatre, or anywhere."
Commenting on the role of technology in music, Yanni said that while technological developments have made it easier to work in a studio, real music comes from the heart.
"Your heart, soul and life experience writes music. That's where music comes from. Technology is [just] a tool."
Related Articles
May 05,2017
AMMAN — Dedicated to discussions on entrepreneurship, the World Economic Forum (WEF) on the Middle East and North Africa is holding an "Open
Dec 04,2014
President of the Independent Elections Commission (IEC) Riyadh Shakaa on Wednesday underlined the commission's commitment to institutionalise its partnerships with political parties, civil society organisations and the media.
May 14,2015
The White House said on Thursday that it was open to the idea of granting its Gulf Cooperation Council (GCC) partners major non-NATO ally status.
Newsletter
Get top stories and blog posts emailed to you each day.