You are here
Australian archaeologist sorts through Gerasene pottery shreds
By Saeb Rawashdeh - Dec 28,2017 - Last updated at Dec 28,2017
Ina Kehrberg-Ostrasz working at the site in Jerash (Photo credit of Ina Kehrberg-Ostrasz)
AMMAN — Coming to Jordan for the first time in 1975-1978, Ina Kehrberg-Ostrasz joined the excavations at Teleilat Ghassul (five-six kilometres northeast of the Dead Sea) directed by the late John Basil Hennessy, a former archaeology professor from The University of Sydney.
"I was the excavation research assistant responsible for all archaeological finds and their preliminary studies, in the main pottery and stone tools," said Kehrberg-Ostraszsaid in a recent e-mail interview for The Jordan Times.
The ceramic industry in Gerasa (Jerash), around 48km north of Amman, flourished from the very beginning of the Hellenistic town established in the 2nd century BC, she claimed, adding that it is important that Gerasa workshops were not "behind" in the production and commerce of internationally fashionable trends of ceramic goods like the pottery vessels and pottery lamps.
Especially the pottery workshops at the hippodrome site, from its beginning as a Hellenistic cemetery of hypogean tombs to the end of the Byzantine era in the early 7th century AD, bear witness to a flourishing industry catering for a sizeable and sophisticated population and export trade.
"This is especially evidenced by the excavations of the waste dumps of the many pottery workshops at the hippodrome," she explained, adding that these goods included everything from fine table ware or dishes, to kitchen or common ware like jars, pots and pans as well as large storage jars and industrial building materials like tiles and pottery pipes for kilns, tannery workshop installations, bath houses (hypocaust) and domestic houses, as well as secular and sacred public buildings.
From the Byzantine period many pottery dishes and lamps were found, notably the famous Jerash Bowl and Jerash Lamp at other sites of the Decapolis like Pella, Scythopolis, Beit Ras, Amman and Bosra, Kehrberg-Ostrasz emphasised.
"They became a hallmark of export trade of this flourishing period represented by the many ornately decorated churches in Jerash," the Australian archaeologist, specialised in classical and Near Eastern archaeology at The University of Sydney, said.
This Byzantine trade mirrors the earlier examples at Gerasa of a vibrant commercial community already in the Roman period when other cities vied for trade opened up by the Roman army and the Decapolis, the scholar elaborated, noting that the excavated waste dumps at the hippodrome, were composed of many millions of discarded misfired or broken pottery vessels and lamps.
"These discarded pots were only a very small fraction of what was actually produced at the hippodrome and sold to a varied market and communities," Kehrberg-Ostrasz explained, pointing out that the pottery can also reflect some changes in dietary habits introduced by travellers and traders from afar or new settlers, as well as the Roman army stationed at the eastern frontiers.
The pottery included everything from the finest wares, composed of mould-made objects like lamps and figurines, to the roughest commercial items, which proved that the workshops did not specialise but catered for a varied clientele, she underlined.
"This tradition is still reflected in the suq of modern Jerash, with designated areas of a trade or craft rather than workshops and shops scattered throughout town offering only select items of productions; clusters of workshops encouraged competition and sales at the same time.
Originality of Jerash craft
The Byzantine period, especially the 6th century AD, the Jerash Bowls and Jerash Lamps stand out for their unique quality of ware, decoration and form, she said.
"The Jerash Bowls were inspired by the internationally popular 'African Red Slip' Ware from Egypt," Kehrberg-Ostrasz said, stressing that the locally made Jerash variety and the Jerash Lamps were obviously sought after throughout northern Jordan until the early Islamic period, "but the earlier mould-made lamps, like the Gerasa Lamps are also recognised for their distinctive quality although closer stylistically to other first and 2nd century AD lamps produced in the region, a variety inspired by proto-types of the Roman imported lamps, also associated with the Roman army".
She explained: "This is again for obvious reasons, in other words, commerce: It is cheaper to buy a well-made local copy than an original import."
The same can be said about still earlier ceramic productions at Gerasa where Late Hellenistic imported bowls, jugs and dishes have been copied by local Gerasene potters and were mass-produced to cater for a wider local market, the archaeologist elaborated, adding that many of these finer objects or table wares have also been found in the hypogean tombs mentioned above.
"All this suggests a well-established sophisticated clientele and a township that is in touch with the outer world and thrives on local produce and their commerce, including pottery and lamps which continued for many centuries," Kehrberg-Ostrasz concluded.
up
54 users have voted, including you.
Related Articles
Aug 14,2017
AMMAN — A "first-of-its-kind" Hellenistic temple in the Levant region has been discovered in Umm Qais, an archaeologist said on Monday.An ar
Jan 02,2018
AMMAN — Though common ware pottery have been found in great number at classical excavations throughout the world, little attention has hithe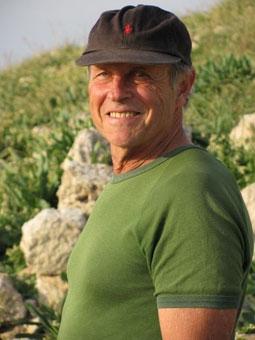 Oct 07,2017
AMMAN — It is not clear whether Pella, 130km northwest of Amman, was utterly destroyed by the Hasmonean ruler Alexander Jannaeus or if it wa
Newsletter
Get top stories and blog posts emailed to you each day.