You are here
American artist's works focus on discrimination, occupation and plight of refugees
By Saeb Rawashdeh - Sep 23,2017 - Last updated at Sep 24,2017
An acrylic/collage painting by Jacqueline Taylor Basker titled 'Gaza Angel'  (Photo courtesy of Jacqueline Taylor Basker)
AMMAN — An art exhibition titled "Endangered land, People and Heritage" by American painter and Professor of Art History Jacqueline Taylor Basker was held at Bandak Art Gallery in Amman on Thursday.
The event, held under the patronage of Amman's Mayor Yousef Shawarbeh, marked her 10th anniversary in Jordan and the region.
"Since my arrival in 2007 I have become more aware of many important issues and this provided subject matter for my artwork," Taylor Basker told The Jordan Times, adding that travelling to visit endangered archaeological sites with her students from New York Institute of Technology and German-Jordanian University made her very "concerned about endangered heritage".
One of her inspirations for the paintings came from her frequent visits to Palestine and experiensing the Israeli occupation firsthand, she stressed.
"What really angered me is that it was my tax money that was funding Israeli terror against the Palestinians," the painter underlined.
"If you are an artist concerned about political issues you cannot only sign petitions, make Facebook posts, go to meetings but you can make art to bring attention to humanitarian issues and injustices," Taylor Basker emphasised, stressing that despite her love for abstract art she is more driven by the political message her work conveys.
According to Taylor Basker, many times in the past, the great art of the world has been a response to war and injustice and it has an important role to play, since images can be very powerful, more than mere words.
She previously exhibited her Mavi Marmara Flotilla installation with nine portraits of the victims killed by Israeli commandos, noting that she may add some sound media to the piece as well "to recreate the incident".
She recently added the 10th man who succumbed to injuries sustained during the raid.
A painter and scholar, Taylor Basker graduated in history from Notre Dame of Maryland University, and received her PhD in Art History and Theology from Graduate Theological at Oxford University.
She uses combined technique of acrylic painting and collage, which is a "combination of slow painstaking figurative realism with abstraction".
Her works address discrimination against Latinos, Palestinians, the plight of different refugees and dangers to cultural heritage sites.
Jordan itself is imperilled by the global warming and the constant influx of refugees which inspired her painting "Walking through Jordan Looking for Water".
"As both an academic [art historian] and an artist, I believe we not only should protest injustice, but also attempt to research solutions and help people realise our common humanity through our shared religious values," she said, adding that she is now conducting a research about peaceful coexistence between monotheistic faiths in the region, investigating the shared sacred geometric symbols between Christians and Muslims in monuments in Jordan and Palestine.
"This will soon show up in my artwork as well," she said.
Related Articles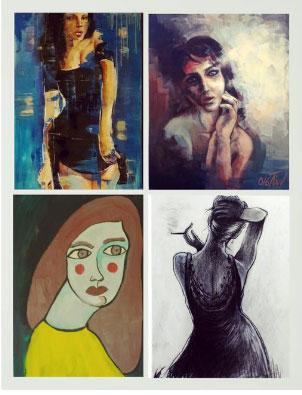 Jan 18,2018
AMMAN — The Zara Gallery on Wednesday inaugurated a group exhibition by Jordanian female artists, under the title "Delicate Lines of Strengt
May 01,2017
The Jordan National Gallery of Fine Arts is quite busy this spring.
Oct 28,2014
Artists from Jordan and Japan ask piercing, contemplative questions while celebrating cultural exchange at Dar Al Anda Art Gallery's "East to East" exhibition.
Newsletter
Get top stories and blog posts emailed to you each day.