You are here
All set for Jordan to showcase investment package at WEF
By Omar Obeidat - May 19,2015 - Last updated at May 19,2015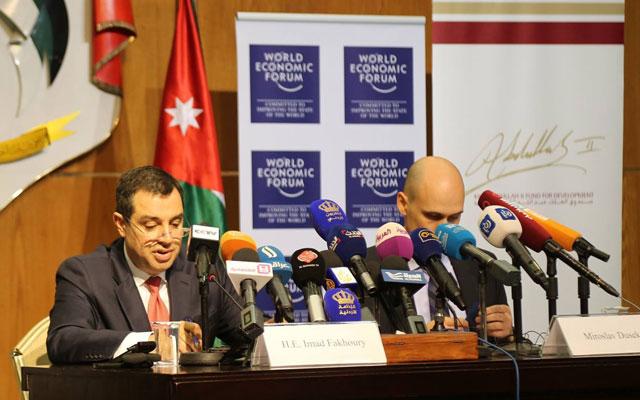 AMMAN – Around 1,000 political and business leaders and representatives of civil society, international organisations, youth and the media from over 58 countries will participate in the World Economic Forum (WEF) that will be held in Jordan May 21-23 under the Royal patronage of His Majesty King Abdullah, organisers announced Tuesday.
This year's meeting, to be held on the eastern shores of the Dead Sea, marks the forum's ninth meeting in Jordan and the 16th meeting in the region.
As the region is facing a double challenge of security and macro-economic uncertainty, the meeting will be held under the theme "Creating a Regional Framework for Prosperity and Peace through Public-Private Cooperation", Miroslav Dusek, senior director and head of Middle East and North Africa at WEF, said at a press conference in Amman on Tuesday.
Dusek was speaking at a joint press conference with Minister of Planning and International Cooperation Imad Fakhoury, who is also the chairperson of King Abdullah II Fund for Development (KAFD).
KAFD is a co-organiser of the high-profile event.
Fakhoury said the three-day event will be a platform to shed the light on Jordan's economic developments and available investment opportunities, and a venue for announcing and signing several investment projects.
Leading international companies in key sectors such as energy, infrastructure and health services will be present at the forum, Fakhoury told reporters representing local and foreign media outlets, adding that hosting the event in Jordan is testimony to the political and economic stability of the country.
"It will also be an opportunity for further economic momentum, particularly as Jordan has recently launched the 2025 economic vision," he added.
Launched last week under the patronage of the King, "Jordan 2025" is a 10-year blueprint for economic and social development.
Fakhoury said King Abdullah will deliver a speech Friday during the opening ceremony of the forum, adding that His Majesty will also attend a number of sessions, including the "Jordan Relaunched" session that is scheduled to feature significant investment opportunities in seven vital sectors: energy, transport, urban development, water, infrastructure, tourism and ICT.
Fakhoury said Her Majesty Queen Rania and HRH Crown Prince Hussein will be participating in the event, adding that a number of government officials will also attend the sessions.
Several figures have confirmed their participation including Palestinian President Mahmoud Abbas, Egyptian President Abdel Fattah Al Sisi, President of Kosovo Atifete Jahjaga, Iraq's Vice President Iyad Allawi and the Moroccan premier, Abdel Ilah Benkirane, in addition to senior officials from Arab and foreign countries as well as top representatives of international organisations, WEF has announced.
Dusek said co-chairs of the meeting are: Omar K. Al Ghanim, CEO of Al Ghanim Industries in Kuwait; Gordon Brown, UN special envoy for Global Education and UK's former prime minister; Suma Chakrabarti, president of European Bank for Reconstruction and Development (EBRD); Bodour Al Qasimi, chairperson of Sharjah Investment and Development Authority in the United Arab Emirates; and John Rice, GE vice chairman in Hong Kong.
Dusek added that 200 top executives of international and regional companies will gather at the event.
Related Articles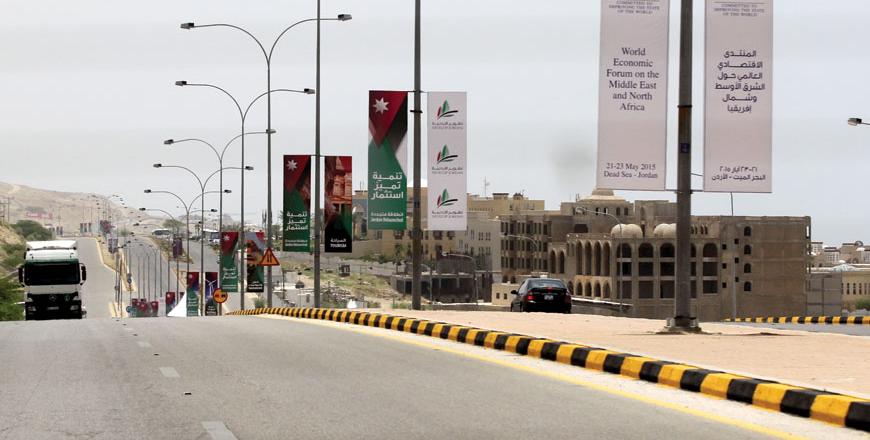 May 22,2015
AMMAN – His Majesty King Abdullah on Friday inaugurates the World Economic Forum (WEF), which will be held on the eastern shores of the Dead
Mar 18,2015
Hosting the World Economic Forum (WEF) on the eastern shores of the Dead Sea on May 21-23 sends a positive and a clear message to global investors that Jordan remains an oasis of stability despite regional turmoil, a government official said Wednesday. 
Jan 22,2015
The World Economic Forum on the Middle East and North Africa (WEF-MENA) will be held at the Dead Sea May 21-23, organisers and the Royal Court have announced. 
Newsletter
Get top stories and blog posts emailed to you each day.