You are here
2021 state budget focuses on health sector, social protection — Al-Ississ
No additional taxes or any fee raises in 2021, says finance minister
By Maram Kayed - Dec 01,2020 - Last updated at Dec 01,2020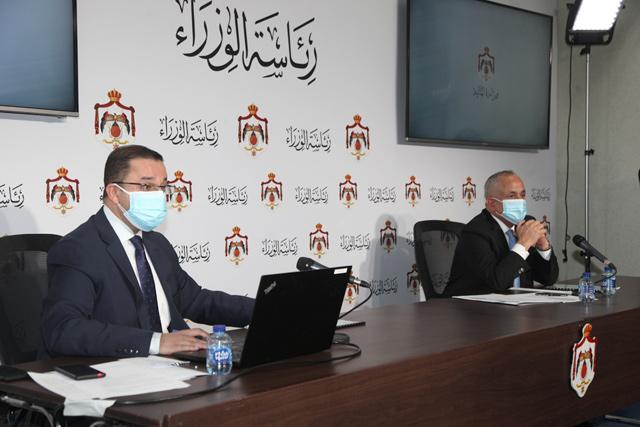 Finance Minister Mohamad Al-Ississ, along with Minister of State and Media Affairs Ali Al Ayed, speaks during a press conferince at the Prime Ministry on Monday (Petra photo)
AMMAN — The government has endorsed the 2021 state budget with an estimated deficit of JD1.180 billion, accounting for 3.7 per cent of GDP, Minister of Finance Mohamad Al-Ississ said in a press conference on Monday.
Public spending for next year is estimated to reach JD9.93 billion, the minister said.
The draft 2021 budget was approved by the Cabinet and is now awaiting approval by Parliament.
Speaking also during the press conference, Minister of State and Media Affairs Ali Al Ayed said: "His Majesty King Abdullah has directed the government to draft a realistic, applicable and accurate budget for the year 2021, with a return in salary raises for public sector employees, both military and civil, as announced last week by Prime Minister Bisher Al Khasawneh."
Al-Ississ noted that the Finance Ministry has "focused on not shrinking spending capabilities despite the grave challenges posed by the pandemic".
Given the unexpected 3 per cent economic downturn in 2020, described as "unwelcome yet relatively better than countries with bigger pockets than Jordan", the year 2021 is expected to witness a 2.5 per cent budget downturn.
Al-Ississ said: "No one wants a downturn, but a pandemic is a pandemic."
The inflation in 2021 is expected to stand at 1.3 per cent, bringing the overall nominal growth to 3.8 per cent.
The minister said that the main axes of the budget are: Maintaining health sector expenditures, achieving social protection, increasing the citizen's purchasing power and attracting investments.
He added that, "there will also be no additional taxes in 2021 or any fee raises. We want to regain trust in the national economy and encourage its growth".
Decreasing unemployment and preventing the unemployment caused by the pandemic from turning into structural unemployment, is also among the government's priorities in the budget, noted Al-Ississ.
Following His Majesty King Abdullah's directives to provide the health sector with everything it needs, Al-Ississ said that the government has created a fund of JD165 million to fight the pandemic, alongside the usual health sector allocations.
"Despite this year's challenges, we have increased capital spending by 24.4 per cent, as well as having allocated adequate amounts for joint projects with the private sector, student loans, scholarships and governorate budgets," added the minister.
The National Aid Fund's budget allocations went up by an unprecedented 38 per cent, as His Majesty King Abdullah has directed the government to look out for the most vulnerable, noted Al-Ississ.
"To add more sources of income for the budget and fight social injustice, the government has also made it a key point to crack down on tax evasion," he added.
Crackdown on tax evasion is expected to recover JD164 million, the minister said.
The government's general revenue in 2021 is expected to stand at JD7.875 billion, more than JD5.390 billion of which will come from taxes.
"A lot of our revenues in 2020 have taken a hit because of the lockdowns… , so we are hoping that in 2021 we will see an increase in both tax and non-tax revenues," said Al-Ississ.
He added: "One of the main presumptions this budget was built on, is that we will continue with the lockdown as we are doing now, but, given that many changes could happen in 2021, we will be doing a quarterly review of the budget based on the epidemiological situation."
The finance minister stressed that the Kingdom's economic situation is "stable", noting that in June the government released Eurobonds worth $1.75 billion.
"Last week, Fitch and Moody's reiterated that Jordan's credit rating is still stable. Last month, Standard and Poor's did the same thing. Three of the biggest international credit rating companies have affirmed Jordan's situation is stable," he added.
Foreign support is expected to drop to JD577 million, with the minister saying that this is the "worst case scenario we have to be ready for, although we hope it will not happen".
Government spending will increase in 2021, with running expenses standing at JD8.749 billion and capital spending at JD1.181 billion.
Running expenses are divided as follows: 65 per cent for government salaries and pensions, 17 per cent for interests on public debt, 10 per cent for operational costs and 8 per cent for "other" expenses.
"A large percentage of our spending is on salaries and pensions. This is a very big burden, but we are thankful to be able to meet these demands," highlighted the minister.
"We were able to bring back salary raises, increase capital spending by 24,4 per cent, increase the National Aid Fund's allocations by 38 per cent, allocate enough for public spending — all without an increase in taxes or fees. I consider that a success," concluded the finance minister.
Newsletter
Get top stories and blog posts emailed to you each day.