You are here
13 new COVID-19 cases raise Kingdom's total to 323
16 recovered patients discharged, Jaber says
By JT - Apr 04,2020 - Last updated at Apr 04,2020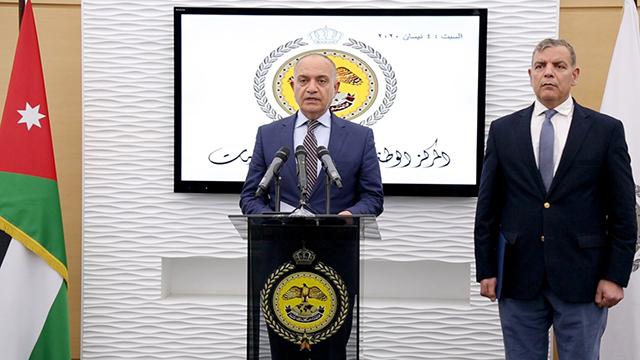 Minister of State for Media Affairs Amjad Adaileh speaks during a joint press briefing at the National Centre for Security and Crisis Management with Health Minister Saad Jaber (Petra photo)
AMMAN — Minister of Health Saad Jaber on Saturday announced that 13 new coronavirus cases have been recorded in Jordan, bringing the total number of cases in the Kingdom to 323.
During a joint press briefing at the National Centre for Security and Crisis Management with Minister of State for Media Affairs Amjad Adaileh, Jaber said that the new cases include two cases in Irbid and one case detected in Regency Palace Hotel for a quarantined individual who came from the UK.
The new cases also include a woman who works for Royal Jordanian as a member of the cleaning staff,one case in Ajlouninvolving a contact of a patientand five people who are members of a single family and contracted the virus from a family member, as well as three individuals also belonging to a single family who were infected through interacting with their infected parents.
The minister added that 16 coronavirus patients recovered and were discharged from isolation units at hospitals, including 11 patients who were discharged from Prince Hamzah Hospital and five who were discharged from King Abdullah University Hospital.
On behalf of the ministry, Jaber expressed appreciation for Their Majesties King Abdullah and Queen Rania's efforts towards containing the crisis and following up on every detail.
Adaileh said that Saturday marked the end of two weeks of curfew, which included one day of comprehensive curfew.
He highlighted that the comprehensive curfew may be repeated in the coming days depending on developments in the coronavirus outbreak, pointing out that this measure enables the epidemiological teams to work effectively.
To address curfew violations especially in villages, Adaileh said that additional measures to keep track of abidance by the curfew instructions will be implemented, highlighting that authorities will monitor the curfew using modern technologies such as drones and surveillance cameras.
He stressed that His Majesty King Abdullah is leading efforts to address the crisis and is giving attention to all details, adding that His Majesty is consistently coordinating with the government and related bodies regarding development related to the crisis.
King Abdullah is also being updated on the requirements of the various sectors during the crisis, the minister noted.
Adaileh announced that 100,000 new coronavirus test kits were offered by Jack Ma, the founder of Alibaba Group, on Saturday, noting that this move will enhance the Kingdom's efforts towards combatting the pandemic.
He also expressed thanks to medics, describing them as "unknown soldiers".
Among a number of meetings held by the prime minister with the various sectors, a meeting with representatives of the trade and industry chambers was convened to discuss measures to protect the private sector and maintain job security.
During the coming days, a series of measures and decisions to alleviate the impact of the crisis on the private sector will be announced, he said.
Expressing thanks to donors, Adaileh said that the donations so far totalmore than JD39 million, which have been paid or are pledged to be paid to the Himmat Watan fund's account. This comes in addition to JD14 million in donations to the Health Ministry's account, while Al Khair account has received JD754,000.
The Hashemite Charity Commission is the official body authorised to receive in-kind aid, he added.
A total of 11 cases were recorded on Friday, the Jordan News Agency, Petra, reported.
Newsletter
Get top stories and blog posts emailed to you each day.