You are here
'Massive need' for mental health support in urban areas
Stakeholders say mental illness is still 'taboo and under-discussed subject' in Jordan
By Camille Dupire - Oct 18,2018 - Last updated at Oct 18,2018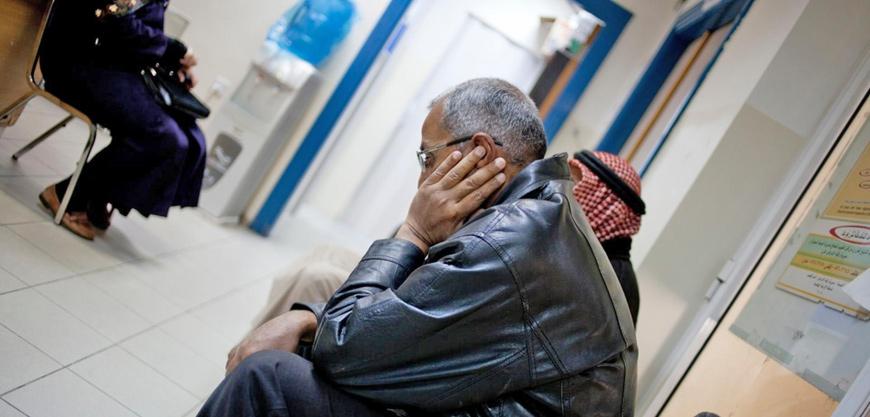 A patient waits for a medical consultation in the framework of the MSF project on non-communicable diseases in Irbid recently (Photo courtesy of MSF)
AMMAN — A week after Jordan took part in the worldwide celebration of World Mental Health Day on October 10, the international humanitarian medical NGO, Doctors Without Borders (MSF), is raising the alarm on the "less visible humanitarian crisis" of refugees' and host communities' mental health needs in urban regions.
While awareness of mental health problems is slowly increasing in the Kingdom, activists like Alaa Abujaradeh told The Jordan Times that "it remains a very taboo and under-discussed subject and the pertaining stigma surrounding mental illness makes it almost impossible for individuals to seek treatment at the onset of their disease".
In the northern governorate of Irbid, located along the Syrian border, MSF established a non-communicable diseases (NCD) clinic in 2014, where the NGO's medical teams have been treating Syrian refugees living outside the camps.
For MSF mental health activities manager, Heidi Mitton, there is "a massive need" for mental healthcare services in the area, both among Syrian refugees living in non-camp settings and vulnerable Jordanians.
"Although displaced people living in host communities do not always receive the same media attention as those in camps, they often face difficulties accessing healthcare and other basic services, and can face unique economic and social challenges as they try to integrate a new society," she said in a recent statement sent to The Jordan Times.
"Our work in the mental health team has taught us the many needs and stories these patients experience in their daily lives," Mitton continued, noting that mental healthcare was incorporated into the Irbid NCD programme in 2016, benefitting some 630 patients, through 2,548 individual consultations and 37 group sessions so far.
The mental health component of Irbid's NCD programme includes individual and group counselling sessions, which aim at providing psychosocial support at the highest level, in a private and confidential space, according to MSF psychologist Amal Bani Khalaf.
"In these sessions, we develop treatment plans together with the patient and deal with symptoms of anxiety, depression, post-traumatic stress disorder or gender-based violence, and any other difficult situations they are facing," she explained, as Mitton stressed that "the starting point is acknowledgment that, in order to improve their physical health, patients in highly stressful situations often need help managing the emotional and social effects of these stressors".
According to the World Health Organisation (WHO), one in four individuals (over 450 million people) suffer from mental disorders globally, two thirds of whom do not seek help due to lack of awareness and lack of resources.
This situation is further compounded when people are affected by emergencies, which usually trigger a higher risk of suffering from common and severe mental health conditions such as depression, anxiety and post-traumatic stress disorder, according to Mitton, who stressed that, "even in the years after arriving to safety, many of our patients continue to experience these symptoms".
She said the symptoms can even worsen if people continue to live in stressful conditions, which include financial difficulties, family stress or grieving of incomprehensible losses, among others, noting that the MSF mental health team "works closely with patients in order to address their condition and find new coping strategies for a combination of factors".
Identified by WHO as a country in need of "intense support" for strengthening the mental health system. In 2008, Jordan still lacks official data on mental health issues.
According to the Criminal Investigation Department's latest figures, some 130 suicides were recorded in 2017, a 8.33 per cent increase compared to 2016, while 2,182 suicide attempts were registered between 2011 and 2016, with 1,357 among females and 825 among males.
Newsletter
Get top stories and blog posts emailed to you each day.