You are here
'7,000 farmers benefitted from Agricultural Credit Corporation'
By JT - Oct 22,2019 - Last updated at Oct 22,2019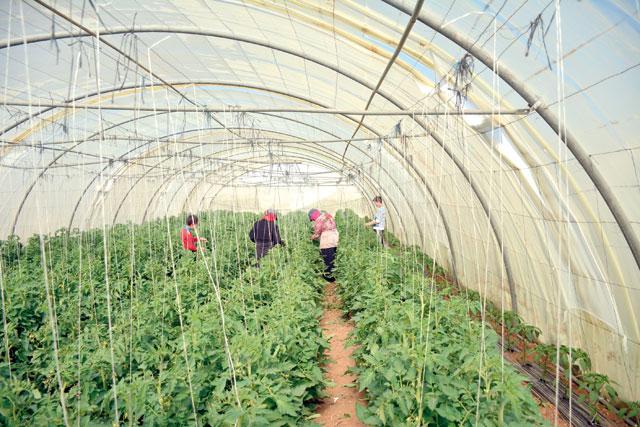 The Agricultural Credit Corporation targets projects that contribute to increasing the amount of agricultural produce, boosting competitiveness of farmers and focusing on schemes that can generate jobs for both genders, according to its director general (Photo by Amjad Ghsoun)
AMMAN — The Agricultural Credit Corporation (ACC) has financed around 7,000 farmers with a total amount of JD40 million since the beginning of the year, ACC Director General Mohammad Hiyari said on Tuesday.
Hiyari added that the corporation financed agricultural manufacturing and marketing projects with JD10 million, livestock development projects with JD17.5 million and land reclamation schemes with JD3.6 million, while over JD3 million has been allocated to ventures for developing water resources, modern technologies and renewable energy.
The director general said that the northern region received finances of JD15 million, the central region JD14 million and the southern region JD11 million, according to the Jordan News Agency, Petra.
He also noted that the ACC targets projects that contribute to increasing the amount of agricultural produce, boosting competitiveness of farmers and focusing on schemes that can generate jobs for both genders, adding that the majority of these projects are small- and medium-sized enterprises.
Most of these ventures are focused on solar energy and aquaculture, mainly utilising technology and aiming to reduce energy and water consumption, so farmers can reduce costs by at least 30 per cent, which consequently increases their profits, Hiyari said.
The director general also voiced the corporation's keenness to address poverty and unemployment, which are considered big challenges for the economy. ACC developed a project to address these issues and allocated JD7.5 million for this year, JD6.5 million of which has been directed to 1,500 jobseekers.
Newsletter
Get top stories and blog posts emailed to you each day.