You are here
'In Jordan, I feel safe'
Expatriates in the Kingdom share stories of life under curfew
By Victoria Irene - Mar 25,2020 - Last updated at Mar 25,2020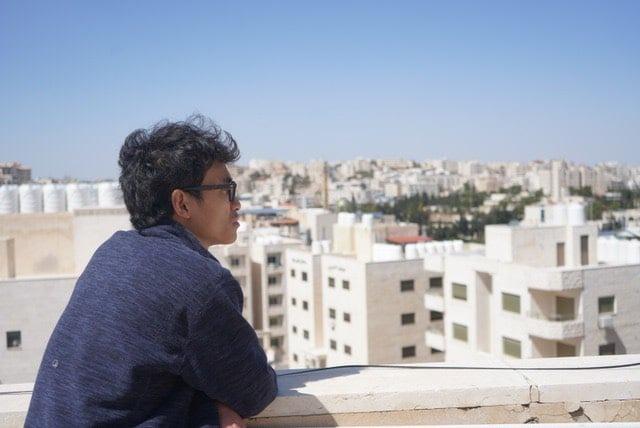 24-year-old Marsekal Kevianto, a university student from Indonesia studying at the University of Jordan, looks out from his balcony in Amman (Photo courtesy of Maryam Hakim Halim)
AMMAN — When given the choice between being "stuck" in the US or Jordan, an American professional working for a Jordanian NGO decided that she would be better off in the Middle East.
Lizzie Clark was in the United States in the middle of a business training trip earlier in March when she got an urgent message from her boss telling her that the Kingdom's borders might close.
"I woke up to a text from my boss who was in Jordan saying: 'I think you need to come back; we are worried that they may shut the borders,'" she said.
This was two days before Jordan announced the suspension of all incoming flights as of 12 midnight on Tuesday, March 17.
"If I'm going to end up stuck somewhere, should it be in the US or Jordan? And I did choose, I made the active choice to come back to Jordan," she told The Jordan Times during a recent phone interview.
She looked at the US government's response to the COVID-19 outbreak, the social reaction and the level of panic in her home country, and this helped her make her decision.
"I just had a feeling: I'm going to feel better in Jordan than I am in the US. I definitely feel that way now. I'm definitely more at ease being here than I would have been in the US," she said.
"I've been in Jordan for three-and-a-half years; my job is here, my insurance is here, my life is here," she added.
That's how Clark found herself on Sunday, March 15, sitting in the last available seat on the last direct flight from the US to Jordan.
While in the air, it was announced that she and the rest of the passengers would be taken directly to a 14-day quarantine at an undetermined location.
"I think it's a good measure that the government is taking to be pre-emptive. I welcome being quarantined for that reason, because I was travelling," she said, noting that her "only complaint" with Jordan's handling of the quarantine situation is that she has not been provided with "clear information".
After the chaos of arriving in the Kingdom, being shuttled by the military to a hotel at the Dead Sea (which had been called only hours before to prepare as a quarantine site), checking in to her room and receiving visits from Ministry of Health teams to check her temperature, things "calmed down" and she began to grow accustomed to life under quarantine.
Although she is not allowed to leave her hotel room, she is staying busy. Work is continuing as usual despite the circumstances, with meetings being conducted remotely, and she has been spending her free time in self-learning, online courses and catching up with people.
In terms of the hotel, she noted: "I cannot say enough about how incredible the staff has been. They are being so overwhelmingly positive. Our interaction is just to open the door and get a meal, so it's about 10 seconds of human interaction per day, and they're really taking care to make sure that 10 seconds of interaction is really positive."
A psychiatrist from the Ministry of Health also called a few days ago to check up on her.
Wednesday marked day 10 of her quarantine, and although she believes the army will be dropping those currently at quarantine hotels off at their homes after day 14, "no one has explicitly told me that we will go back to our apartments or made that clear," Clark said.
Despite the "lack of information", she trusts the Kingdom's decision-making abilities during this time of crisis.
"Jordan has a very strong government, a strong military that has the capacity — and I believe, the foresight — to be responsible in situations like this; and I do think that they have been," she said.
Clark is not the only expatriate in the Kingdom comforted by the government's decisions. University students Maryam Hakim Halim (25) and Marsekal Kevianto (24), who hail from Indonesia, also expressed that they are "thankful" to be in Jordan at present.
"I am really grateful to be here instead of in my country, because I feel safe," said Halim, who is studying political science at the University of Jordan (UJ).
"The government is playing a big part in protecting people," she told The Jordan Times on Tuesday.
Since the Jordanian government imposed a nation-wide curfew Saturday, March 21, she has been staying active in her studio apartment by cooking, watching Netflix, doing homework and talking to her family.
For Kevianto, who studies Islamic Banking at UJ, the days are also spent in studying, watching videos and cooking.
"I have food, water, and everything for a week. I'm okay," he said, noting that his real concern at the moment is access to money.
"The most difficult thing for Indonesian students is the currency. The Indonesian currency really dropped because of the coronavirus, and we are stressed out because of this. And we are stuck in Jordan," he told The Jordan Times over the phone on Tuesday.
The two students noted that, since they didn't have information on what would happen if they travelled back to their home country, they didn't leave before the borders were closed, for fear that they would be suspended from the university.
Both are in the fifth and final year of their programmes, but are unsure whether they will be able to graduate because of the COVID-19 crisis.
"I'm a bit depressed, since everything is hanging. I don't know how to picture myself in a few months. What can we do besides wait? We don't know what will happen, not only in this part of the world, but in the entire world," said Halim.
For Abu Ali, who has been working as a guard at an apartment building in Amman for the past several years, the curfew coincided with a planned visit to his home country of Egypt.
However, he agrees with the Jordanian government's decisions. "The measures taken are good, and everyone should follow them," he said.
"I am okay with the curfew. I understand that this is a global crisis, and even though I am banned from travelling it's alright because even Egyptians are not allowed to leave Egypt," he told The Jordan Times on Wednesday.
When the curfew was first imposed, it took him a while to get used to the movement restriction, he noted, adding that he gradually grew accustomed to it.
Abu Ali stays in touch daily with his wife, and says his family is in good health. "After the coronavirus curfew is over, I want to visit for at least a month," he noted.
"[The Jordanian government's] measures are going to be in our favour, and I say 'our' as in the collective people living in Jordan, whether citizens or otherwise," Clark said.
"I like the fact that there seems to be very much a solidarity among Jordanians themselves who are very much behind the measures that the government is taking, and I would definitely put myself among that crowd."
Newsletter
Get top stories and blog posts emailed to you each day.