You are here
Surviving threats and grasping opportunities
By Sally Bland - Mar 22,2020 - Last updated at Mar 22,2020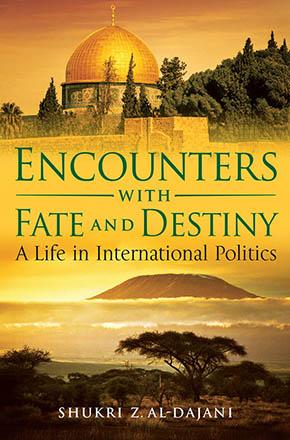 Encounters with Fate and Destiny: A Life in International Politics
Shukri Z. Al Dajani
London/New York: I.B. Tauris, 2018
Pp. 235
The word fate is often associated with its derivative, fatalism — a feeling of powerlessness or a submissive attitude to events, akin to passivity. Fate and destiny are alluded to numerous times in Shukri Al Dajani's autobiography, but with opposite implications. He repeatedly notes how chance encounters turn out in his favour; his frame of mind is consistently pro-active. Of the major turning point in his career when he flies from Dar es Salaam to Beirut, to take up his new post with the ILO (International Labour Organisation), he writes, "A firm believer in fate and destiny, I was neither worried nor afraid of the unknown. More importantly, I had the will and determination to succeed in my new environment both professionally and socially". (p. 98)
Now, at the end of his career, which had him shuttling between African, Arab and European countries, he writes with quiet confidence and objectivity about the difficulties he faced and the accomplishments of which he is proud, about narrow escapes, encounters with world leaders, and hours upon hours of painstaking, behind-the-scenes work.
His story begins with impending danger. After a brief family history of the Dajani family, going back to the 15th century, Shukri relates his experience of the Nakba in Jerusalem, when he was twelve years old. Living in Upper Bakaa, between two Jewish neighbourhoods, his family's house was on the frontlines when conflict broke out in late 1947. He recalls a meeting of the men of the family to discuss how to defend themselves from the Zionist militias. "That evening marked the turning point of our life in Jerusalem… Within a matter of days, our happy and peaceful suburb was transformed into a garrison…" (p. 9)
He would not return again until 1993 under ILO auspices. The family was dispersed but reunited in Cairo and Shukri attended Victoria College in Alexandria, where he made life-long friends. He then enrolled at the American University in Cairo to major in political science. A year later, he travelled to Cardiff to train as a journalist. Work for the BBC enabled him to gain much-desired financial independence, and soon he was writing editorials for the "Western Mail", plus a series entitled "I was a refugee" based on his personal experience and that of other Palestinians, which was well received and actually increased the newspaper's circulation.
Adventure beckoned when Dajani was offered a job at the "Daily Nation" in Tanganyika. His relating of his experience there is one of the most interesting chapters in the book, for he arrived in 1961, as the country was on the cusp of independence. He was put in change of the government's plan to establish a publishing house that would issue daily newspapers in English and Swahili. Dajani saw this as a "golden opportunity… to develop my career and benefit from the rare possibility of living the events of the birth of a nation, while being in the inner circle of those who were the key players of the process". (p. 71)
Over the course of five years Dajani survived several harrowing episodes — driving solo on unpaved roads from Dar to Kampala, narrowly escaping the violence of the coup in Zanzibar and a subsequent mutiny in Tanzania, but it was being caught in the middle of an internal power struggle that made Dajani decide to return to the Arab world.
Soon he landed a job as Press Officer with the Kuwait Oil Company in 1973. Five years later, he was hired as the ILO's Regional Information Officer for the Arab States, beginning a decades-long career that witnessed earth-shaking events and also more narrow escapes. According to Dajani, "Palestine was a central issue at the ILO from the mid-1970s till the late 1980s", only to diminish "as a direct result of fragmentation of Arab unity and the socio-political turmoil… In fact, many Arab delegations make no more than a fleeting mention of Palestine in their interventions". (pp. 138-9)
Still, Dajani accomplished much as he rose to the position of ILO Assistant Director-General. He co-headed important missions, mediated between Arab states, drew the Gulf states into the ILO despite their lack of trade unions, weathered the effects of US and Israeli bullying whenever any policy recognising Palestinian rights was adopted, and initiated extensive, vital projects in the West Bank and Gaza after the Oslo Accords.
In clear and flowing prose, Dajani imparts valuable insights into the dynamics of international politics, in addition to sharing touching personal experiences, spiced with sometimes humorous anecdotes and fascinating glimpses into his meeting with Arab leaders. His narrative is permeated with love and loyalty to his family, especially his father, Zaki Al Dajani, to whom he dedicates the book. He expresses gratitude to many friends and colleagues who helped him on his way, but most especially to Jordan for granting his family Jordanian nationality, praising the late King Hussein and other members of the royal family.
The book is enriched with many photos from all stages of Dajani's career.
Newsletter
Get top stories and blog posts emailed to you each day.