You are here
Stimulating the senses
By Ica Wahbeh - Nov 11,2015 - Last updated at Nov 11,2015
Work by Fadi Daoud on display at Wadi Finan Art Gallery until November 28 (Photo courtesy of Wadi Finan Art Gallery)
AMMAN — Music, vocal or instrumental, is almost audible in the halls of Wadi Finan Art Gallery where Fadi Daoud's evocative works stimulate senses.
Titled "Love and Music", the paintings are a natural progression in Daoud's artistic career that now sees him in Florence, the city of love, ready for his MFA degree.
Music has been this artist's inspiration for a long time. Representations of iconic Arab singers are almost his signature, but in Italy, naturally, opera added another layer to this theme, and "Daphne", the Greek mythology character in love with nature with whom Apollo fell in unrequited love, seems to preoccupy him most.
His technique, using fascicles of colours that create features, give depth and fascinate with their painstaking minutiae, is Daoud through and through. So is the theme, yet one never gets tired of watching the characters of his paintings.
Round open mouths, hands poised over instruments and eyes closed or staring at a hidden, secret, world suggest music, a magical world of beauty and serenity where people can pursue finer things in life, away, often, from the drab or unpleasant reality.
If the facial expression and gestures are not suggestive enough, the artist reinforces the audio aspect through undulating, whirling or blowing lines that seem to be on the same wavelength with the music, in harmony with the musicians and the world around them.
One expects the sound to come out of the open mouths, but it is fine if it does not, for, this way, one can hum one's own favourite music — unless told by the artist what aria the singer is playing (which in actually Daphne).
Departing from the musical world, a male portrait — contrasting light and dark lines define almost anatomically his strong features — peers into the horizon, probably seeing the woman of Sufi inspiration on the opposite wall.
Caught in a twirling movement, the graceful woman clad in white is surrounded by diaphanous wisps of colour, like a billowing veil that surrounds the closed-eye woman who seems lost in her own world, a world one would love to enter and understand.
Pomegranates – revered as a symbol of health, fertility and eternal life – dark red and ripe, burst open to hold enigmatic heads.
"Strings" vibrate under the strumming hand in a fiery vibration that engulfs player and viewer.
Colourful, powerful, in motion and strongly suggestive, Daoud's works create a symphony of sound and colour.
His characters levitate, lifted by "love and music", tap, play instruments — flute, pipe, lute, accordion, violin — sing immersed in their feelings, enjoying company and audience, but mostly enjoying the music, enrapt, in love and in harmony with the universe.
"Sound and Heaven" or "Love and Music", suggests the artist in some paintings.
He does not need to do that. The imagery is evocative, transporting the viewer to heavenly heights, leaving him to figure out the story of love between a man and a woman or feel the love for music.
Daphne is a recurrent theme. And whether celebrated by a loving couple playing musical instruments or by two ladies in grand opera costumes — magnificent feather fans and all — Daphne, maybe for the choice she made, seems to have captured the artist's attention.
Daoud's lines, by now making him easily distinguishable, are ubiquitous. If not in their "typical" clustered form, they flow freely and fluidly to form images and movement.
Bold, vibrant colours rend passion, reinforce movement and stir feelings.
Universal with an Oriental touch (inevitable perhaps for someone who studied Islamic art), these latest Daoud's works show unfailing upswing growth and evolution. They are also proof of his imagination and mastery of the line and technique that make his unique.
The works are on display until November 28.
Related Articles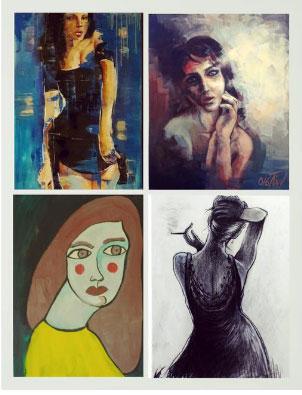 Jan 18,2018
AMMAN — The Zara Gallery on Wednesday inaugurated a group exhibition by Jordanian female artists, under the title "Delicate Lines of Strengt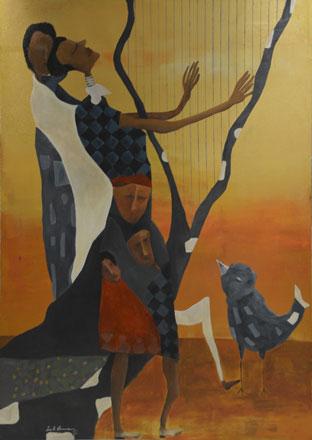 Nov 26,2017
AMMAN — Music, painting and the human soul have found a place in the work of Jordanian artist Zaid Shawwa, now displayed under the title "Wa
Mar 19,2017
AMMAN — Held in the month that celebrates women, Hind Nasser's exhibition at Gallery 14, "Many Faces of an Artist", literally displays many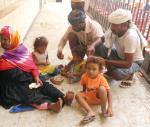 Newsletter
Get top stories and blog posts emailed to you each day.