You are here
Solemn labour of love
By Ica Wahbeh - Apr 26,2018 - Last updated at Apr 26,2018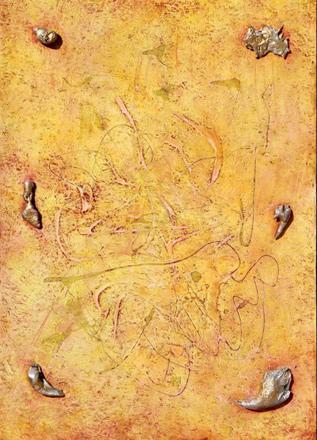 Works by Venezuelan artist Fausto Borge on display at the Jordan National Gallery of Fine Arts until May 14 (Photo courtesy of the Jordan National Gallery of Fine Arts)
AMMAN — Simply called "The Amman Period", Venezuelan artist Fausto Borge's exhibition at Jordan National Gallery of Fine Arts is the result of his artistic creation while here and, one assumes, a tribute of sorts to the capital city where he has been serving as his country's ambassador for the past eight years.
The awe-inspiring outcome of his solemn labour of love is abstract imagery of distinguished beauty and subdued, elegant, colour, the result of his long experience as an artist and of his aesthetic credo.
Like some prehistoric megaliths, his carved aluminium columns may evoke vestiges of ancient civilisations, but they could also be abstract hugging figures, dripping molten metal that suggests the passage and ravages of time, faces trying to break free of the embracing metal, or just towers, as the artist prefers to call them.
The amorphous aluminium bars, drilled, torched and polished to a warm gleam, become tortuous creatures, eerie life that one almost feels pulsating and trying to break free of the imprisoning metal.
Polished to a satiny finish, the columns, like the brown wooden "Woman" reigning solitarily in the exhibition hall, make it difficult to resist the temptation to touch, caress, trace their contorted contours in an attempt to understand and communicate with the hinted life within.
Borge's sculptures, and many of his paintings, have a primeval, yet, majestic quality. They draw the eye, keep it prisoner for a long time, dare it to decipher the meaning behind the obvious, are tantalising, mysterious, detached yet warmly embracing.
In the paintings, both monumental and of smaller size, the artist makes use of different media — wood, canvas, melted aluminium and resin — to render encrypt messages in arcane script that asks to be deciphered.
Whether abstract silver aluminium "Upside down tears" that seem to defy gravity, a lapis lazuli rendition of the vast "Cosmos" where slivers of shiny metal beckon like far-away stars, or earthen-colour images that remind of prehistoric caves or pottery from the dawn of civilisation, whether on canvas, wood or metal sheets, Borge's paintings are poignant and touch an inner cord that ties us to our primordial ancestors.
Some themes are a repetition of works presented in a previous exhibition.
Like then, the metal seems to have docilely submitted to the artist's whim, but that is clearly not the case. Drill and torch and long hours of polishing imply hard work during which the artist, rather, is forced to yield to the caprices of the metal, a happy relation with intriguing results.
Like then, Borge skilfully plays with texture to create depth and movement, and like then, his works in soothing, almost monochromatic colours, are rich and fascinating.
One cannot but be grateful to the artist's professor at a New York university where he was studying art administration who suggested that he start painting rather than engrave. In some sort of contrasting activity, he thus started building on the medium rather than taking away from it, and the result is outstanding.
Borge studied engraving at New York University and painting at The Arts Students League of New York; he holds a master of arts degree from New York University, and a diploma in advanced studies in sociology and a certificate in aesthetics from the University of Bordeaux.
This exhibition, "dedicated to my daughter", Zoe, is then the second this artist is having in Jordan.
And even though he held several solo exhibitions in France and Venezuela, and several group exhibitions in the US, France and his country, this "is the most important exhibition I ever had because it is held in a museum".
It is indeed a prestigious institution where Borge is "proud" to have had the "honour" to exhibit, but choosing him for the task could not have been difficult. He is an artist of the highest calibre, so the "honour" goes both ways.
His works will be on display until May 14.
Related Articles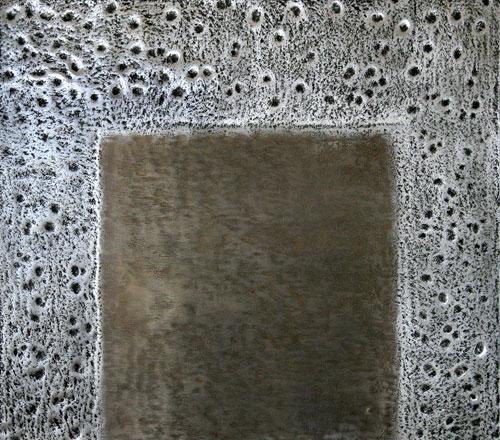 Feb 15,2015
"It makes no sense to reproduce reality as we see it," says artist Fausto Borge, "that is why I became an abstract painter."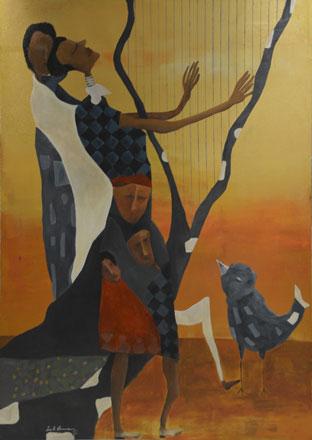 Nov 26,2017
AMMAN — Music, painting and the human soul have found a place in the work of Jordanian artist Zaid Shawwa, now displayed under the title "Wa
Oct 28,2014
Artists from Jordan and Japan ask piercing, contemplative questions while celebrating cultural exchange at Dar Al Anda Art Gallery's "East to East" exhibition.
Newsletter
Get top stories and blog posts emailed to you each day.