You are here
Rugged and refined range of abilities
By Ghaith Madadha - Jul 22,2014 - Last updated at Jul 22,2014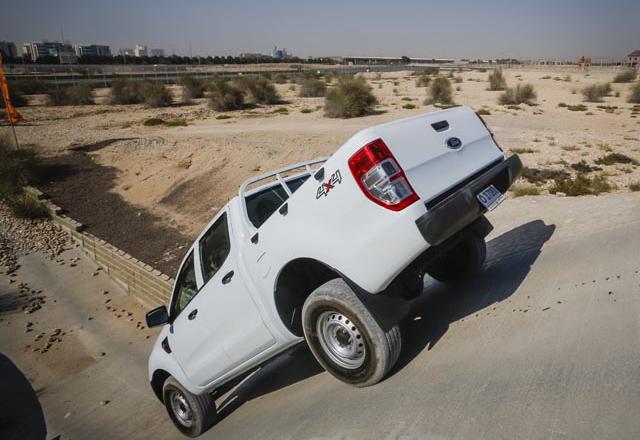 Replacing both American and global market predecessors bearing the same badge, the new Ford Ranger light pick-up is a larger, more refined and more capable successor.
Sharing a platform with Mazda — like its predecessor — the new Ranger's improved capability and size make it one of the biggest compact pick-ups, and put it somewhere between its small predecessor and the larger more luxurious Ford F150 in terms of size and segment.
Offered with a choice of three engines, two drive-lines and several specification levels, the Ranger line-up goes from rugged and basic Commercial version to the well-kitted and stylish range-topping Wildtrack.
Design and cabin
With greater focus on design, aesthetics and identity, the new Ranger is more in tune with the Ford vehicle line-up and is a more global vehicle. Discrete and understated in the more basic version tested with 16-inch steel wheels and black bumpers and grille, the new Ranger's bold grille, swept back headlights and more muscular bonnet and wheel-arches, however, lend the better kitted Wildrack version a sense of charismatically assertive road presence when combined with its' chrome detailing and larger alloy wheels, while the double cab version looks more balanced assertive visually.
At 5,359mm long, 1,850mm wide and 1,815 high, the new Ranger is 182mm longer, 62mm wider and 53mm taller than its predecessor.
With easy access to its four-door, five-seat cabin, the Ranger is spacious and airy inside. A better effort than both it's predecessor and main compact pick-up rivals, the entry-level Ranger Commercial's cabin may not be as extensively well-kitted and luxurious as the range-topping Wildtrack version, but even it benefits from a more aesthetically designed console, dashboard and improved refinement and material quality and texture.
With clear instrumentation and user-friendly functions, the base Ranger Commercial spec is strategically kitted with air conditioning and a USB compatible 2-speaker CD/MP3 system, windows and side mirrors are manually adjustable in Commercial trim. Optional kit includes front driver and passenger airbags and ABS brakes.
User-friendly utility
Offered with three engine options including 2.2-litre four-cylinder and top-of-the-range 3.2-litre five-cylinder turbo-diesels, the driven 2.5-litre naturally-aspirated four-cylinder is the sole petrol powered version.
An under-square design with 16-valve DOHC valve-train the Ranger's 2.5 engine is tuned for generous low- and mid-range grunt, and is geared to comfortable carry heavy loads. Progressive and smooth in delivery, the Ranger 2.5 develops 162BHP at 5500rpm and 167lb/ft torque at 4500rpm, which allows for timely and flexible on-the-move responses and performance.
Though official performance figures weren't readily available, one roughly estimates the tested 5-speed manual 4x4 double cab version's 0-100km/h acceleration and top speed at around 12 seconds, and 160km/h.
Driven through a 5-speed manual gearbox notable for its refined shifter — which didn't shudder, unlike a main competitor's gear lever did during back-to-back test drives — the Ranger 2.5 felt civil and comfortable to drive.
The Ranger's drive-line can be switched from rear-wheel-drive to four-wheel-drive high and back, on-the-fly at up to 120km/h. For off-road driving or towing or carrying a heavy load on loose of steep inclines the Ranger features a low gear transfer case, provides 2.48:1 ratio low range four-wheel-drive.
An optional limited-slip differential can distribute power to the rear wheel with best traction, for enhanced ability off-road and on loose surfaces.
Rugged yet refined
Built on a rugged body-on-frame chassis with durable live rear axle and leaf spring suspension ideal for off-road driving, hauling and towing, the Ranger's traditional truck construction and design have been optimised to provide a refined cabin ambiance and driving experience. In front, the Ranger however uses independent double wishbone suspension with coil-over dampers for civilised ride and handling on road.
The Ranger's power-assisted rack and pinion steering is light and user-friendly. And with 3.5-turn lock-to-lock is reassuringly stable in a straight line or over uneven surfaces, but is neither is it slow for daily driving, while a 12.4-metre turning circle makes it agile and manoeuvrable.
Sitting high and with a good view of the road, the Ford Ranger is easy to manoeuvre, while it's light clutch pedal and intuitive biting point made it user-friendly when setting off from standstill.
A comfortable and refined for a chassis-on-body design with leaf spring live axle, the Ranger is smooth and stable in a straight line and absorbs dirt road roughness well without transmitting much roughness to occupants.
Steering is light and quick enough so that one doesn't need to shuffle the wheel much, and through medium speed slaloms the Ranger turned-in tidily and exhibited good body control, while power delivery was progressively smooth when exiting a corner on throttle.
Workhorse and mountain goat
A tough, practical and capable workhorse, the driven Ford Ranger 2.5 double cab 4x4 version accommodates a generous 1180-litre cargo volume to the top of its cargo bed wall, and more above. Measuring 1,549mm long, 511mm tall and between 1,139mm to 1,560mm wide, the Ranger's cargo bed loading height is 835mm, while its total gross cargo capacity is 1,435kg.
Able to tow a 750kg un-braked trailer, the Ranger's braked towing capacity is up to 3,350kg. Large 302mm front ventilated disc and 295mm rear drum brakes are sized to provide effective braking for when fully loaded, and are crisply responsive in shaving off speed when driven un-loaded at its approximate 2 tonnes kerb weight.
In addition to its four-wheel-drive, low gear ratios and optional limited-slip differential, the Ford Ranger benefits from high 229mm ground clearance, short front over-hang and relatively compact dimensions for traversing the sort of narrow, rutted and winding trails that a bulkier full-size pick-up would have trouble navigating.
With upright seating and big glasshouse one has a good view of surface conditions, even when the Ranger is climbing through steep and uneven terrain.
Sitting high off the ground, the Ranger's 800mm water wading depth and generous 28° approach, 25° break-over, 28° departure and 35° tilt angles are considerably superior to a full-size American pick-up and make the Ranger an agile, manoeuvrable and genuinely capable off-road mountain goat.
TECHNICAL SPECIFICATIONS
Engine: 2.5-litre, in-line 4-cylinders
Bore x stroke: 89 x 100mm
Compression ratio: 9.7:1
Valve-train: 16-valve, DOHC
Gearbox: 5-speed manual, four-wheel-drive, low gear transfer case
High/low range: 1:1/2.48:1
Power, BHP (PS) [kW]: 162 (164) [121] @ 5,500rpm
Specific power: 65.1BHP/litre
Torque, lb/ft (Nm): 167 (226) @ 4,500rpm
Specific torque: 90.8Nm/litre
0-100km/h: approximately 12-seconds (est.)
Fuel capacity: 80-litres
Length: 5,359mm
Width: 1,850mm
Height: 1,815mm
Wheelbase: 3,220mm
Track: 1,560mm
Overhang, F/R: 905/1,226mm
Headroom, F/R: 1,022/975mm
Legroom, F/R: 1,058/902mm
Ground clearance: 229mm
Load floor length: 1,549mm
Load floor width, min/max: 1,139/1,560mm
Load floor depth: 511mm
Loading height: 835mm
Cargo volume: 1,180-litres
Water fording: 800mm
Approach angle: 28°
Break-over angle: 25°
Departure angle: 28°
Tilt angle: 35°
Kerb weight: approximately 2,000kg (est.)
Gross cargo weight: 1,435kg
Towing capacity, braked/un-braked: 3,350/750kg
Suspension, F/R: Double wishbones, coilovers/leaf springs, live axle
Steering: Power-assisted rack & pinion
Lock-to-lock: 3.5-turns
Turning circle: 12.4-metres
Brakes, F/R: Ventilated discs 302 x 32mm/drums, 295 x 55mm
Tyres: 255/70R16
Related Articles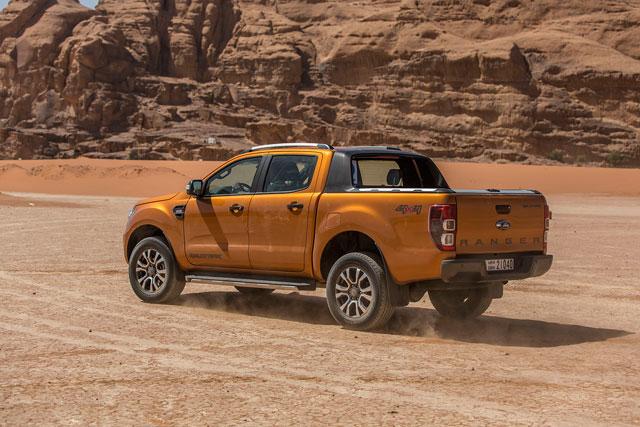 Jun 13,2016
The range-topping version of Ford's compact Ranger pick-up model line, the Wildtrak is a thoroughly capable hauler and off-roader with robus
Dec 19,2016
Purveyor of America's consistently best-selling model line, Ford took somewhat of a calculated — and ultimately successful — gamble with the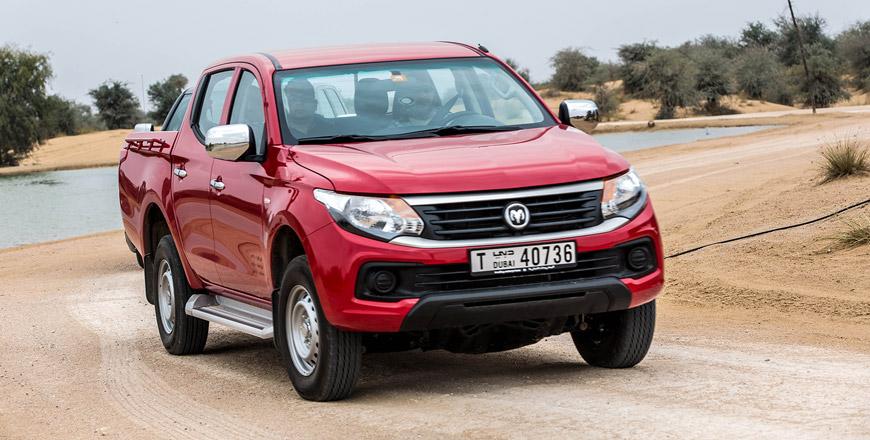 Apr 24,2017
Launched in recent weeks and exclusively for Middle East markets, the Ram 1200 line is expected to greatly expand the former Dodge and now s
Newsletter
Get top stories and blog posts emailed to you each day.