You are here
Renewed interest in sumo wrestling proves big pull for tourists
By AFP - Aug 22,2023 - Last updated at Aug 22,2023
TOKYO — Their interest piqued during Covid lockdowns and by a new Netflix drama, a fresh rush of foreign tourists are flocking to Japan for a look inside the insular world of sumo.
Japan's national sport — hundreds of years old and steeped in tradition — has long been a source of fascination outside the country, but those in the industry say interest has spiked in recent years, with some making the most of the new attention.
At a recent lunchtime "performance", two imposing sumo practitioners strutted their stuff in a Tokyo restaurant full of cheering tourists.
Afterwards, the spectators took selfies with the hulking athletes and donned padded sumo costumes and wigs to try their hand at the ancient art in a bout against retired professionals.
"The kids had a blast. I had a blast getting up there and fighting with them," said Kiernan Riley, 42, from Arizona.
"They put on a good show. Definitely one of the highlights of the trip."
Tickets for the thrice-weekly event, which includes commentary in English and a slap-up meal, go for 11,000 yen ($76) each and were sold out for the following six weeks.
One of the stars is former top professional wrestler Takayuki Sakuma, aka Jokoryu, who stands 1.87 metres tall and weighed 170 kilogramme at his peak.
"When you're a professional, your life depends on sumo," the now-retired 35-year-old told AFP. "And it's not to be taken lightly."
"But to entertain people we add humour. The most important thing is to make people appreciate sumo as culture."
Former amateur sumo wrestler John Gunning, who competed for his native Ireland and commentates — in English — on Japanese television, said there has been a "huge increase" in the sport's popularity abroad over the last five to 10 years.
But that popularity grew even more during Covid, when people stuck in lockdown explored new interests.
And the release this year of "Sanctuary", a new Netflix series set in the world of sumo, also helped to introduce the sport to a new audience.
"I'm seeing a lot of people saying that that was their first exposure to sumo," Gunning told AFP.
The Japan Sumo Association last year also launched an English-language YouTube channel, "Sumo Prime Time", whose videos rack up tens of thousands of views.
Ken Miller, 68, shows groups of American tourists the area of Ryogoku, a mecca for the sport, including the Kokugikan arena.
Each one pays several hundred dollars for the experience, and he says he is booked up for the next year.
Three times a year, in January, May and September, Kokugikan hosts the top stars of sumo in national tournaments in front of more than 10,000 cheering fans.
"I try to explain to them [the tourists] that sumo is not just a sport, it's part of the culture. And it's very much connected to Buddhism, Shinto," Miller told AFP.
"It's a way of life."
Tourists have long been able to visit the hallowed interior of a "heya", one of the traditional "stables" where sumo wrestlers live and train according to strict traditions.
But because of the growth in interest, many stables have banned individual visits and only allow group tours booked through an agency, said guide Yuriko Kimura.
"When we started sumo stable training tours, it was maybe held once or twice a week, people didn't know about sumo. But then it surged around 2018-2019," she told AFP.
"I tell them that what is important is to show respect towards the stable and sumo wrestlers. If people from other countries know the dos and don'ts, they won't do something wrong."
Inside, visitors must stay seated and quiet so as not to disturb the wrestlers while they train.
One stable, Arashio in central Tokyo, has a large bay window where dozens of people gather every day to watch the training sessions.
Yuka Suzuki, 61, the wife of the former master who installed the window, said that the original aim was to chip away at the reputation of sumo being "secretive".
"But instead of locals, it's people from all over the world who have started to come," she said.
She added that she hoped that as a result, Japanese people would start to rediscover their national sport, which she said was essential for its survival.
"Young wrestlers came into this world [of sumo] to test themselves, but if there are fewer and fewer Japanese people who feel that way, sumo wrestling will also disappear," she said.
Related Articles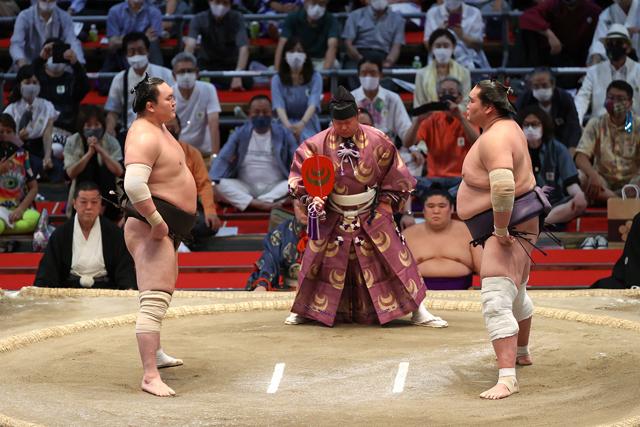 Sep 27,2021
TOKYO — Sumo's greatest-ever champion Hakuho retired on Monday after battling persistent knee trouble, officials said, leaving a gaping hole
Aug 26,2023
NEW DELHI — Athletes flex muscled biceps before going hand-to-hand in a newly televised arm-wrestling league seeking to take the sporting sp
Jun 15,2022
LOS ANGELES — Veronica Yune hangs upside down over the stage as she slowly undresses; below, wrestlers "Sexi" and "Mexi" gyrate their hips a