You are here
A Palestinian family in Damascus
By Sally Bland - May 22,2016 - Last updated at May 22,2016
Bitter Almonds
Lilas Taha
Qatar: Bloomsbury Qatar Foundation Publishing, 2015
Pp. 308
From the first page of this novel, author Lilas Taha exhibits her storytelling skills, describing five-year-old Fatimah watching the birth of her brother, Omar, reflected in the rain-spattered windowpane (she was told not to turn around). The room is tense; the birth is difficult, more so because of the timing. It is spring 1948. The village is emptying out in panic, having just been bombarded by news of the Deir Yassin massacre. The neighbours, husband and wife Mustafa and Subhia, can only wait so long for the mother and her now two children to pile into their truck, to escape an expected attack.
This opening scene establishes the theme and pace of the novel, in which Taha weaves the political and the personal into an enthralling, fast-moving story, showing how Palestinians' life events and needs might be similar to everybody else's, were it not for the fact of their dispossession. In Fatimah's and Omar's case, losing their home and country is compounded by being orphaned, for their mother dies in the truck.
The sense of urgency continues as Fatimah and Omar grow up in Damascus, raised by Mustafa and Subhia alongside their own five children. Part of the urgency comes from their determination to return to their land. Part stems from recurring crises in the expanded family's life, whether manmade or caused by the political and socioeconomic difficulties impinging on refugees.
Through the eyes of this family, one experiences Palestinians' recurring disappointments in their quest to recover Palestine and return home. First, Omar pins high hopes on Nasser and the short-lived United Arab Republic. Later, he enrols in the Syrian military academy and rushes to fight on the Golan Heights during the 1967 war. With each event, they imagine returning home, but reality dictates otherwise. Taha manages to convey important milestones in Palestinian history from 1948 until 1970, without plodding through every detail, for the main focus is on human lives.
In the build-up to the 1967 war, a family crisis is also brewing. Despite Mustafa's and Subhia's fair, nurturing parenting, there is tension and rivalry among some of the children. While their second daughter, Nadia, develops a special bond with Omar, their son, Shareef, resents him, perhaps because Omar's strong personality often has him functioning as the de facto eldest son of the family, whereas Shareef lacks his backbone. "Omar was living on a different plain than the one Shareef occupied. His was filled with political analysis and patriotic discussions. War loomed and darkened his skies. Shareef's plain was anchored in normalcy." (p. 88)
Things come to a head when Shareef has a casual affair which he shrugs off as inconsequential. But honour is important to this family, and men are considered just as responsible for upholding it as women. By this time, Mustafa's health is deteriorating rapidly due to his gruelling factory job, and Omar steps in to force Shareef to marry the girl in question, which only exacerbates their relationship. Though Shareef seldom takes initiative to do anything positive, he now seems intent on destroying Omar. His target is Omar's strong bond with Nadia, a bond which those two hardly understand themselves. They have been raised as sister and brother, but actually aren't. Is the love between them that of sister and brother, or something else? Can they overcome Shareef's machinations in time to find out? As much as the story is built on the centrality of family, it also queries the nature of blood relations and of love.
Framed by the title and recurring references, almonds serve as a metaphor for Palestine, referring to the fertile orchards left behind and the nostalgia felt by their former cultivators. Calling the book "Bitter Almonds" expands the metaphor to cover the refugees' disappointments and hard experience, as well as the plot's unifying theme — a great love that must traverse a long, difficult path to be fulfilled. But it's worth it, for: "The bitter almonds make you savour the sweet ones more." (p. 31)
Dialogue is a strong point in Taha's writing as she manages to articulate distinct voices for a wide range of characters, conveying their mood and personality. "Bitter Almonds" gives a realistic portrayal of the life of Palestinians in Syria, a community about which little has been written, whether in fiction or non-fiction. The book is well suited to a broad readership, including those with little forehand knowledge of the Palestinian issue. "Bitter Almonds" is available at Readers.
Related Articles
Sep 13,2015
Vanished: The Mysterious Disappearance of Mustafa OudaAhmed MasoudCyprus: Rimal Publications, 2015Pp.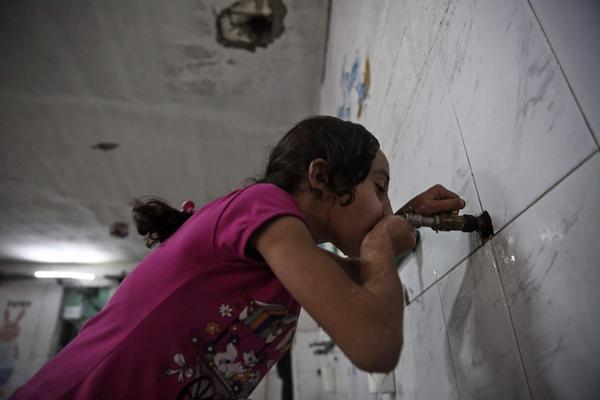 Nov 03,2016
DOUMA, Syria — Where you sleep. Whether your children go to school. When you can shop.
May 11,2017
CAIRO — In his workshop near Cairo's pyramids, Ahmed Saeed Omar has manufactured a mini four-wheeled vehicle that he hopes will fill a gap i
Newsletter
Get top stories and blog posts emailed to you each day.