You are here
Nissan Maxima: Swift, seamless and swooping sports saloon
By Ghaith Madadha - May 18,2020 - Last updated at May 18,2020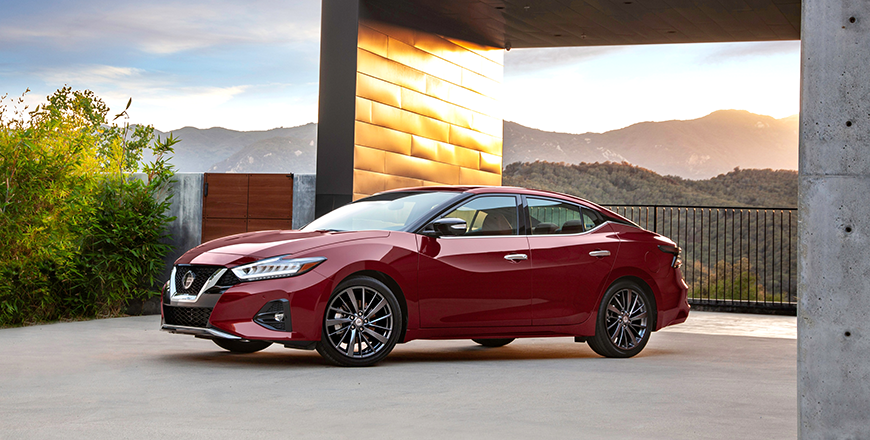 A big, comfortable and indulgently well-equipped saloon with a reputation as a quick and sporty mover earned over multiple generations, the Nissan Maxima is something of an unlikely front-wheel-drive sports saloon, but nevertheless a convincing one.
Not exactly a sports saloon in the mould of a compact rear-driven BMW 3-series, the Maxima is more akin to a larger Audi A6 or A7 four-door-coupe, and competes in a similar bracket as the Dodge Charger and Chevrolet Impala, as something of a dad-racer grand-touring saloon with an emphasis on personal luxury and performance.
Assertive aesthetic
Winner of the 2020 Middle East Car of the Year's best Large Sedan award in the face-lifted guise that hit the streets in 2019, the current generation Maxima first appeared in 2015, adopting a noticeably lower roofline and more overtly aggressive styling than its predecessors. Larger and more indulgent than Nissan's mid-size family saloon favourite Altima, the Maxima is, however, a different sort of car and is in some ways a less practical car than some of its smaller siblings in terms of luggage volume and rear headroom, owing to its rakishly low roofline.
Not quite committed to being a so-called 'four-door-coupe' but with a lower and more coupe-like roofline than most large 'formal' saloons, the Maxima's aggressively sporting appeal includes its long swooping bonnet, curvy Coke-bottle lines, broad wheel-arches that swallow its large 19-inch alloy wheels, and a short, jutting rear deck with a built-in spoiler. Mildly revised for 2019, the Maxima adopts a more contemporary version of Nissan's V-Motion grille design and has a dramatically hungry look about it, with squinting, browed and sharp-edged wraparound lights with C-shaped LED signatures, gaping big grille and jutting bodywork.
Seamlessly sweeping
Taken out of service from most of the multi-brand Japanese manufacturer's premium Infiniti vehicles in recent years, Nissan's gloriously eager, smooth, high-revving and award-winning naturally-aspirated VQ-series V6 engine thankfully still has a home under the Maxima's muscular bonnet. Mounted transversely, the Maxima's 3.5-litre V6 is just the right engine to deliver so much power via the front wheels. With its long-legged revs and seamlessly progressive and silky smooth delivery, it doesn't abruptly over-power the front wheels and minimizes the torque-steer usually associated with powerful front-drive cars.
Allowing one to dial in precise increments of power and torque with its exacting throttle control and delivery, the Maxima's V6 builds up with an eager yet refined urgency. Responsive from idling to redline and with a generous reserve of mid-range flexibility for overtaking, the Maxima's V6 develops its full 300BHP at 6,400rpm – just 200rpm shy of its rev limit – and achieves peak torque by a comparatively high 4,400rpm. Smooth in its own right, the Maxima's engine is complemented with a seamless continuously variable transmission (CVT) that adjusts ratios on a sort of sliding scale.
Confident cruiser
Working to achieve best performance or efficiency for a given situation by varying ratios and keeping engine revs within the best band width, CVT delivers smooth, economical driving and low rev cruising and brisk acceleration with a slingshot feel, but can lack the interaction of a traditional gearbox. That said, pre-set ratios that mimic a regular gearbox can be used, while 'sport' mode optimises the Maxima's CVT for improved performance. Though CVT isn't usually associated with sports cars, the Maxima is more of a sports saloon for long bends and high speeds rather than ducking and diving through narrow switchbacks.
Accelerating through 0-100km/h in a smooth seamless sweep estimated at 6-seconds, and capable of effortless high speed cruising, the Maxima is at home on the open road. Refined inside and with excellent stability at speed, the Maxima is a comfortable and confident continent crunching long distance driver. Forgiving over most imperfections – including one particularly poorly maintained stretch of highway – and despite its large low profile tyres, the Maxima remains settled on crests and dips. Well insulating from road harshness, it can, however, feel slightly firm over sudden, small and jagged speed bumps.
Commitment and comfort
Unexpectedly sporty for a large and front-heavy front-drive saloon, the Maxima turns into corners with eager precision and plenty of grip, while its quick 2.63-turn steering is direct and well-weighted, delivering ease of use and just enough feel and heft. Well-controlling lateral lean, the Maxima is confident and committed through corners. Able to carry impressive speed into and through a bend, the Maxima's grip defies expectations of earlier under-steer, while rear grip is similarly stoic in its efforts. Responsive, manoeuvrable and well controlled through corners, the Maxima is designed to deliver reassuring road-holding rather than playful agility.
A driver-oriented car with a premium feel, the Maxima delivers terrific front space and comfort, with big, supportive, cosseting and almost throne-like part quilted leather front seats. Front sightlines and driving position adjustability are good, while a thick contoured flat-bottom steering wheel, clear-instrumentation and user-friendly controls and infotainment are similarly driver-oriented. Rear headroom is fine for most adults, and luggage volume is good, but both could be better if the Maxima is viewed as a traditional large saloon rather than a 'four-door-coupe'. Equipment levels are meanwhile high and include numerous advanced driver-assistance, safety, convenience and infotainment features.
Specifications
Engine: 3.5-litre, transverse V6-cylinders
Bore x stroke: 95.1 x 81.4mm
Compression: 10.6:1
Valve-train: 24-valve, DOHC
Maximum engine speed: 6,600rpm
Gearbox: Continuously variable transmission (CVT) auto, front-wheel-drive
Transmission ratios: 2.413:1-0.383:1
Reverse / final drive: 1.797:1 / 5.25:1
Power, BHP (PS) [kW]: 300 (304) [223.7] @6,400rpm
Specific power: 85.76BHP/litre
Power-to-weight: 181.2BHP/tonne
Torque, lb/ft (Nm): 261 (354) @4,400rpm
Specific torque: 101.2Nm/litre
Torque-to-weight: 213.9Nm/tonne
0-100km/h: 6-seconds (estimate)
Fuel economy, city / highway / combined 11.76-/7.84-/9.8-litres/100km
Fuel capacity: 68-litres
Length: 4,905mm
Width: 1,860mm
Height: 1,435mm
Wheelbase: 2,775mm
Track: 1,585mm
Minimum ground clearance: 135mm
Aerodynamic drag co-efficiency: 0.30
Head room, F/R (with panoramic roof): 1,000/933mm 987/910mm
Legroom, F/R: 1,143/870mm
Shoulder room, F/R: 1,439/1,415mm
Hip room, F/R: 1,376/1,340mm
Luggage volume: 405-litres
Kerb weight: 1,655kg
Weight distribution, F/R: 61 per cent/39 per cent
Steering: Hydro-electric assisted rack & pinion
Steering ratio: 15.3:1
Lock-to-lock: 2.63-turns
Turning circle: 11.61-metres
Suspension, F/R: MacPherson struts / multi-link
Brakes, F/R: Ventilated discs 320 x 28mm / 308 x 16mm
Tyres: 245/40R19
Newsletter
Get top stories and blog posts emailed to you each day.