You are here
Multicultural reality
By Sally Bland - Oct 07,2018 - Last updated at Oct 07,2018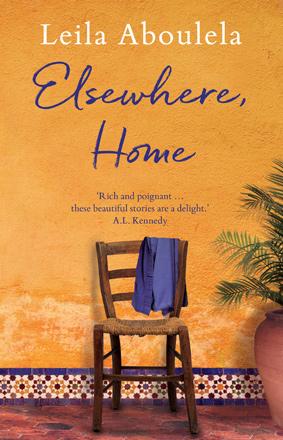 Elsewhere, Home
Leila Aboulela
London, Telegram, 2018
Pp. 216
Sudanese-British writer Leila Aboulela's prose is so compelling because she is able to convey strong emotions and decisive moments in a very subtle way, using small details to indicate much larger changes or themes. This collection of thirteen short stories shows that she has had this talent from the beginning of her writing, for it includes her very first stories as well as recent ones. Most revolve around themes of faith, cultural differences and cross-cultural identity, as do her four novels. In her rendition, addressing cultural differences does not seem intended to pull people apart, but to help them genuinely understand each other.
The title of the book, "Elsewhere, Home", is a good example of expressing a larger theme in a lowkey metaphor. Most of the main characters in the stories either straddle two societies or are living in a country not their original one. Some are happy to have "escaped" Sudan or Africa, while others are lost or homesick or bored in the UK. Some no longer know where home is.
In one story, the relationship between a mother and daughter shifts as they travel from London for their annual summer visit to Cairo. In the UK, Nadia is embarrassed by her mother's poor English and Egyptian ways. "But she could also change the lens and see what her mother saw." (p. 4)
Preconceptions shift when a Scottish convert to Islam falls in love with a Sudanese woman in Edinburgh. She is surprised by his conversion: "She associated Islam with dark skin, her African blood, her own weakness. She couldn't really understand why anyone like him would want to join the wretched of the world." (p. 29)
Yet, another story reflects the lingering aftereffects of colonialism in how African students struggle in higher education courses in the UK for which they have had no preparation. The main character in this story is a female Sudanese student who does not jump at the chance to marry a foreigner.
Some stories contrast the devotion of recent converts to Islam with that of those who are born Muslim. Others are about the disappointments of Arab-British marriages, and the effects on their children, some of whom are raised without religion, but rediscover Islam as young adults.
Some characters are double migrants, manoeuvring between three totally different environments, like Yasir who has a Scottish wife and daughter in Aberdeen, works two-week shifts on a North Sea oil rig, and visits his mother and siblings in Khartoum. Others live alone in order to pursue a job offer. "It seemed that the fate of our generation is separation, from our country or our family. We are ready to go anywhere in search of the work we cannot find at home." (p. 149)
Thus, Aboulela comments on the irony that pursuing higher education may improve one's standard of living but at the expense of family ties.
Some stories zoom in on women's situation, like "Farida's Eyes" when a brilliant young student almost fails before her father listens to the teacher who told him long ago that she needs glasses. In another, very complex story, a Sudanese woman must deflect her husband's over- admiration of the West which amounts to self-hate. Her point of view is quite different. She always finds it difficult to return from visiting her family because "in Khartoum I felt everything was real and our life in London a hibernation". (p. 86)
She misses "the essence of my country… Those everyday miracles, the poise between normality and chaos. The awe and the breathtaking gratitude for simple things". (p. 98)
Another story points to the options open to women who do not get married before it is considered "too late". Yet, another shows the pro's and con's of being the daughter of a radical feminist.
To put things in perspective, not every story revolves around cultural differences as defined by country. One story revolves around the failure of a marriage where the husband and wife ostensibly have similar cultural backgrounds. Another focuses on grief, yet another in the difference between an author's progressive writing and her real-life personality.
Although all the stories have social or spiritual themes, they are first and foremost literary, making their point via imaginative plots and flowing prose. Aboulela's characters are very well-drawn. Despite the brevity of short stories, none of them are mere symbols of cultural traits. It is also inspiring how the conflicts in the stories are seen from both sides by virtue of the way the author charts the plots. The multicultural world she creates in her fiction is neither the nightmare depicted by racists nor the paradise promised by idealists. Rather, it is close to real life.
Newsletter
Get top stories and blog posts emailed to you each day.