You are here
Michelin star
By Nickunj Malik - Jun 15,2017 - Last updated at Jun 15,2017
It is often difficult for me, an honourary Jordanian, to explain to foreigners who visit Amman, why "shawarma", the most delicious of Levantine snacks, is not served in fancy hotel restaurants. Incidentally, the Indian visitors understand the concept perfectly, because we have our own thriving street food industry back home. These are sometimes more popular than the Michelin starred ones.
What is a Michelin Star Guide? For the uninitiated, in the year 1900, famous tyre manufacturer Michelin, started publishing a guidebook for travellers, with information about various hotels, petrol pumps, mechanic shops and maps of France. In 1926 this guide began reviewing dinning establishments and awarding stars to a few notable ones. Initially only a single star was awarded but later in 1931 it went on to give 3 stars in the following order: 1 Star: "A very good restaurant in its category". 2 Star: "Excellent cooking, worth a detour". 3 Star: "Exceptional cuisine, worth a special journey".
In India, there were a few places that claimed to be Michelin-starred restaurants, which was somewhat of a gimmick. For instance, if a restaurant had a Michelin star in London, that distinction was valid only for that particular restaurant, and was not applicable to its outlets anywhere else. You could not open a branch in India and call it a Michelin starred restaurant because factually it was incorrect, but here I digress.
Govindpur Dhaba, on the outskirts of a dusty coal town in India, did not need any unnecessary hype but without GPS, one had to reach there by pure instinct. There were no signposts that guided you to this roadside restaurant where even after arriving at the venue, one had to make sure it was the right one by interrogating the owner. Which was more difficult than it sounds because four brothers who wore similar turbans, owned the establishment. They also had the same twinkling eyes and identical aristocratic noses.
Quite frequently, when one of my father's colleagues got promoted, received a bonus or became a father, we were all invited there for a meal. The occasion was something I looked forward to eagerly, because it always turned into an adventure. Some car would get a flat tyre, somebody would lose his or her way but surprisingly, everyone reached the destination eventually.
The rope charpoys were laid out in the open verandah where we were invited to sit while the beaming brothers took our meal requests and passed it to their wives in the kitchen. It was a family venture where everyone participated in the running of the place. The food was as fresh as a three Michelin starred restaurant, because right after taking the order, they would start rounding up the chickens to be slaughtered for the tandoor.
As a child, what really fascinated me was that the menu was not written down but recounted verbally by the staff. I would be mesmerised by their manner of listing the names of the dishes in one breath. They only lost their concentration if you interrupted them, which I did from behind the safety of my father's back.
"Chicken curry, chicken tandoori, chicken masala, chicken korma, chicken kebab, chicken butter, chicken fry," the turbaned waiter recited.
"Do you have chicken tikka?" I asked.
"What?" the man looked at me in confusion.
"Do you have chicken tikka," my father spoke up.
"Let me get there. Chicken curry, chicken tandoori, chicken masala, chicken korma…" the recitation was started from the beginning.
Related Articles
Aug 10,2016
While I was in London last week, everyone on social networking sites, including Pammi Aunty, was wishing happy friendship day to each other.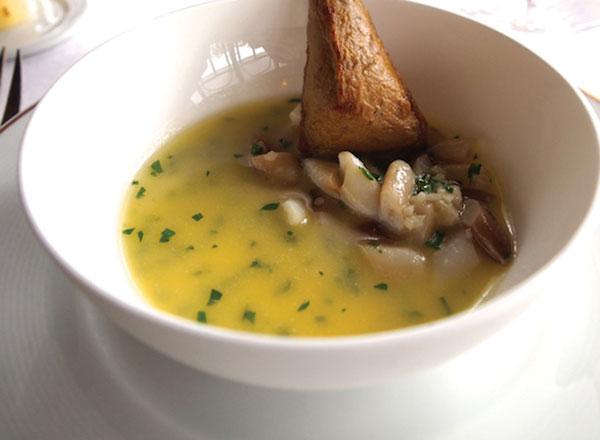 Feb 02,2015
Two French restaurants tasted the ultimate accolade in top-level gastronomy on Monday, winning three coveted Michelin stars in the guide's 2015 edition.
Dec 17,2014
In Amman, all that my Jordanian friends want to do is eat Indian food, especially when they visit me. I try and accommodate their choice of selection but once in a while if I serve any other cuisine, I end up getting reprimanded. By the vociferous set, that is. 
Newsletter
Get top stories and blog posts emailed to you each day.