You are here
Mercedes-Benz GLC300 4Matic: New name, new game
By Ghaith Madadha - Jan 02,2017 - Last updated at Jan 02,2017
Photo courtesy of Mercedes-Benz
Picking up where the GLK-Class left off and launched as a 2016 model, the GLC-Class is a practical yet luxurious compact SUV that marks a distinct design departure with its predecessor. Larger yet lighter and with more advanced technology and upmarket appointment, the GLC-Class is offered — across the board with the exception of the AMG performance version — with powerful and flexible yet more efficient turbocharged 2-litre four-cylinder engines, including the second-to-range topping GLC300 4Matic, as driven on Jordanian roads.
Distinct difference
Part of a range-wide move to rationalise various model's nomenclature to correspond with the brand's core saloon car offerings, the GLC's name is intended to relate the model's position in Mercedes' SUV line-up as the equivalent to the C-Class. But while some models bearing new names are evolutionary in design, the GLC-Class takes a distinctly different design approach to its direct predecessor. Whereas the GLK's more traditional SUV design and big glasshouse were inspired by the iconic G-Class SUV, the GLC, however, adopts a more contemporary and broadly more familial design approach.
A more elegant and smoother shape than its predecessor's more utilitarian aesthetic, the GLC is noticeably different, with a higher waistline and bonnet, slimmer glasshouse, more flowing roofline, broader stance and overall more assertive demeanour. With in-line engine and rear drive derived four-wheel drive, the GLC's long bonnet, short front overhang and rearwards cabin position lends it a luxurious yet urgent appeal, with defined shoulders, heavily browed horizontal rear lights and huge 20-inch alloy wheels. Built using more aluminium content, high strength steel and magnesium gearbox housing, the GLC is 120mm longer but 80kg lighter than the GLK.
Mid-range muscle
Save for a faint yet distinctly four-cylinder chatter at idling engine speed, one could be forgiven for thinking the GLC300 is powered by a larger engine than its 2-litre turbocharged unit, as its alphanumeric designation would indicate according to past Mercedes nomenclature. Quick to spool up with near imperceptible turbo lag, the GLC300's modest but brawny engine is also happy and willing right to its rev limit. However, its talents are most evident throughout a broad mid-range, where it quickly and forcefully wells up with on-boost torque, while power builds quickly to a 241BHP maximum peaking at 5,500rpm
Bountiful in mid-range and muscular when overtaking or on steep inclines, the GLC300 develops a mighty 272lb/ft torque throughout a broad, flexible and accessible 1,300-4,000rpm sweet spot. Meanwhile its versatility, performance, refinement and efficiency is aided by Mercedes' new 9-speed automatic gearbox. A big improvement over past Mercedes gearboxes, the new 9-speed is smooth, slick and closely spaced, with escalating and succinct shift modes, including manual and Sport+, where upshifts are accompanied by a sport shove. Weighing in at 1,735kg, the GLC300 dashes through 0-100km/h in 6.5-second and onto 235km/h, yet returns 7l/100km combined fuel efficiency.
Reassuring and refined
Reassuringly stable at speed and refined, the GLC300 rides smoothly and comfortably despite its optional low profile 255/45R20 run-flat tyres, as test. Unruffled and impressively composed over most surfaces but a particular frequency of road imperfection during test drive. One felt that slightly firmer damper rates and perhaps a higher profile tyre choice, from those available, would have been to its advantage, lending it yet better pitch and rebound control, and tauter body control through corners without sacrificing comfort, as driven on a particular stretch of admittedly demanding winding, brisk and imperfectly textured switchbacks with several crests and dips.
Confident covering ground at a smart pace, the GLC300 is tidy and direct yet forgiving and refined. Turning in early and eagerly while hugging a corner's apex, it grips hard in front and with its rear drive derived platform, can pivot weight the outside rear, and with rear tyres digging in and front tyres clawing forward, leaps robustly onto a straight. Rewarding when driven right, its chassis is set up for initial slight under-steer that if turning in too tight, fast or late, and which gives way to a controlled instinct for oversteer managed by vigilant electronic stability control and four-wheel drive re-distributing power.
Comfortable cabin
Light, quick and refined, the GLC300's steering is best when driven with smoothly succinct rather than exaggerated inputs, while brakes held reassuringly true through steep descents. With a more hunkered feel than its GLK predecessor, the GLC nevertheless offers good front visibility and a well-adjustable, supportive and comfortable driving position. Driver's side over-shoulder visibility could be better, but with precise blind spot sensors, parking sensors, tight turning circle and clear rearview monitor, the GLC is easily maneuverable in tight confines. Assistance systems also include collision prevention and parking assistance, in addition to a raft of advanced safety features.
A luxurious, inviting and warm cabin ambiance is matched with quality fit, finish, textures and materials. Uncluttered and user-friendly layouts include clear instrumentation, touchpad and rotary controls for a tablet-style infotainment. More spacious than the vehicle it replaces, the GLC is comfortably spacious, front and rear, where leg and headroom are easily accommodating for larger adults. Practical and user-friendly, it features a generously sized boot and flat floor and under-floor storage space and numerous convenience features including but not limited to dual zone climate control, panoramic sunroof, power tailgate and a versatile infotainment system.
TECHNICAL SPECIFICATIONS
Engine: 2-litre, turbocharged, in-line 4 cylinders
Bore x stroke: 83.1 x 91.9mm
Compression ratio: 9.8:1
Valve-train: 16-valve, DOHC, direct injection
Gearbox: 9-speed automatic, four-wheel drive
Ratios: 1st 5.35 2nd 3.24 3rd 2.25 4th 1.64 5th 1.21 6th 1.0 7th 0.86; 8th 0.72; 9th 0.6
Reverse/final drive ratio: 4.8/3.27
0-100km/h: 6.5 seconds
Maximum speed: 235km/h
Power, BHP (PS) [kW]: 241 (245) [180] @5,500rpm
Specific power: 121BHP/litre
Power-to-weight: 138.9BHP/tonne
Torque, lb/ft (Nm): 272 (370) @ 1300-4000rpm
Specific torque: 185.8Nm/litre
Torque-to-weight: 213.2Nm/tonne
Fuel consumption, urban / extra-urban / combined: 8.7-/ 6-/ 7 litres/100km
CO2 emissions, combined: 163g/km
Fuel tank: 66 litres
Length: 4,656mm
Width: 1,890mm
Height: 1,639mm
Wheelbase: 2,873mm
Track, F/R: 1,621/1,617mm
Overhang, F/R: 831/952mm
Aerodynamic drag co-efficiency: 0.33
Headroom, F/R: 1,064/1,005mm
Shoulder room, F/R: 1,455/1,436mm
Loading height: 723mm
Boot capacity, min/max: 550-/1,600 litres
Kerb weight: 1,735kg
Steering: Electric-assisted, rack and pinion
Turning circle: 11.8 metres
Suspension: Multi-link, anti-roll bars
Brakes: Ventilated discs
Tyres, F/R: 255/45R20
Related Articles
Jul 17,2017
Among the latest additions to Mercedes-Benz' ever burgeoning model lines catering body styles to different niches, the GLC-Class Coupe is, h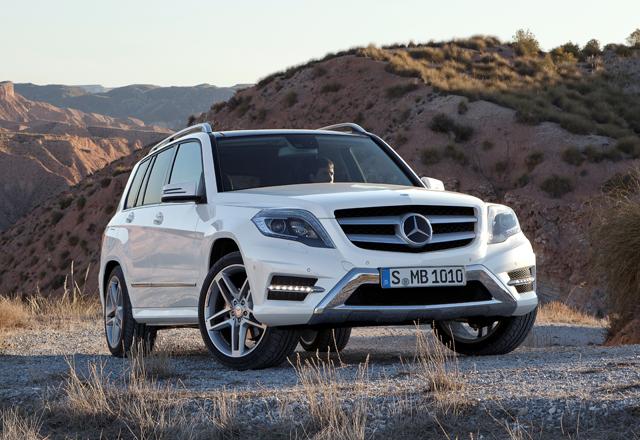 Mar 10,2014
First launched in 2008 as Mercedes' first gambit into then up and coming compact car-like SUV niche, the GLK Class put emphasis on a combination of practicality, on-road composure and modest but genuine off-road ability.
May 14,2018
Sitting right in the middle of a broad range of two-seat roadster and four-seat boulevardier convertibles offered across the Mercedes-Benz r
Newsletter
Get top stories and blog posts emailed to you each day.