You are here
Low-slung luxury liftback puts the fast into fastback
By Ghaith Madadha - Nov 17,2014 - Last updated at Nov 17,2014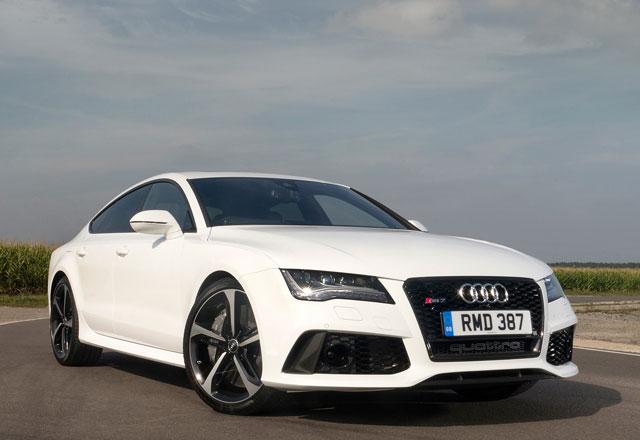 Dramatic, low-slung and luxurious, the Audi RS7 is the four-ring Ingolstadt manufacturer's gambit into the high performance coupe-like prestige 4-door car segment.
Arriving in 2013 — three years after the standard A7 model line's debut — the brutally powerful Audi RS7 competes in an almost exclusively German niche, directly against the Mercedes-Benz CLS63 AMG, BMW M6 GranCoupe and Porsche Panamera Turbo.
Like its Mercedes and BMW rivals, the Audi RS7 is based on the brand's corresponding executive class saloon — A6 in Audi's case. However unlike the self-proclaimed 4-door coupe saloons, the RS7 is, like its Porsche competitor, a more practical 5-door fastback body with liftback tailgate.
Rakishly dramatic
With slim heavily browed headlight and LED lower outline, big gaping side air intakes and vast bold trapezoidal honeycomb grille combined menacingly predatory figure. A moody and aggressive design that is accentuated by its low, sloping liftback roofline and a defined rear boot-line ridge hanging heavily over its tail lamps, the RS7 is easily the moodiest, most dramatic and chiselled car in its executive coupe-like saloon segment.
Chiselled and defined, the RS7's sheet metal and aluminium body features a sharp side crease line, angularly framed rear fascia, aggressive sills, muscular rear haunches, defined wheel-arches and again, sharp edged air-splitter style lower front bumper lip.
A lower and longer car than its Audi RS6 super-estate sister, with which it shares much in terms of platform, underpinnings, chassis, drive-train and technology, the RS7 has a distinct sense of width and road presence about it. Sporty and muscular details include sharkish gill-like vertical vents in its front air intakes and black grille surround with "quattro" etched below the license plate in front.
Rearwards, a chrome outline frames its air diffuser style lower rear bumper section and chrome-tipped dual exhaust pipes. Fitted with optional five-spoke alloy wheels riding on low profile 275/30R21 tyres, the RS7's mighty brake discs and callipers are proudly visible.
Brisk brute
Powered by the most powerful iteration of Audi's 4-litre twin-turbo direct injection V8 engine, the RS7 develops a brutally mighty 552BHP throughout a broad 6,700-6,600rpm band and a muscular 517lb/ft during a broad 1,750-5,500rpm range.
Quick to spool up owing to its twin-turbos being situated between its engine's 'V' design heads, the RS7's induction piping ensures turbo pressure accumulates easily and allows for excellent responsiveness and little by way of turbo lag at idle and low rpm engine speeds.
Immensely muscular and effortlessly versatile in its broad mid-range torque band, the RS7's volcanic power accumulation is underwritten by its gloriously rich mid-range thrust.
With good throttle response for a big beefy turbocharged engine, the RS7 allows precise power modulation than some similar engines, and is ultimately a more intuitive driving experience.
With legendary Quattro four-wheel-drive providing tenacious traction and volcanically powerful engine, the Audi RS7 shrugs off its hefty 1,995kg mass and blasts the 0-100km/h sprint in a supercar-like 3.9-seconds, and though normally electronically restricted to 250km/h, can be unlocked at the owner's request to 305km/h.
Unexpectedly and relatively frugal for such a heavy and powerful beast, the RS7's automatic 4-cylinder de-activation when cruising and an urban traffic stop/start system allow for 9.8l/100km combined fuel consumption.
Grip and go
A barking and bellowing brute the brisk Audi RS7 channels its vast output through a swift and smooth shifting 8-speed automatic gearbox, with a sequential manual mode through steering-mounted paddle shifters.
More aggressive gearbox, suspension engine and drive-line settings can also be chosen. With in-line engine mounted low ahead of front axle and a direct four-wheel-drive system distributing power to all wheels with a 60 per cent rear-bias, the RS7's astonishing traction and cornering grip is aided by centre and rear differentials that apportion power between front and rear, and left and right to prevent loss-of traction and ensure power goes where it is best translated into lateral grip and forward momentum.
Slightly nose-heavy, the Audi RS7 nevertheless turns in tidily, and with quick, well-weighted, precise, direct and reassuringly committed steering.
If pushed into or out of a corner too hard, the RS7's Quttro system and thick grippy tyres dig in tight and ensure grip and cornering lines are maintained. Highly stable at speed and through long sweepers, the RS7 is also happy going through twisting turns, with weight transfers well kept in check by its adaptive air suspension.
A firm yet smooth ride, the RS7 isn't crashy or uncomfortable, but its suspension is set up to manage it enormous power, traction and grip with calculating confidence.
Stylish and sporty
With an unmistakably sporty ambiance inside, the RS7 features supportive, contoured and well adjustable leather sports seats with fetching honeycomb stitching, while an optional massage function underlines its luxurious appointment. Sporty and clear dials sit alongside carbon-fibre inlays, intuitive pop-up infotainment screen, metal buttons and a rounded gear lever positioned on a high set centre console. Providing an excellent hunkered-down driving position, with chunky adjustable sports steering wheel and aluminium pedals, the RS7 feels luxuriously sporting in front, while rear seats are adequately sized for most adults, but the rakishly low and sophisticated roofline and optional sunroof do mean that headspace is limited for tall adults.
With liftback tailgate design providing good boot access, the stylish RS7's boot is comparable to an Audi A6 saloon, but with 535-litre minimum and 1,390-litre maximum with rear seat folded, it cannot compare to its voluminous RS6 Avant estate body sister's cavernously luggage capacity.
Thoroughly well-kitted in terms of standard and optional convenience, comfort, entertainment, performance and safety features, the RS7's spec list includes anything from sophisticated Alcantara roof lining to ceramic disc brakes, luggage hooks to 4-zone climate control, and a Bang & Olufsen sound system, but no dedicated USB port, but instead an adapter cable.
Semi-autonomous driving aids include adaptive stop and go cruise control and active lane assistance.
TECHNICAL SPECIFICATIONS
Engine: 4-litre, twin-turbo, in-line V8 cylinders
Bore x stroke: 84.5 x 89mm
Compression ratio: 10.1:1
Valve-train: 32-valve, DOHC, direct injection
Gearbox: 8-speed automatic, four-wheel-drive, limited-slip rear-differential
Power distribution, F/R: 40 per cent/60 per cent
Power, BHP (PS) [kW]: 552 (560) [412] @ 5,700-6,600rpm
Specific power: 138.2BHP/litre
Power-to-weight: 276.7BHP/tonne
Torque, lb/ft (Nm): 516 (700) @ 1,750-5,500rpm
Specific torque: 175.3Nm/litre
Torque-to-weight: 350.8Nm/tonne
0-100km/h: 3.9 seconds
Top speed, restricted/de-restricted: 250km/h/305km/h
Fuel consumption, urban/extra-urban/combined:
13.9/7.5/9.8-litres/100km
Carbon dioxide emissions, combined: 229g/km
Fuel capacity: 65 litres
Length: 5,012mm
Width: 1,911mm
Height: 1,419mm
Wheelbase: 2,915mm
Track, F/R: 1,634/1,625mm
Overhangs, F/R: 960/1,137mm
Headroom, F/R: 1,028/944mm
Luggage volume, min/max: 535/1,390 litres
Unladen weight: 1,995kg
Steering: Electric-assisted rack & pinion
Turning Circle: 11.9-metres
Suspension: Multi-link, adaptive air dampers
Brakes: Ventilated & perforated discs
Tyres: 275/30R21 (optional)
Related Articles
Jul 31,2017
Sister to Audi's petrolhead-favourite RS6 Avant super-estate model, the RS7 is the Ingolstadt manufacturer's low-slung, luxurious and dramat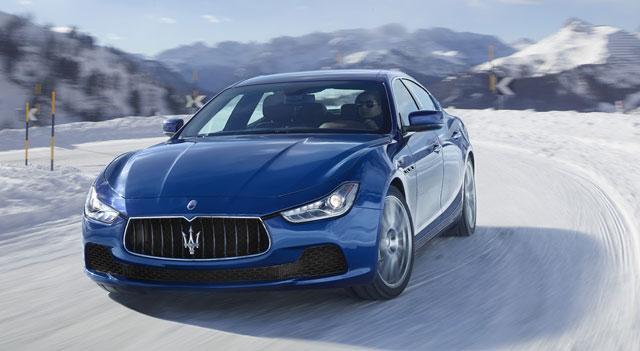 Feb 24,2015
Resurrected in 2013 after a 15-year absence, the Ghibli is among the exotic Italian carmaker's most exotic nameplates and like many Maseratis, is named after a wind. Bearing the hot dust-bearing North African wind's Libyan moniker, the Ghibli nameplate first arrived as a curvaceously sultry 1967-73 sports car and then muscularly angular 1992-98 four-seat coupe.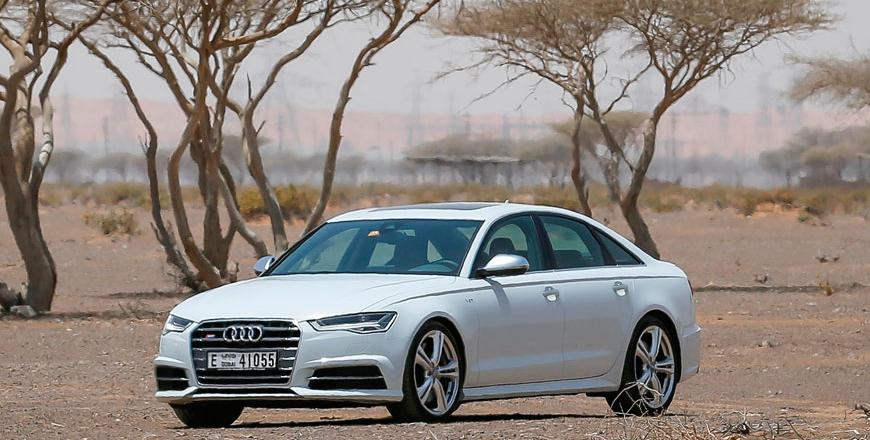 Jun 01,2015
Slotting between Audi's garden-variety A6 executive saloon car range and the more extrovert high performance RS6, the S6 is the German luxur
Newsletter
Get top stories and blog posts emailed to you each day.