You are here
Jeep Grand Cherokee L 3.6L Limited: Grandeur than ever
By Ghaith Madadha - Nov 16,2021 - Last updated at Nov 16,2021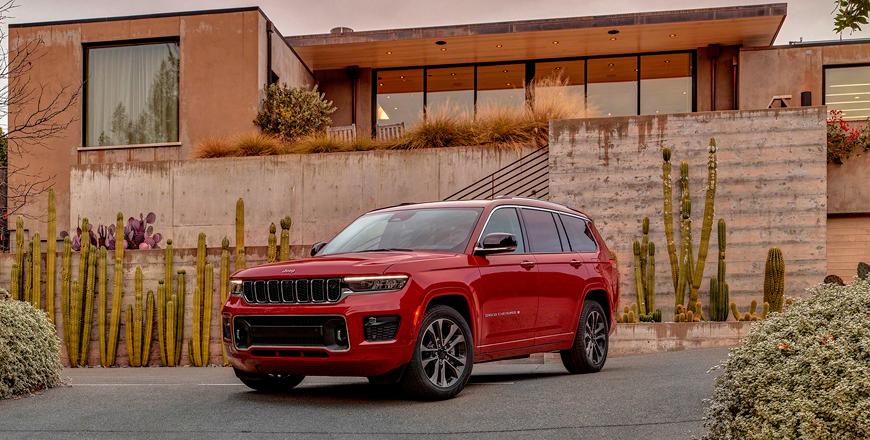 Successor to the vehicle considered by many to be the world's first luxury or comfort-oriented SUV, the Grand Cherokee has carried the 1963-91 Jeep Wagoneer tradition since 1992.
Launched in fifth generation earlier this year, the latest Grand Cherokee is the largest, most refined, spacious and luxurious yet, even as Jeep resurrects the Wagoneer nameplate as a full-size body-on-chassis SUV. That said, the new uni-body Grand Cherokee is now better positioned to compete with premium European SUVs, and uses the Stellantis group's modern Giorgio platform, shared with the Alfa Romeo Stelvio, in lieu of its 2010 predecessor's Mercedes-derived platform.
Offered in two lengths, the fifth generation Grand Cherokee is the first available with 3-row 7-seats configuration, as driven in L guise. En evolution of the design direction of its predecessor, the new Grand Cherokee's headlights are slimmer, more heavily browed and moodier still, while its signature 7-slot grille is similarly slimmer and more upright, with a jutting and predatory shark-nosed angle. Longer and with a more level waistline, the new Grand Cherokee has a more formal and upmarket look to it, while rear lights are now also distinctly slimmer.
Elegant and eager
At 5.2-metres long, the extended wheelbase Grand Cherokee L sits with a luxurious and classically proportioned posture, with short front, and long rear overhangs. Subtly bulging squared wheel-arches deflect from length and short wheel-arch apex to bonnet top length gives it a sleeker and stylishly elegant profile. Under its well-proportioned and bulging bonnet line, the Grand Cherokee is initially available with carry-over 3.6 litre V6 or 5.7 litre V8 engines for the region for now. An optional plug-in hybrid 2-litre is available elsewhere, while high performance SRT variants are expected but yet unconfirmed.
Positioned far back in its engine bay to achieve ideal 50:50 weight distribution, the driven Grand Cherokee L 3.6-litre V6 is powered by Jeep's familiar and well-regarded naturally-aspirated Pentastar engine. Developing 290BHP at 6,400rpm and 260lb/ft torque at 4,400rpm in this application, it is estimated to power the 2,128kg Grand Cherokee L through the 0-100km/h acceleration benchmark in around 8.5-seconds. High revving, the Pentastar engine is smooth and eager to its 6,700rpm limit, and provides good throttle control to feed in power increments. Eager and progressive, its delivery is responsive from idling and through mid-range.
Confident and composed
High revving, the Grand Cherokee's engine nevertheless serves much of its torque from early on and through a broad range, and is coupled with a smooth and responsive 8-speed gearbox to utilise available output for brisk and versatile on the move performance. At demanding high altitude and steep inclines, the Grand Cherokee is meanwhile better served by engaging "sport" mode or keeping revs high through manual mode paddle-shifters. Refined and quiet normally, a purposeful mechanical, tone, however, becomes more audible near its rev limit, rather than some Italian cousins' more exotic soundtracks.
A modern monocoque built SUV with multilink suspension all-round, the Grand Cherokee L is a comfortable and confident ride with adept handling that belies its size and weight. With balanced weight distribution and just the right level of suspension tautness, the Grand Cherokee L turns into corners with tidy composure, and maintains good in-class body lean control throughout, and despite its high ride. On exiting corners, its rear-oriented four-wheel-drive and weighting meanwhile allows one to briefly, progressively and predictably kick the rear out to adjust a cornering line with stability control disengaged.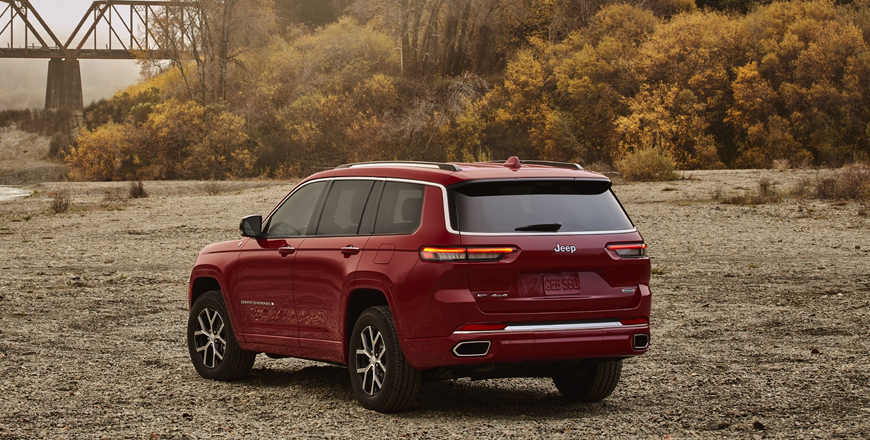 Comfor tand commitment
A more agile vehicle than expected, the Grand Cherokee L's limited slip differential helps allocate power where needed for added security and nimbleness on road, and to maintain traction off road. Braking is meanwhile highly effective and fade resistant, but slightly more initial pedal feel would be welcome. Meanwhile electronic brakeforce distribution keeps the Grand Cherokee L level and adds safety and reassuring commitment through corners, but slightly more "dive" might lend a more intuitive feel for sudden straight line heavy braking. The Grand Cherokee also features forward collision warning with brake assistance, and 12 airbags,
Comfortable, refined and easy to drive, the Grand Cherokee L is a natural long distance cruiser. Smooth, stable and reassuring at speed, the Grand Cherokee L's ride quality is among the best in class, absorbing all but the most jagged lumps and bumps in a forgiving manner, even with standard mechanical suspension and optional low profile 265/50R20 tyres. Settled and vertically well-controlled over imperfections, the Grand Cherokee L feels buttoned down on rebound and over crests and dips, and dismounts larger bumps gracefully and without the excessive suspension compression or stiffness of some rivals.
Spacious and stylish
Offered in four trim levels including the very luxurious Reserve specification, which includes height adjustable air suspension and low gear ratios, the driven mid-range Limited specification is nevertheless not far behind with its stylish up-market interior, equipment and abilities. With selectable driving modes optimising various parameters for different terrain, the Grand Cherokee L Limited also features generous 215mm ground clearance and 20.6° approach, 18.2° break-over and 21.5° departure angles. Spacious and practical, it can meanwhile tow up to 2,818kg, carry a 635kg payload and accommodate between 490- to 2,390 litres of cargo, depending on seat configuration.
A long, large 7-seat SUV with excellent front and middle row seating that betters most larger full-size American SUVs, the Grand Cherokee L's manoeuvrability in narrow confines is, however, aided by big mirrors, parking assistance system, reversing camera and large screen, and level waistline for good in-class visibility. Additional safety equipment usefully includes blindspot and crosspath detection, while cabin access is generous and rearmost seats are adequately useable. Up-market inside in material, design and finish, it also features plenty of storage space, great driving position, stylish wood accents and user-friendly infotainment system with dedicated off-road gauges.
TECHNICAL SPECIFICATIONS
Engine: 3.6-litre, in-line V6-cylinders
Bore x Stroke: 96 x 83mm
Compression ratio: 11.3:1
Valve-train: 24-valve, DOHC, variable valve timing
Rev limit: 6,700rpm
Gearbox: 8-speed automatic, four-wheel-drive, limited slip differential
Gear ratios: 1st 4.71 2nd 3.14 3rd 2.11 4th 1.67 5th 1.29 6th 1.0 7th 0.84 8th 0.67; R 3.3
Final drive/low gear ratios: 3.45/2.72
Power, BHP (PS) [kW]: 293 (297) [218.5] @6,400rpm
Specific power: 81.3BHP/litre
Power-to-weight: 137.6BHP/tonne
Torque, lb/ft (Nm): 260 (353) @4,400rpm
Specific torque: 97.9Nm/litre
Torque-to-weight: 165.8Nm/tonne
0-100km/h: approximately 8.5-seconds (estimate)
Fuel capacity: 87-litres
Length: 5,204mm
Width: 1,979mm
Height: 1,815mm
Wheelbase: 3,091mm
Track: 1,660mm
Ground clearance: 215mm
Load floor height: 817mm
Kerb weight: 2,128kg
Weight distribution, F/R: 50/50 per cent
Payload: 635kg
Trailer towing: 2,818kg
Approach/break-over/departure angles: 20.6°/18.2°/21.5°
Aerodynamic drag co-efficiency: 0.357
Seating capacity: 7
/2nd/1st rows: 490-/1,330-/2,390-litres
Steering: Electric rack & pinion
Turning circle: 11.6-metres
Teering ratio: 15.6
Lock-to-lock: 2.9-turns
Suspension: Multilink, coil springs
Brakes, F/R: Ventilated perforated discs 354x28mm/350x22mm
Brake calipers, F/R: 2-/1-pistons
Tyres: 265/50R20
Price, on-the-road: JD75,000 (without insurance)
up
27 users have voted, including you.
Newsletter
Get top stories and blog posts emailed to you each day.